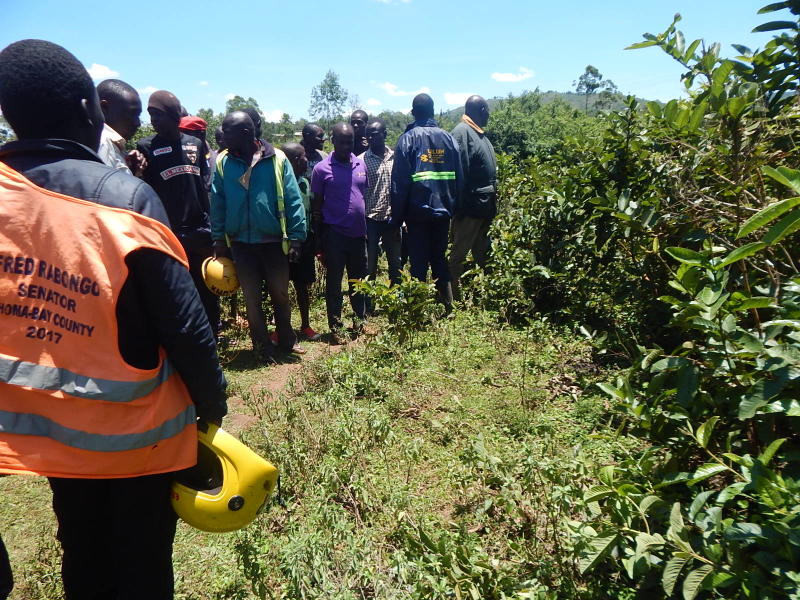 The man who discovered the body of slain Rongo University College student Sharon Otieno and broke news of her death wants police protection and counselling. Mr Moses Ongili, a peasant farmer from Ogero village in Homa Bay County, said he is mentally disturbed and is still reeling in shock after stumbling on the horrifying remains of the 26-year-old student on Tuesday evening. Fear and psychological torture gnaw him. He looks apprehensive and restless. He says he has not been the same since learning of the circumstances under which the woman whose body he discovered was murdered.
SEE ALSO: Over 500 families living in Kodera forest set to get land title deeds
He does not trust strangers and fears they are the killers of the girl coming after him for uncovering their trails. When the
Sunday Standard
visited him at his home, Ongili was reserved about speaking to us on how he discovered Sharon's body. He scanned our job identity cards but was not convinced he was dealing with genuine people. He demanded a letter from police that authorised us to speak to him. "I need a letter from police which warrants my interview with you. We can only talk under the guard of police officers because I don't know your intentions," said Ongili. When he finally agreed to relive the moment, he said the cattle he was herding inside Wire Forest that evening led him to the body. "It was around 3.30pm and a storm was brewing over the Homa Hills. So I was driving the cattle out of the forest towards home when those in the lead crowded at the spot where the body was and bawled strangely," he said. He said he monitored from a distance to see if they had seen a prey animal or a snake but he could not see much since the area was bushy.
SEE ALSO: Joy as virus-hit nurse on oxygen support delivers
"I slowly tip toed towards the scene to get a glimpse of what the attraction was," said Ongili, fading into a trance. "It was ghastly. I felt my body freeze in shock. She lay naked, facing down." He says he quickly moved out of the scene out of fear that those behind the killing might still have been lurking in the area.
Psychologically tortured
He drove the cattle off the scene and met a few village mates whom he informed of what he had seen. "I then rushed home, tied my cattle and went to Oyugis Police Station where I recorded a statement. I returned to the scene with the police who took the body to Rachuonyo South Sub-county Hospital mortuary," said Ongili.
SEE ALSO: New unit to protect children
The body was later identified by Sharon's father, Douglas Otieno at about midnight. The scene has left Ongili psychologically tortured. He has had sleepless nights since Tuesday because he had never witnessed such a horrible scene in his entire life. The incident has also made him lose appetite. "I have neither slept well nor eaten since I found the body. It disturbs my mind and I need help," he said. He requested us not to take his photograph because it would aggravate the trauma he was undergoing. Residents of Ogera village suspect Sharon was killed somewhere before the body was damped at the scene. "We found her blood concentrated at a single spot where the body lay. She might have been killed elsewhere," said Erick Ochieng', a resident. Government Pathologist Johansen Oduor conducted a postmortem on Friday, which revealed that Sharon died from excessive bleeding. She was stabbed three times in the neck, four times in the back and once in the left side of the abdomen. The attack also pierced her seven month foetus she was carrying.