Obama electrifies Kogelo as he narrates how he discovered his roots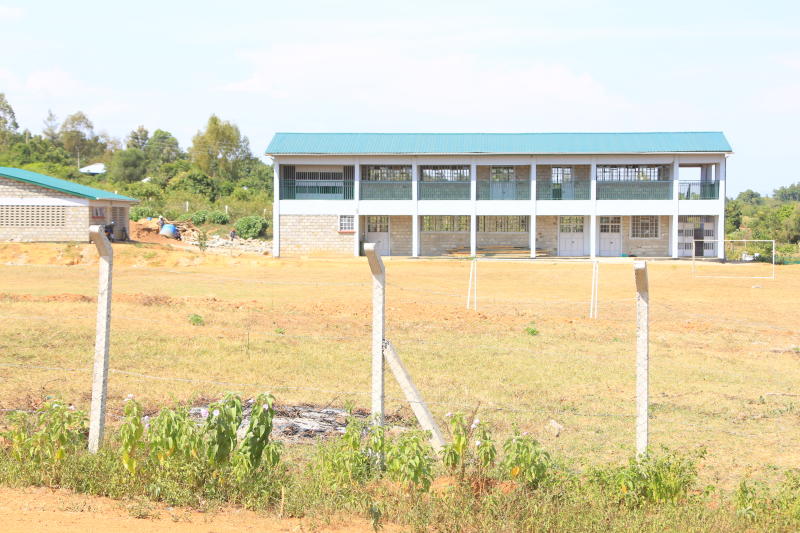 Former US President Barack Obama described his search for his roots when he visited his father's Kogelo village home in Siaya County.
In a nostalgic speech yesterday before local and international guests who attended the function during his fifth visit to Kenya, Obama said he had been troubled about his ancestry until he traced his roots to Kogelo 31 years ago.
Obama, who made history by becoming the first black president of the United States of America, said his struggles and triumphs were proof that anyone could rise to great heights regardless of their past.
Applause reverberated through the giant tent at Sauti Kuu Vocational Training Centre as the former US president talked of the day he arrived in Kenya in 1987, exhausted, dusty and hungry after two days of travel.
"It is a joy to be back. I want to thank all of you for your hospitality. I am delighted to learn that everyone here calls me cousin. I first came here when I was only 27 years old," he said, his voice shaking with emotion.
Father's life
He added: "I was determined to understand my father's life and his people. This visit gave me a sense of satisfaction. It connected me to my past.
"I was delighted when I arrived at the home square. I had travelled the whole night from Nairobi to Kisumu in a slow moving passenger train. At Kisumu, I boarded an overloaded matatu that dropped me somewhere near Kogelo market," narrated Obama.
He added: "We walked home and found Mama Sarah. Her house was small and not as expensive as it is today. I was hungry. We found a chicken and cooked it. I bathed using water in a simple basin (trough)."
The former US president, who served two terms from 2008, said his visit to Kogelo in 1987 prepared him for challenges later in life.
"It made me know what it takes to live and sleep without running water. All the wonderful things we see today are a reflection of what happened in the past."
Last visit
He added, perhaps to explain the miracle that happened in his life: "Three years ago, I visited Kenya as the president of the United States of America. I could not visit Kogelo because the plane I had could not fit anywhere here.
"Today, I have come as a brother and a private citizen who has a connection to Africa."
His half-sister, Auma Obama, who received him when he first visited, raised her fist and smiled when he narrated how they travelled in a battered Volkswagen beetle from the airport in Nairobi.
Obama won the presidency after serving in the US Senate.
He said Kenya was capable of producing people like himself if it took education and good governance seriously.
"Kenya has made great steps. A young Kenyan doctor does not need to do what my father did to get an education," he said.
Obama, who was accompanied by dozens of investors from the US, was full of praise for Dr Auma's initiative to start Sauti Kuu, which he said would help guide youth to become professionals.
He said the centre would help fight poverty in Nyanza and Africa.
"Many years back, my sister told me she had many dreams. One of the dreams has been realised today," he said.
Obama said the future of Africa lay in the youth and that Kenya's young people had great potential that could be tapped to help improve the economy.
Earlier in the morning he drove to his Grandmother Sarah Obama's home, hugged her and shared a cup of tea with her.
At the tent, Obama sat next to Mama Sarah. At one stage, he and his grandmother stood to dance to a traditional song in his praise by the Sauti Kuu Children troupe.
Auma said she would not apologise for criticising the 'dependency syndrome' locally referred to as gonya, which she said was common in Nyanza region.
"I have taken a lot of flak on social media after I criticised the gonya syndrome. I will continue to say it because poverty is just an excuse as we can create our own wealth."
Kogelo, the village that usually goes to sleep by 9pm, stayed awake for three days, anticipating Obama's visit.
Kenyan police and American security officials patrolled the village ahead of the visit.
Vistors started gathering at Nyangoma Kogelo market – the self-declared capital of Kogelo, which some have declared the 51st state of the United States of America – as early as 4am.
By 6am, the stretch outside Sauti Kuu Vocational Training Centre was bustling with humanity. Security officials had placed road blocks on the Ndori-Siaya road.
Residents braved the cold to wait for their 'son'. The Sauti Kuu children, some only four years old, stood shivering in their shorts and T-shirts.
"Today, we must greet and speak to him. No one will stop us, not even the police. Not even the CIA or the FBI," declared Samwel Ouma, a local carpenter.
At 6.30am, security officials declared the space outside Sauti Kuu a security zone and ordered the villagers and journalists who had gathered there to leave.
But the crowds kept coming back. At 8.25am, there was excitement when South African singer Yvonne Chakachaka and her son, who is also her songwriter, arrived.
Dressed in a flowing kitenge with matching headgear, Yvonne waved as she was ushered into the tent.
Sirens blaring
At 9.19am, there was crowd trouble again when a police vehicle arrived with its sirens blaring.
At 9.35am, as a DJ from MO Sounds played Suzanna Owiyo's Kisumu 100 hit song, a convoy stretching almost a kilometre made its way into the venue, announcing the arrival of the chief guest.
After lunch, Obama removed his coat and joined a match at the new basketball pitch. He urged the youth to take sports seriously.
His expertly dribbled the ball, perhaps remembering the game he played with passion in college.