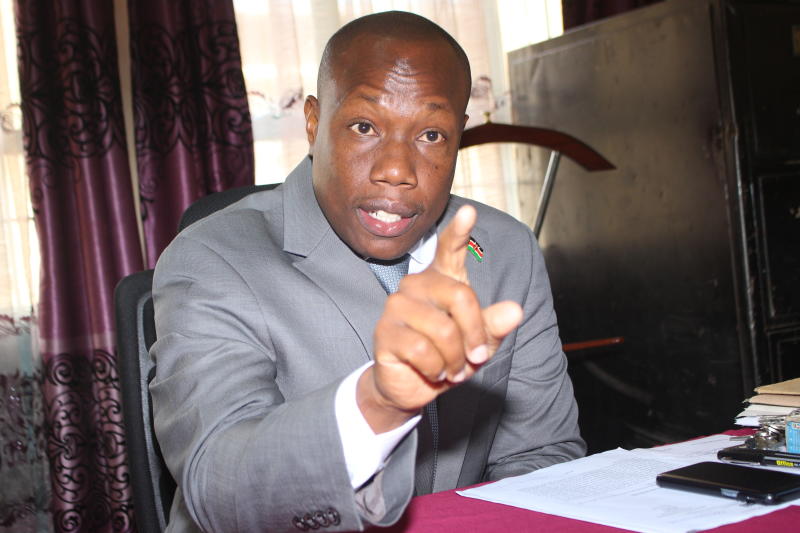 Kisii Land Registrar is battling fraudsters who forge documents to dispossess families of their land.
The criminals have no boundaries and even judges have fallen prey to the group that forges their signatures on documents.
Kisii County Land Registrar Steve Mokaya has accused some chiefs of colluding with the criminals to illegally sub-divide parcels of land before selling them to unsuspecting buyers. "This is a cartel operating from the courts, Land Registrar's office and some errant lawyers. The drafting of the letters clearly indicates that have been done by somebody with a legal background. Some of them bear rubber stamps of non-existing law firms," said Mr Mokaya.
Interestingly, all the fake grant letters bear the seal of the Judiciary. Copies seen by the Saturday Standard date back to 2012 to early last year.
The cartels are said to have forged signatures belonging to several judges who have served at the High Court in Kisii. Those who have fallen prey to the cartels are charged between Sh40,000 and Sh60,000 to receive grant of administrative letters.
Contacted, Judiciary Registrar Anne Amadi said the matter is under formal investigations and that stern action will be taken against any officer suspected to be working with the cartels. "Further, all land offices will be required to verify letters of administration from the Judiciary before making any alterations on titles," she told Saturday Standard yesterday.
Demand for land has sparked succession battles, some leading to murder.
When he assumed office in February 2017, Mokaya received 49 grant of letters of administrative intestate. On cross checking with the Deputy Registrar at the Kisii High Court, 47 were forgeries. The County Land Registrar's tough stance has put him at war with cartels operating in the region with impunity to dispossess the poor of their land.
He raised the alarm over allegations of chiefs writing and signing land sale agreements. "Any judge whose name and signature has been used wrongly can file a case in the court and have the suspects arrested."
Mokaya wonders how a government letter head and judicial seal were stolen from court. His office has been booked for boundary disputes until December 4, with fresh matters booked for next year.
The office seeks to solve more than 600 boundary disputes in five months. This came after cartels plucked the original land registry form from the system. "We are seeking to resolve more than four boundary disputes every week. Every homestead has a boundary dispute," he said.
Most land cases emanate from the Southern part of Kisii covering Gesonso, Suneka and Nyamataro areas where value of property has increased.
Lawyer Phillemon Onchwangi said most land cases in Kisii are sparked by poor succession process.
"The end result has always been evictions, relocation and causalities. Chiefs must write letters to confirm on benefices. Transfers have been done on a section of families deemed to be wealthy," he said. Mr Ochwangi regretted that culprits walk away free after affected kin fail to seek justice.
Kisii County Police Commander Haret Abdi said his office was ready to handle land matters. "The Land Registrar is working in the interest of the locals who have suffered for years under rogue government officers and criminals," he added.