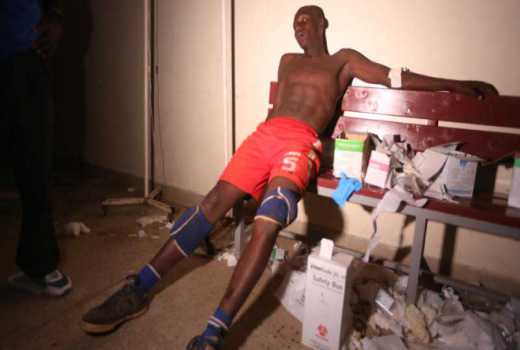 Seven secondary school students are nursing serious injuries at a Kisumu hospital following a Friday night accident that killed one student on the spot.
Two of them are in high dependency units at the Jaramogi Oginga Odinga Teaching and Referral Hospital.
The hospital's superintendent Juliana Otieno said all the seven were stable and out of serious danger. They had fractured limbs and head injuries, she said.
She said 20 of the more than 50 students injured in the accident that occurred just metres from the Kombewa sub-county hospital at about 6pm were rushed to the facility but only seven admitted.
Three teachers were among those injured when the school bus ferrying students of St John's Ngutu and Rapogi secondary schools in Seme sub-county veered off the road and toppled onto a ditch, crushing one student to death.
The students were returning home from a sporting activity in Bar-Korwa when the accident happened. The driver of bus belonging to Rapogi Secondary School was said to have been speeding at the slope and tried to avoid a head on with a climbing van as he tried to overtake a motorcycle at a blind corner.
"He swerved hard to the left to avoid the collision and then tried again steering back to the right, but he was at a high speed and the vehicle toppled to the side and landed on the ditch," said Winstone Otieno, one of the students.
The girl who was killed on impact was said to have had her head out of the window during the accident.
The driver is said to have fled the scene as some witnesses claimed he was drunk at behind the wheel and was not the regular driver of the bus 51-seater bus.
Tens of parents thronged Kombewa hospital eager to find out how their children fared in the accident. Shocked, confused and in varying degrees of pain, the students sobbed as they were attended to by overwhelmed medical team. Three ambulances and a police landrover helped ferry those cleared for referral
Kisumu Governor Anyang; Nyong'o and Seme MP James Nyikal has visited the students at JOOTRH and pledged to the incident investigated "to establish if there was an engineering flaw with the section of the road" that is morphing into a black spot.
He said the increasing number of accidents involving school buses across the country called for a review of the transport system.
"There is danger in our transport stystem that we must address. In Kisumu we are going to engage school heads to ensure that only qualified ad competent drivers are hired and strict measures put in place to ensure they do put the lives of learners at risk through reckless behavior such as driver under the influence of alcohol," he said