Traders protest 'unfair' charges at Oile market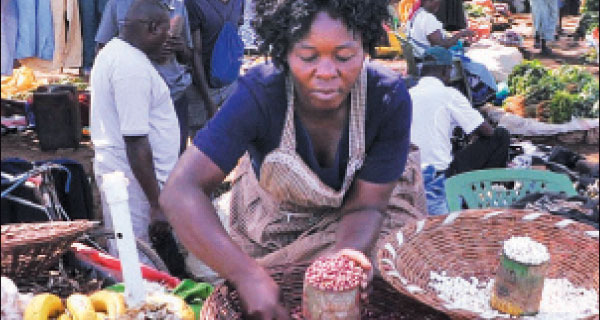 Vendors go about their business at Oile Market, Kisumu County. [PHOTO: COLLINS ODUOR/STANDARD]
By RUSHDIE OUDIA
Kisumu County: Traders at Oile market in Kisumu County are crying foul over exorbitant charges levied against them despite the County Finance Act indicating a lower charge.
The traders, mostly small scale, have to part with up to Sh100 yet the County Finance Act 2013/2014 indicates that they should pay Sh30 per day as is the case at Kibuye market.
They complained that tax collectors usually charge exorbitant rates on the assumption that they have new clothes from Kibuye and as the week progresses, the rates reduce. "When you refuse to pay, your clothes are confiscated or you are asked to leave since many people want the spaces in the market," said a secondhand clothes seller.
Earn little
A cobbler at the same market says he has to part with Sh30 daily (close to Sh900 per month) yet what he makes per day is not much.
Most traders have been losing profits as they must also meet other costs such as paying for storage of their goods overnight.
A secondhand clothes trader said whenever they bring a new bale of clothes, they are charged up to Sh150 yet the Act indicates Sh100.
Milimani market Ward Representative and Minority Leader, Edwine Anayo, said poor people were suffering yet they earn very little. "Some of these traders sell just fruits, soap and sugar so when you charge them more than Sh30, they have nothing to take home," said Anayo.
Anayo said most of the traders have complained, asking him to talk to the governor, yet it is the county government that has failed to reduce the charges despite the Finance Act that was passed in the assembly indicating a lower charge.
County Executive Committee Member for Finance, Omulo Okal, said it is unfortunate that the Act was yet to be fully implemented.
"The Finance Act is operational and every charge indicated should be adhered to fully," said Okal, adding that the county government was acting outside the law.
Take a quick survey and help us improve our website
Take a survey
There has been contention over the area being a park and not a market, leaving the traders at the mercy of the council for many years.
The traders are supposed to be relocated to a building next to the social centre, a move most say would affect their businesses as the monthly rent would be too expensive for small-scale traders.
"They should not claim that this is not a market while they come to collect revenue from us," said a trader.
In the Finance Act, the monthly fee for market stalls at Oile and Jubilee markets was increased by 30 per cent – from Sh450 to Sh585 monthly.