Pain, tears as MP's parents murdered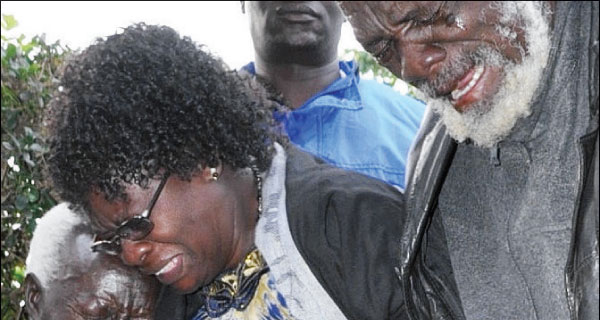 Kisumu residents mourn the death of their own
By STANDARD on SATURDAY TEAM
Tears trickling down Kisumu West MP Olago Aluoch's cheeks and that of his wife Susan captured the pain of losing loved ones.
Residents wailed as they condemned the killing of Nyakach MP Aduma Owuor's parents in Kabete village. Three assailants set ablaze the elderly couple's house in the incident that shocked residents.
Aduma's father Francis Owuor, 83, and mother Francisca Mary, 62, were viciously murdered at around 10pm on Thursday.
The gang reportedly attacked the MP's mother, who was in the kitchen and hacked her to death. They then locked up her husband in the main house, before setting it on fire.
Deep cut
Owuor's body was burnt beyond recognition. His wife's body was found in the kitchen, her face covered in blood and cooked vegetables on the fireplace. She had a deep cut on the forehead. A traditional lantern, popularly known Nyangile, lay lit in the kitchen.
The killings are believed to be connected to Aduma's campaign against cattle-rustling that is rampant in Nyakach constituency, especially in Nyabondo.
The MP has incessantly urged security officers to stamp out the vice that has over the years left many people dead. Recently, Aduma took the body of a man who had been killed by suspected cattle rustlers to the county commissioner's office in Kisumu in protest against increased insecurity.
The MP has been charged over the incident. Aduma was downcast after arriving from Nairobi yesterday at around 9am. He blamed police for the increased insecurity in the area.
"I have said on several occasions that my life and that of my people are in danger. Today my father and mother are gone," he said.
Kisumu West MP Olago Aluoch, a son-in-law to the deceased, was among the first leaders to arrive at the scene. "We cannot accept this is a mere murder or arson. This is a well-executed operation," he said.
Frantic efforts
Wycliffe Omeme, Aduma's younger brother, said neighbours called to inform him about the inferno, although they did not know what had transpired.
"I live in Kisumu and our neighbours (from Nyakach) called me at around 10pm to inform me that my parents' house was on fire," Omeme said.
Omeme said when he arrived home about an hour later, frantic efforts were being made to put out the fire. The attackers are believed to have ventured into the compound as early as 7pm.
A worker, who had been sent by Owuor to buy airtime from a nearby shop, was attacked, tied and locked in one of the houses. Senior security officers, among them County Commissioner Lorna Odero, County AP boss Gradius Atinda and Nyakach OCPD Dismus Wanjala, were heckled when they attempted to address the residents. "We will do everything possible to arrest the killers. We do not want anyone to speculate on the motive of the killings," said Ms Odero.
Fire fighters from Kisumu arrived several hours later but could only stop the inferno from spreading. No property was salvaged from the building.
Neighbours learnt about the incident from the blazing flame. Their efforts to put out the fire were futile.
A number of killings and cattle rustling incidences have been reported along Nyakach-Kericho boarder with security officers bearing blame.
County leaders, including Governor Jack Ranguma, his deputy Ruth Odinga, Women's Representative Rose Nyamunga and MPs Olago and Opondo Kaluma (Homa bay) condemned the killings.
Thorough probe
Ranguma said he would take up the issue with the Cabinet Secretary for Security Joseph ole Lenku to find a lasting solution to insecurity in the area.
Aduma had spoken at least four times in the National Assembly expressing fears about his safety and the runaway insecurity in his constituency.
Aduma has pleaded with the chairman of the House Committee on Administration and National Security Asman Kamama to help fight crime in his constituency.
Aduma also asked Kamama to deal with police officers who had assaulted him and his driver, to an extent that his driver was admitted to the Intensive Care Unit of the Kenyatta National Hospital with spinal injuries.
On October 1, Aduma said he had met Interior and Coordination PS Mutea Iringo and told him about the insecurity.
He said Iringo "instructed his officers to take appropriate action to ensure that there was peace in my constituency".
"That has not been so. I have also taken my time to meet the County Coordinator to ensure security, but that has not happened," Aduma told the House.
The Nyakach lawmaker said 20 of his constituents had been killed since his election, and that 72 people were affected by the violence.
That day, Kamama called for "thorough investigations" and blamed the police in Kisumu for "mishandling" the MP's concerns.
Yesterday, National Assembly Speaker Justin Muturi sent his condolences to the MP's family