Firm donates food to pupils in drought-hit Marsabit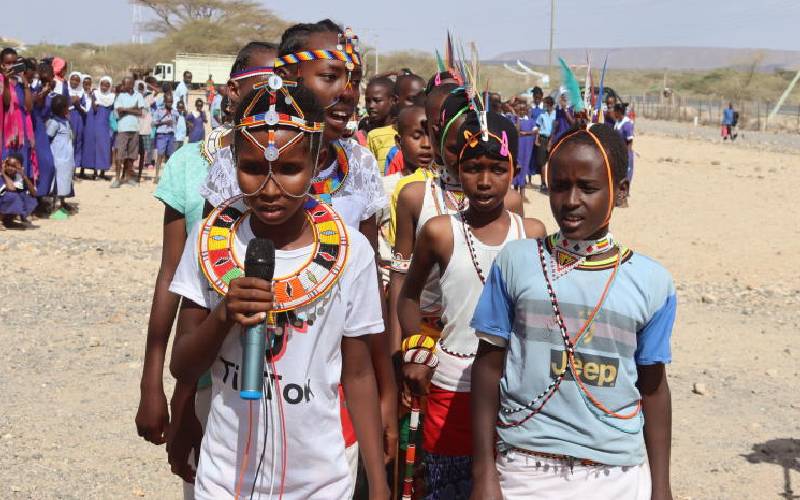 Marsabit County has experienced a high rate of school dropouts in the last two years due to the ravaging drought.
The Ministry of Education, in an attempt to keep learners in school in the drought-hit region, had initiated a cash programme where children receive Sh10 a day, which is the equivalent of one meal a day. However, the cash programme was not consistent.
According to an Out-Of-School Children Initiative study conducted in Kenya in 2020, almost 1.13 million children aged 6 to 13 are out of school due to drought.
Laisamis Sub-county Director of Education Ali Abdulahi said "last term there were delays with dispatch of food and we requested Lake Turkana Wind Power (LTWP) to step in and help us keep our students in school."
A report by the United Nations Office for Coordination of Humanitarian Affairs shows that the cumulative impact of two consecutive poor rainy seasons, coupled with the Covid-19 pandemic, insecurity, pests and diseases have worsened humanitarian crisis in Arid and Semi-Arid Lands (ASAL) region of Kenya.
On January 11, 2022, LTWP launched a two-month emergency food relief programme that will benefit 13,000 pupils by providing them with a meal per day from January to March 10, 2022.
Speaking during the launch of the programme, LTWP CEO Philip Leferink said the initiative was timely for the continuity of the pupil's education during their last term of the academic year.
Mr Leferink noted that the drought situation in Northern Kenya and especially in Marsabit was serious.
"We as LTWP have ramped up our drought assistance programme that started with the provision of water to communities around our wind farm to provide food to all primary schools across Laisamis constituency," he said.
Speaking during the function, Laisamis MP Arbele Musa congratulated LTWP officials for their resolve to keep learners in school by providing them with food.
"Marsabit is a dead county and the governor has never been seen here to provide food for his people despite that being his responsibility," he said.
According to a headteacher, when there is food distribution in schools, the number of learners increase by a big margin.
LTWP will be donating food worth over Sh12.8 million to be distributed directly to schools.
The national government, through Marsabit County Commissioner Paul Rotich, lauded the move and called on more organisations to join hands to cushion local communities affected by drought.
"We welcome other organsations to help communities affected by natural disasters. Our role includes building resilient relationships that directly support all aspects of families' wellbeing," said Mr Rotich.
While receiving the donations on behalf of the community, County Director of Education Apollo Apuko called on corporate organisations and individuals to collaborate towards alleviating the chronic food insecurity challenge affecting the region.
"Food security affects the delivery of education to children, especially in the formative years. This should be a priority for us and we are thankful to LTWP for stepping in as this programme will go a long way in supplementing the Ministry of Education's school meals initiative," said Mr Apuko.