Top Marsabit leaders urged to unite in ending clan conflicts
NORTH EASTERN
By Ali Abdi | July 11th 2021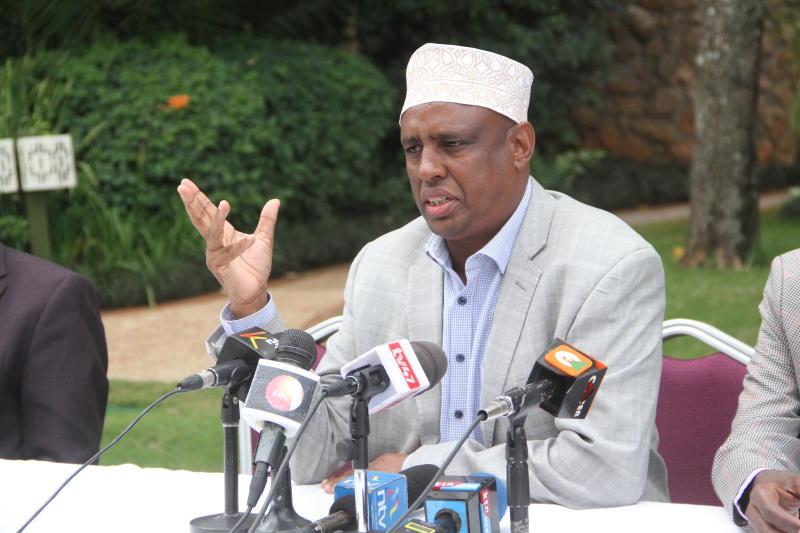 Leaders from upper Eastern have called on stakeholders in volatile Marsabit to preach peace among warring sides.
Politicians, elders and religious organisations pleaded with the top county leadership, led by Governor Mohamud Ali, Treasury Cabinet Secretary Ukur Yatani, MPs and MCAs to join hands in efforts to bring to an end the inter-clan conflicts.
The group, led by former Isiolo North MP Haji Mokku, said coming together of Yatani and Governor Ali in calling for truce between the two main warring clans would help calm the situation.
Ali took over from Yatani in 2017 General Election. The two come from the two warring clans.
Mokku together with Council of Elders Chairman Abdullahi Haji Gonjobe and National Interfaith Treasurer Sheikh Ahmed Set said hundreds of innocent lives, including those of children, have been lost, property destroyed and development halted due to the violence that recurs whenever a General Election approaches.
"We are saddened by the turn of events in Marsabit that is very worrying and our humble appeal is for restoration of a lasting peace. All parties should come to the table and talk," said Mokku.
Dawn attack
The group urged stakeholders, including elders and religious leaders, to reflect on past incidents that led to many deaths. On April 10, 2006 a plane crashed in Marsabit, killing elected leaders, while the infamous Turbi massacre of July 2005 saw at least 70 people killed in a dawn attack.
"Let's learn from the past incidents. National security officials too should address the insecurity in Marsabit. This is a crisis that must be addressed soberly," Mokku said.
The leaders' concerns come a day after Inspector General of Police Hilary Mutyambai ordered the deployment of a specialised multi-sectoral police unit in the hotspots of the current conflict in Saku Constituency. The area has remained the epicentre of violence that has claimed more than 100 lives since December 2017.
Between 2013 and 2017, the violence took place in the border town of Moyale, where at least 300 people were killed and hundreds of displaced residents sought refuge in Ethiopia.
Mutyambai's order came a day after three people were killed and the truck they were travelling in set ablaze, an incident that triggered fresh violence and heightened tension.
The police boss asked perpetrators of the clashes to surrender to police or risk being hunted down and arrested.
Nine people have been killed in Saku Constituency in less than a week, with the clashes starting near Kiwanja Ndege area in Marsabit town.
Businesses in the fast-growing town, brought about mainly by infrastructure development like the 526 km Isiolo-Moyale road, has been hampered, while transport on the key highway, facilitating import and export trade with Ethiopia, was affected in the last four days.
The causes of conflict include fight over political leadership and access to and ownership of small but prime settlement areas, especially in Saku, which has grazing fields in dispute.