Traced: How bhang from Ethiopia finds its way to Nairobi
NORTH EASTERN
By Ali Abdi | June 5th 2020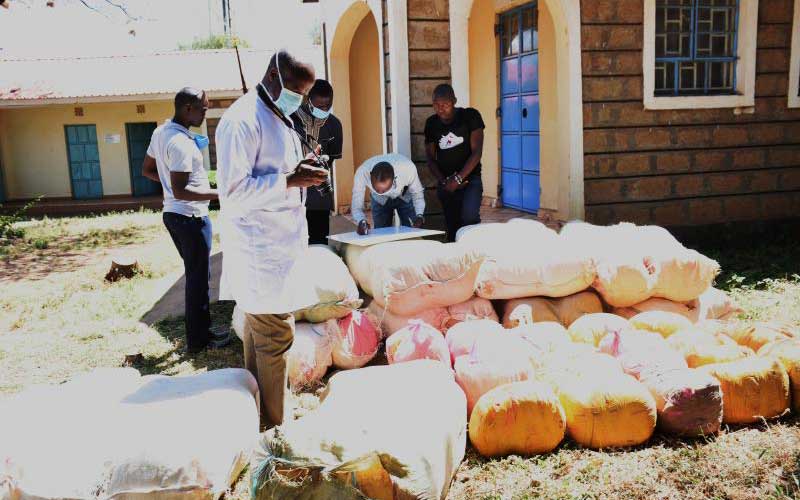 The Kenya-Ethiopia border is now an entry point of large hauls of bhang widely grown in southern Ethiopia, The Standard has established.
Moyale town, the largest of the trading centres near the border, stands out as the capital of contrabands that includes smuggling of now Kenya's popular brand of bhang dubbed 'shashamanne'.
Apart from Moyale, other border points used by cartels to smuggle in Ethiopian bhang include Sololo, Uran, Forolle and Dukana.
Multiple security sources in upper Eastern said dealers use peddlers to smuggle the brand into these centres in small batches using unofficial or unmanned routes, especially at night, with Moyale town accounting for more than 75 per cent.
In Moyale, Biashara Street and Heilu are major entry points from Ethiopia.
Small vehicles, boda bodas, donkey carts and humans are means of transport used to sneak in the cargo along the border.
It is from the centres that the bhang is transported to Nairobi using two routes – the Moyale-Nairobi highway via Marsabit and Isiolo, and the unofficial route, a cutline that runs from Funannyata in Sololo to Yamicha plains of Merti Sub-county in Isiolo. Route one, which our sources described as direct but risky, is used by the well-connected cartels with deep pockets.
A police officer based in Moyale said the cargo is loaded into a vehicle in Moyale town, the preferred model being Land Cruisers, and passes through Marsabit town, Isiolo, Nanyuki and onwards to Nairobi using the A2 highway, a distance of 775km or about 10 hours drive.
"The route is now less used due to heightened security along the highway and the curfew, and due to the risk involved many smugglers have resorted to the alternative route," said the officer.
The smugglers, including top businessmen in the region, described by multiple sources as multi-millionaires, bribe security officials to allow their vehicles pass through nearly 12 police barriers before reaching Isiolo town after passing through centres in Marsabit and Samburu counties.
This route is also used by trucks and buses.
However, a source says, since mid March, majority of smugglers have been using other routes due to beefed up security along the highway.
These much longer routes – and chracterised by rough terrain through unpoliced herding fields – handle cargo for majority of the dealers who cannot afford to use the highway.
From these centres in Marsabit County, the consignments are brought by mostly boda boda riders and cars like Probox to Funannyata, a small trading centre in Sololo Sub-county, from where the bhang is loaded into four-wheel drive vehicles, with destination being Isiolo town.
A driver familiar with the route says the smugglers use the unmanned cutline that runs along the Marsabit-Wajir and Wajir-Isiolo borders to evade police barriers along the highway.
"From Funannyata, the vehicles would pass through unoccupied areas or grazing fields before reaching Yamicha in Merti (Isiolo County)," said the driver.
The vehicles would go through the bushes near Shuur (in Marsabit) and Yamicha, all trading centres that serve herdsmen grazing in the area.
To beat a trap laid for them on the border cutline routes, the smugglers use a number of peddlers who use boda bodas to ferry the drug in small quantities from Funannyata through Shuur to Yamicha.
"As many as 50 motorbikes can be used to take bhang over a distance of about 400km between Funannyata and Yamicha," another source said.
From Yamicha, the vehicles would again pass through unmanned grazing zones of Quro Bisanowo, Sabarwawa and Kom in Merti before either diverting through Lososia to Archers Post (Samburu) or Gotu (Isiolo) and onwards through centres in Igembe Central (like Gachuru and Shab) and Tigania East before both routes connect to Isiolo town.
Those lucky to reach Gotu and Lososia more often than not manage to reach Isiolo and thereafter Nairobi.
This route is recently most preferred as the traffickers would avoid numerous roadblocks along Isiolo-Moyale highway.
Even with closure of the Kenya-Ethiopia border, bhang from Ethiopia still finds its way into the country.
"The border had been closed, Kenya and Ethiopia are both guarding their sides to check movement of vehicles and people and in Kenya there is dusk to dawn curfew but we still have the drugs coming in," said the police source.
In last two weeks, three vehicles, which came through Merti, have been seized with the narcotics.
Lately, the smugglers have resorted to using GK vehicles and up to 10 security officers are facing charges in courts over the offences.
Marsabit County Commissioner Evans Achoki said the State used the army based at Odha camp in Moyale to dig trenches along illegal entry points at Heilu and Biashara Street to check entry of people and contraband to and from Ethiopia.
Both Achoki and his Isiolo counterpart, Herman Shambi, acknowledge that the smugglers use the cutline route that mostly have no settlement areas and patrols are minimal.