Mandera leaders call for tighter security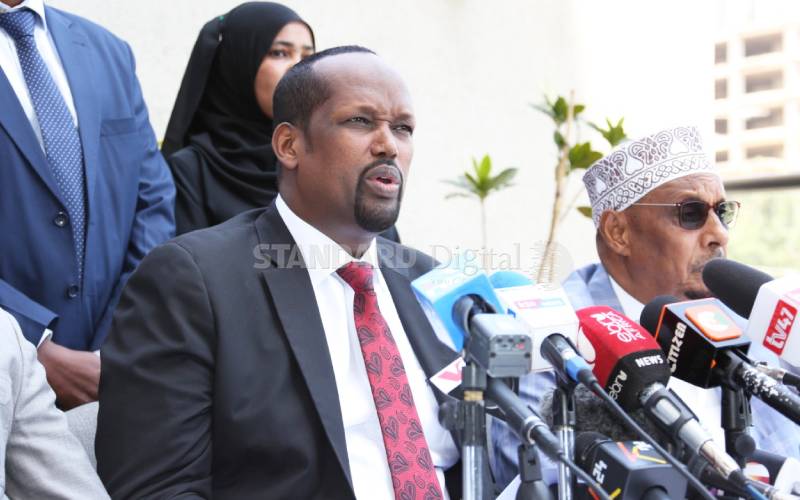 Mandera county leaders have said they support the deal between Kenya and Somalia presidents to reduce tension at the border.
Led by Mandera Governor Ali Roba, the leaders praised President Uhuru Kenyatta and Somalia's Mohamed Farmajo for trying to de-escalate the tension.
In the last month, there has been a major fallout between the Regional Government of Jubaland and the Federal Government of Somalia.
The Federal Government then took over the administrative and security control of Beled Hawo and Dolo border towns, leading to the displacement of Jubaland administration.
Addressing the press today, flanked with other county leaders, Roba said Jubaland security forces crossed over into Kenya, staying in Mandera.
On Monday, the two forces attacked each other with unknown casualties on both sides, but left 12 people injured in Mandera town from stray bullets.
"This situation has created panic and led to the displacement of people from Bulla Customs, Bulla Garay, Bulla Mpya, Bulla Arabia, Bulla Busle and Border Point I," the county chief added.
The leaders called for better coordination between them and the national security agencies.
"We are left in a situation where the public has no guidance from their leaders and the national government."
The leaders urged the national government to expel the foreign forces from Mandera.
Roba further called on Devolution CS Eugene Wamalwa to address the humanitarian crisis facing the displaced residents.
However, on March 2, police denied claims of attacks in Mandera town.
"The incident being referred to happened today afternoon in Bulla Hawa in Somalia which borders Mandera town," a statement from the National Police Service read in part.
Instead, the authority said Kenyans have no need to worry as they have deployed security officers to maintain calm in the region.
The incident came in the wake of a 'secret' Somalia trip by 11 Northeastern MPs.
The Ministry of Foreign Affairs said it was not aware of the trip by the lawmakers from Wajir and Mandera counties.
They were grilled by detectives on arrival at the Jomo Kenyatta International Airport, but authorities said they were not under arrest.
The MPs are Ahmed Kolosh (Wajir West), Ibrahim Abdi (Lafey), Rashid Kassim (Wajir East), Mohamed Hire (Lagdera), Omar Maalim (Mandera East), Bashir Abdullahi (Mandera North), Adan Haji (Mandera West), Kullow Maalim (Banisa), Adan Ali Sheikh (Mandera South), Dahir Mohamed (Dadaab) and Ahmed Bashane (Tarbaj).
There were reports that the MPs, who flew from Nairobi on Saturday morning, were chauffeured from the airport to Villa Somalia where they met Farmajo before they were briefed by the war-torn nation's intelligence chiefs.