Camel derby helps in peace promotion, inter- communal relations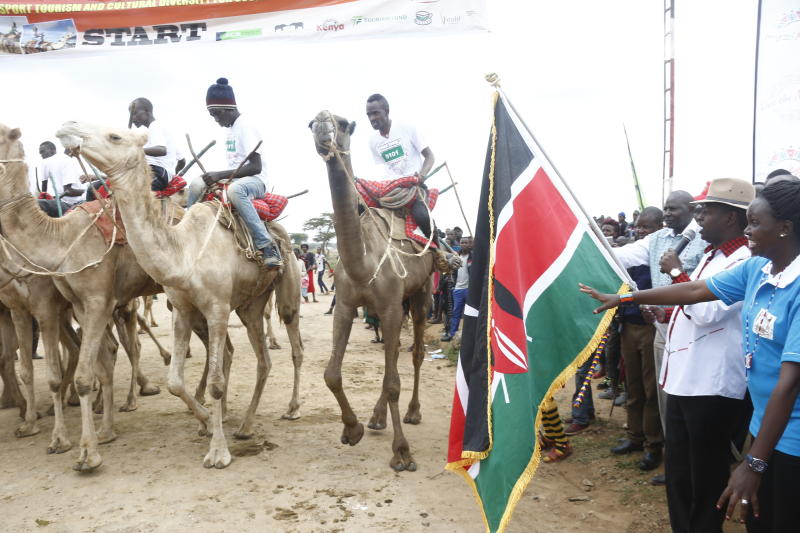 Lack of pasture and water have been the key cause of conflicts among the pastoralist communities in Northern Kenya but engagements of the communities in cultural-related activities have helped in reducing the conflicts.
Events bringing together several nomadic ethnic communities in Samburu, Isiolo, Marsabit and Laikipia counties have contributed in helpful discussions about the various challenges that face them as pastoralists such as education and environmental issues.
Communities from the four counties that are hardly hit by drought met up at Maralal during the annual International Camel derby.
The event involved amateur camel race where locals ride on camels for the selected distance and the winners awarded.
However the objective of the event was not only to award the winners in the race but to relay the message of peace keeping and the pastoralist communities that mostly fight over pasture ad water.
This year's Maralal Camel Derby took place from 30th August to 1st September with a theme to Promote peace through culture and sports.
"We have different communities showcasing their culture, types of food, dressing among others and that easily brings cohesion because we learn how to appreciate other cultures," said Peter Galwersi, peace chairman from Laisamis in Marsabit County.
Galwersi led a tea of community members from Marsabit County to the camel derby to interact with other communities.
Camel, is a common animal among the communities and the choice to use them in the race was aimed to bring them together as the communities relate to it.
"Different communities have different way of life and bringing together the neighbouring communities helps in resolving their conflicts which can be violent. People have been killed and animals killed in the conflicts but the derby helps in internal discussions among them," said Vincent Omunyin from World Vision.
Omunyin noted that introduction of a program dubbed Imara helps in promotion of peace by educating and communities on revitalisation and preservation of rangeland assets in the arid and semi-arid areas so as to reduce conflicts.
Integrated Management of Natural Resourceful for Resilience in Arid and Semi-Arid Lands (IMARA) has also helped in diversified livelihoods so as the communities engage in other income-generating activities that are adaptive to the arid areas such as bee keeping.
The three-year program led by World Vision in the four counties in northern Kenya helps in bringing the groups together through enterprise programs as a way of promoting peaceful co-existence.
In various cultural curios at the derby, women showcased self-made products such as bead products, honey, among others, a move they believe help in interrelations.
"If a Samburu woman come selling honey of beaded bracelet, I will buy and we will be able to interact and learn more from the organized women groups, /" said Purity Lemerian from Laikipia county.
The derby also serves to educate people on the many benefits of camels therein promoting better camel husbandry as well as conservation of nature by creating awareness of the rapid onset in the desertification of Kenya.