Project to tap wind energy sources in Marsabit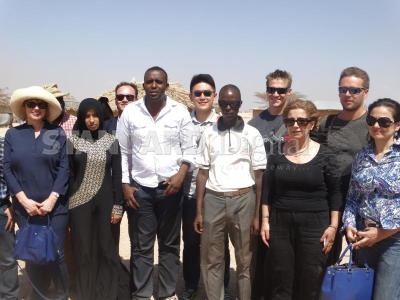 MARSABIT: The county has entered into talks with an international energy firm for a possible partnership to tap its wind energy sources.
A technical team from EP Global Energy Ltd, UK visited El-gade in Maikona Ward on a fact finding mission on renewable energy.
Energy Executive, Yasmin Abdulkadir who hosted the energy firm, said the county has abundant fast winds which makes it an attractive region for investment in renewable energy.
Ms Abdulkadir said in the past five years, studies have been ongoing to establish wind patterns and preliminary wind resource assessments show that wind flow in the county can support commercial electricity generation since wind speeds range from 8-14 metre per seconds.
"The county government will negotiate for a joint ownership with local and international companies interested in investing in the energy sectr," she said.
Abdulkadir said there are six identified wind blocks in the county: Bubisa, Hurri Hills, El-gade, Gof-Choppa, Ngurnet and El-Molo bay.
BETTER LIVES
The energy firm's Managing Director Tara Lindstedt said the partnership aims at tapping renewable energy and maximising its use to better the lives of locals.
Mr Lindstedt said their project dubbed 'DREAM' (Developing, Renewable, Energy, Africa and Middle East) not only empowers local healthcare and education sectors, it also supplies villages with electricity.
Briton denies killing Kenyan girlfriend
A British national was on Thursday charged at a Nairobi court with killing his Kenyan girlfriend. However, Carl Gary Singleton, 41, denied murdering 22-year-old Peris Ashley Agumbi before Justice Roselyne Korir.