Mombasa lost Sh17.4b since SGR order, study shows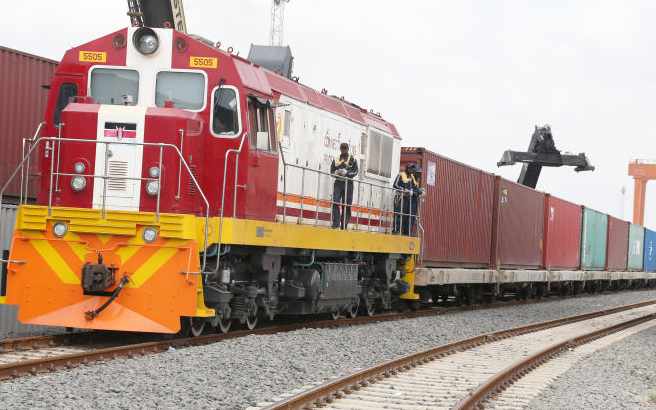 Mombasa's economy will shrink by 16.1 per cent with 8,111 jobs lost if all cargo is evacuated by the Standard Gauge Railway (SGR) from the port, a new report shows.
According to the study done by the University of Nairobi School of Business and published on Friday following a year of investigations, the county has already lost Sh17.4 billion and 2,987 jobs equivalent to 8.4 per cent of its annual earnings since the implementation of government policies requiring mandatory transfer of most import cargo through the Madaraka SGR freight service to Nairobi in 2017.
"…in the event the proposal to convey all upcountry cargo through SGR then the implications to the Port City of Mombasa's GDP and employment sustainability will be serious," it says adding that the implementation of the SGR freight service so far did not consider all the appropriate socioeconomic, cultural and political context.
It characterises the SGR as a historically "ambitious and revolutionary endeavor in infrastructural development" with "first-class" equipment but adds that government policies, especially the directive to transport all import cargo by SGR that followed, were non-consultative and unilateral with a net negative effect on Mombasa's economy. Mombasa businessman Suleiman Shahbal, says the city is on verge of death. "Give it the kiss of life before it is too late," Shahbal says. "The interest of implementing the operationalisation of the SGR therefore, needed to be placed into the appropriate socioeconomic contexts and explained in the perspective of existing restrictions (such as societal, cultural, political and economic)…," says the report in part.
For centuries, Mombasa's economy has gravitated around the port but now its mainstay is facing a challenge in what some observers say is a slow and painful death.
"The transport sector is dying before our on eyes, firms are now laying off drivers, everything is moving to Nairobi," said Kenya Transporters Association (KTA) Chief Executive Officer Dennis Ombok.
Dock Workers Union Secretary General Simion Sang also paints a gloomy picture of Mombasa's economy.
Take a quick survey and help us improve our website!
Take a survey
Mr Sang says that only 13 per cent of the cargo at the port is bound for Mombasa with the remaining destined for Nairobi, Uganda, Rwanda, Burundi, Southern Sudan and parts of the Democratic Republic of Congo.
"Of all that, 27 per cent of the cargo is destined for landlocked countries and 60 per cent for Nairobi, the 87 per cent will soon be cleared from Nairobi," he says.
Shahbal warns that if the economy of Mombasa sinks, it will go down with the entire Coast region. "The city is on a sharp downwards spiral the entire Coast region depends on its economy."
But in a marked departure from past agitation, the report also demonstrates that in spite of these negative impacts, Mombasa's economy can still thrive in perfect co-existence with SGR if the state implements remedial policies including fast tracking of the Dongo Kundu Special Economic Zone and other potential industrial parks to create new employment opportunities for Mombasa.
The report prepared by Dr Kennedy Ogollah, Dr Kingsford Rucha, Dr Joshua Aroni and Gichiri Ndua further shows there are adequate opportunities and cargo to support the SGR and Kenya Railways Services to sustain itself and repay the loans owed to China and also enable Mombasa's threatened logistics and transport sectors to thrive.
The report also demonstrates that with appropriate interventions and free market policies, the SGR freight services can have a positive impact on Mombasa's economy since it can spur tourism, decongest the county and encourage environmental protection of Mombasa.
It recommends that Mombasa County be made part of the port community "as a key interested party" and the county government to lobby the national government for "policy/legislative alignment that will allow market forces to operate freely to create a sustainable environment for other sector stakeholders."
More funding
Meanwhile, the study recommends that to mitigate depletion in the county's GDP "as a result of cargo evacuation," the Mombasa county government should lobby for additional funding from the national government or "negotiate with KPA for a throughput based on cess levy model."
It also urges the county and national government to negotiate for "passenger termination to be extended to the Old Railway Station" besides implementation of other economic policies to restore Mombasa as an export port city and periodic studies to assess the impact of any policies affecting the county. The new policies that involved concessionary rates for SGR cargo transport have had a negative impact on the logistics, long-distance trucking, container freight stations, fuels and lubricants sectors of Mombasa's economy, the report indicates.
Thousands of workers in the CFS' have been laid off in the past year, according to the report that documents massive shut down or translocation of clearing and forwarding firms in Mombasa since 2017 when the SGR freight service was launched with much fanfare.
The study also makes a case for Mombasa to impose levy on cargo passing through the port to bridge potential decline in revenue from the traditional revenue streams.
Sectors to be hit hard if all cargo is transported by SGR to Nairobi are a long-distance truck, lubricants and fuel, and container freight services with a total contribution of Sh33.3 billion.
According to the report, the transport sector contributes 23 per cent of Mombasa's GDP followed by manufacturing, real estate and construction at 16, 12 and 10 per cent, respectively.
"In total, the four sectors contribute 60 per cent of the GDP at county level," says the report that indicates so far the implementation of the new policies are projected to lead to 15 per cent job losses in the long-distance trucking sector where 151 workers could be laid off soon.
Eight per cent or 232 employees in the fuels and lubricants sector face the sack while 2,604 workers or 60 per cent of employees are threatened with imminent dismissal in container freight stations if the policies are enforced.
Besides redundancies in these sectors the study documents losses in the hotel, warehousing sectors as well as a drop in Mombasa county's revenue collection. It also projects that the crime and social ills could treble with Mombasa's economic collapse.
-Additional reporting by Jacob Ngetich.