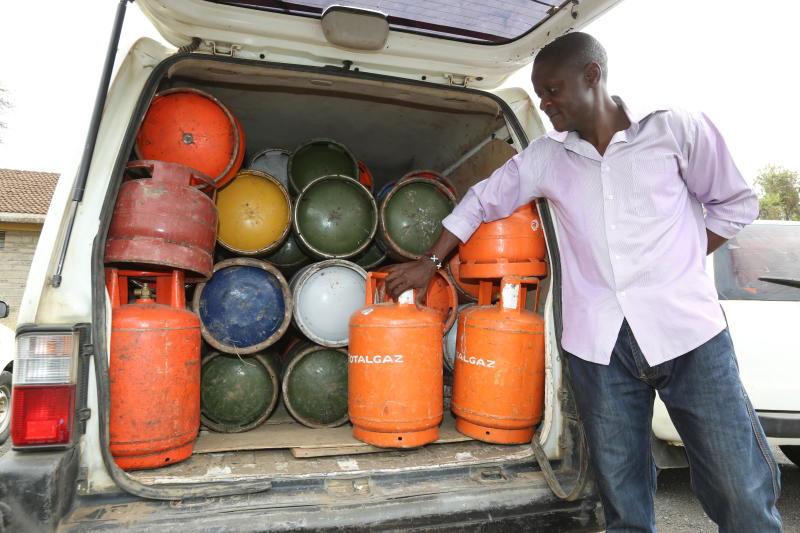 As the number of consumers of cooking gas increase across the country, safety has increasingly come to the fore.
Cases of accidents occasioned by poor handling of gas cylinders that are worn out and the illegal gas operators have been on the increase.
The situation is compounded by claims of importation of substandard gas cylinders from neighbouring countries.
Industry players have in the past estimated that these illegal fillers could be commanding over 50 per cent of the liquefied petroleum gas (LPG) market.
The illegal plants located close to residential homes have continued to pose danger to customers and remain a potential land mine.
With the kerosene prices having shot up and unavailability of charcoal and wood, LPG is seen as a cheaper and cleaner fuel for low-income households.
Investigations by Weekend Business unearthed cartels involving locals and individuals from neighbouring countries that control a multi-million-shilling segment of the market, thus endangering thousands of Kenyans.
They indicated that some Tanzanian suppliers are helping the illegal transporters by issuing fake weighbridge receipts to help them under declare quantities.
"There are instances where 10 trucks use the same entry and the tax payable is determined by the officer at the border through something called a direct tax assessment," said a source at a border point in in Lunga Lunga, Kwale County.
"This is a massive loophole as there is also no weigh bridge at the borders. Gas coming this way is also not tested to ensure quality compliance."
This is happening even as there is a notable increase in the market for LPG, according to the Energy Regulatory Commission (ERC).
Director General Robert Oimeke said the rise occasioned by the need for clean energy coupled with the rising cost of kerosene and dwindling charcoal and firewood.
"The industry is growing but we must admit there are illegal players who endanger Kenyans. We going on with the crackdown that we started together with Director of Criminal Investigations and we hope to end the menace," he said.
Mr Oimeke said a number of private companies are angling to benefit from growing use of cooking gas and absence of investments by the Government as they set up import and storage facilities at the Coast.
The latest are Mansa East Africa and Mombasa Gas Terminal (MGT), which are putting up multi-billion facilities in Mombasa.
Mansa East Africa has already which filed for approvals from the National Environmental Management Authority seeking the go ahead to start construction of a 10,000-tonne LPG handling facility.
MGT plans to put up a Sh8 billion LPG handling cooking gas facility
An industry player in Mombasa who sought anonymity, said gas importers are required to report their import and sales numbers to ERC, indicating clearly sales per customer and volumes.
"This allows ERC to track LPG sales to ensure it is not sold illegally. Tanzanian importers, however, do not report their numbers. This coupled with the above allows unscrupulous traders to operate with impunity," he said.
The threat is real given that Kenyans consumed 189,000 tonnes of LPG last year, with expectations that this could reach 300,000 tonnes over the next five years.
"There is a tremendous increase in the recent past from 2.8 kilos per capita in 2015 to 4.4 kilos currently and it will soon move to 5.5 kilos in a few years," said an industry report.