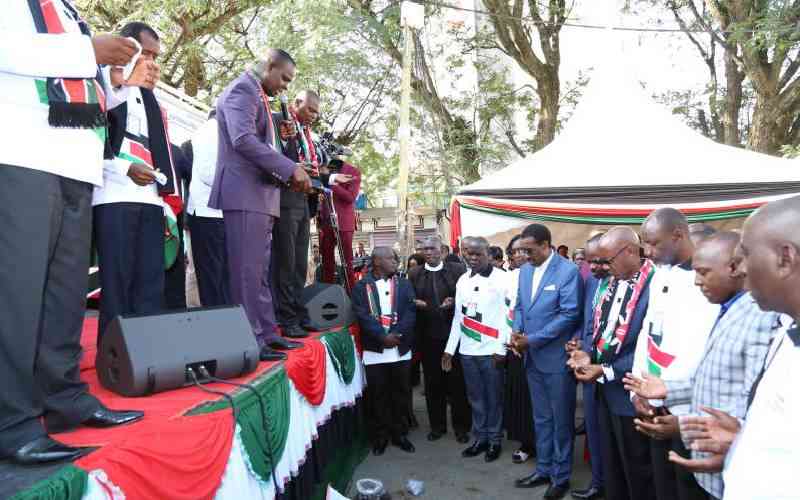 Lord we come with heads lowered for the Savior to save our faces. We have longed for a new country but find ourselves trapped in the same old. Lord, we are fatigued by promises of men that do not end up as deeds. Forgive us for walking as a clever lot that does not need a Saviour. Forgive us for walking up to your altar in the name of God only to speak in the name of greed. We have cheered thieves and shrugged our shoulders at decent men. We go to church but we do not come to God. We cry for divine power to work for us but we do not want it to work on us. We put up a front of holiness while really we lean towards hypocrisy. We are population of Christians most of who are criminals. Lord have mercy on us.
We pray that elections from this year onwards will be peaceful. May the pattern of punishing re-elections and draining re-runs be broken. Innocent blood will not spill. May any schemes of violence freeze and cease. May hands training for violence break at the wrist. Abel will have no new mates crying from the ground. Let us be addicts of peace and beat our swords into ploughshares and spears into pruning hooks. There will be no lifting up of swords against each other. We shall not learn war anymore. May justice roll down like waters, and righteousness like an ever-flowing stream. May the count outcomes be so vivid that they will render paralysing contests unnecessary.
We pray for the authentic respect for the Creator God to be evident in this country. Let the airs and threats of men who walk and talk as gods be deflated. May self-exaltation be tamed by the truth that we are a nation under God. Let it be that the new government will be positively different from all previous governments – it will passionately hate evil. It will not devalue the national values. We pray that governments going forward will love the people. May agents of darkness stumble on their path and begin to pant for light. Let crooks come to their senses and crave for straight paths. May sincere worshipers of God defy the mocking birds and model new ways that create sober communities. May the way of the cross bring us to a national resurrection.
May skill be harmonised by spirit. May the chest of Kenya's skills be secured from raids by designers of evil. May strategists of deceit run out of ideas. Let gifted godly women and men boldly relinquish the passenger's seat and assume the driving role. May the workers of iniquity and schemers of evil be sidelined into irrelevance. May graduates of the ghost-bursting school find their place in our institutions to exorcise the mist of the missing. Sponsors of immorality will be immobilised as workers of righteousness rise to positions of influence. The plans of the corrupt will collapse. Wicked wealth will turn against its holders. People will work and gain the fruit of their labour. Merit will be the law. Business people will not need to bribe anyone to make wealth. For bribes will be mocked.
Shield their rights
May corrupt corporations declare moral bankruptcy and be enlisted on the list of serious change. May these be bought and taken over by lovers of good. May deceiver managers go home and truth operators received in their stead. May we borrow heavily from the International Moral Fund (IMF) until we break the vice ceiling.
We pray that families will defy the storms that seek to dismember them. For where the family is not held in honour even a nation fails to prosper. Let widows have their justice. May a ring of fierce fire shield their rights. Let us be a country where orphans are loved, made warm and sheltered. May there emerge a cloud of compassionate people who hold the hands of those living on the streets to lead them into lanes of love that release them into highways of new stories. The rich will open up their hands to give. The poor will not scramble for crumbs. Wealthy corporations will be generous, transforming communities not for show but because it is the right thing to do.
Women will take their place at the table of honour. Wails will turn to ululations as they do their part in birthing a new nation. May young people be wise enough to see through the deceptive traps of Satan. May they realise the fake in evil enough to expose its weakness. May they discover over and over that darkness is not as fierce as it purports. Darkness in conquerable! The wicked need not trend every week. May young women and men dress in new minds – minds of inspired imagination. May the labels of "weak link" nor "a ticking time bomb" drop. Instead, may they be in their senses and bypass the expressways of prodigality. May they be a delight to their motherland.
We pray that our different faiths will break the speed of competition and fly in the roar of unity. May Kenya have love enough to be a shelter for scampering neighbors seeking an embrace and place they can call home. May the persecuted find their walking feet here and bless our soil. Anchoring herself in God, may Kenya climb up the league of nations. Unique innovations will emerge from this country to startle the world. We will have rain in its season. The glaciers on our mountains will not be warmed out and rivers dried up. Instead, water towers will be renewed. Our forests will be rejuvenated. Tree harvesters will be overtaken by tree planters. Minds will come together to transform our desert areas into mines of great production. There will be a divine grace over this nation – a grace of calm and beauty. Whatever is pure, whatever is noble, whatever is right, whatever is lovely, whatever is admirable, whatever is excellent and praiseworthy – we will dwell on such things.
Lord graciously hear us.