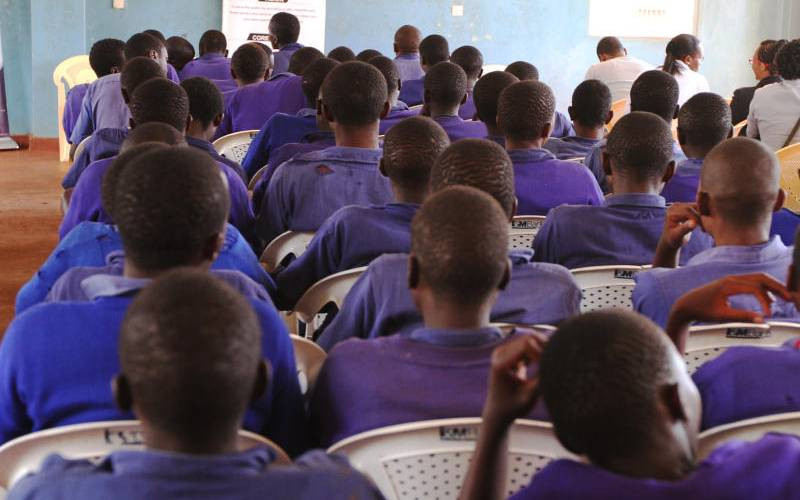 For a 15-year-old named in court papers as CM, there is no reason to live, thanks to the harsh treatment she has received from Kenya's justice system.
The minor was jailed after she was found guilty of selling illicit brew. She was locked up at the Nakuru Women GK Prisons, an adult prison, despite her age. It later emerged the police mistook her for an adult just because she had a child and was breastfeeding at the time of her arrest. That made CM a child in conflict with the law (offender).
The minor gave birth when she was 14. And because she could no longer go to school, she joined her mother in selling the illicit brew.
Police officers who were cracking down on illicit brew in her area arrested CM alongside other brewers. When she was taken to court, CM pleaded guilty to the offence of selling illicit brew. She was handed three months in prison.
It was later, when CM was already in the prison, that officers realised she was a minor. Her lawyer Sheila Sabaya lamented that the girl was convicted unfairly and unlawfully.
Ms Sabaya filed for a revision of the sentence before Justice Joel Ngugi of the High Court in Nakuru. After hearing her case, the judge overturned her sentence on May 25 and convicted her to serve probation for one year.
In a text message seen by The Saturday Standard, CM told Ms Sabaya she does not trust the justice system after it allowed her to be taken to prison despite being a minor.
"I have given up hope on this life and the court system," reads CM's text to the lawyer.
Meanwhile, Ms Sabaya lamented that the man responsible for the girl's pregnancy was never arrested or made to care for the child. CM feels betrayed.
"She is a child in need of care and protection but she feels unprotected by the courts. We have a serious problem," said Ms Sabaya.
In a different case, on March 2, 2019, a 16-year-old boy was sentenced to four years in prison after he was found guilty of murder he committed in 2018.
While sentencing the boy codenamed DK, Justice Mumbi Ngugi of the High Court in Kericho said the minor would serve two years in a youth detention centre until the age of 18 years.
"The boy will serve another two years at Kericho GK Prison so he can understand the consequences of his actions," ruled the judge.
The court was told that DK, a first offender, killed SN by stabbing him to death with a knife at a pub in Nyagacho, Kericho County.
In a personal statement, DK asked for forgiveness from the deceased's family saying he was deeply disturbed by his actions.
A children's report, filed February 4, 2019, stated that the boy dropped out of school while in Standard Six due to lack of basic needs and separation from his parents due to domestic violence.
In another case, KM had been in prison for six years before the court realised he had been convicted to serve a life sentence despite being a minor.
Later, the High Court overturned a magistrate court's decision and convicted the minor, who is now 27 years old, for defiling a four-year-old child.
Justice Ngugi replaced the life sentence with the six-year sentence he had served in an adult prison. He was thus put on probation for two years.
The judge regretted that the trial magistrate erroneously convicted KM to life imprisonment without considering he was a minor when he committed the offence.
The court heard that KM committed the offence on July 17, 2010, at Kabatini Trading Centre in Bahati sub-county. He was aged 16 years old then.
Other than children exposed to the justice system as offenders, there are those exposed as victims and witnesses. They become children in conflict with the law.
A six-year-old girl was, on March 24, forced to testify against her mother who had been charged with killing the minor's step-brother. The girl broke down while giving her testimony as she recalled witnessing her brother die.
She told Justice Teresia Matheka that her 28-year-old mother beat the boy to death on the morning of February 5 at their St Mary's Pastoral Centre home in Nakuru East sub-county.
The minor said her step-brother was whipped with a laptop cable until he fell down and lost consciousness.
"I saw my mother beat him. He soiled himself before lying down and sleeping. He never woke up again to play with me," she testified. The case will proceed on October 5, this year.
On July 5, 2019, a 13-year-old boy testified how his former schoolmates stripped his father naked, before beating him to death. The pupils who beat his father, he said, were armed with knives, spears, and rungus (clubs). The minor said the attack happened in January 2019 at Kambi Muhindi trading centre in Gilgil sub-county.
In another case, 12-year-old EM has been living away from her mother for ten years. She has been living with her father. Her parents are divorced and currently embroiled in a bitter court battle over the girl's custody.
In 2019, the woman admitted to having unlawfully taken the girl from the man, arguing that the man denied her an opportunity to spend time with her daughter.
In 2020, a magistrate's court in Nakuru ruled that the child could only be with her mother in a supervised visit. The visit was also limited to nine hours per year. The case is before Justice Matheka for review.
An April 11, 2022 report by Alice Wanyonyi, the Nakuru County Children's Coordinator, stated that the relationship between the girl and her mother is not good.
Ms Wanyonyi recorded that following her alleged abduction by her mother, the child lamented that she was forced to change schools.
"Since she was 22 months old, the child has known more of her father than her mother who stayed with her only on a few occasions. She is not free with her and the mother-child bond is weak," stated Ms Wanyoyi.
According to Ms Wanyonyi, rescue centres are limited in Kenya and in some instances, children in need of care and protection end up being mixed with child offenders.
"The government should construct resources to help keep children in need of care safe," she said.
Serah Wanjiru, a psychologist with Unique Divine Search Counselling Consultants, noted that once exposed to the justice system, many children lose their self-esteem.
"They no longer feel like normal children after the exposure. Some get confused while victims of crime feel guilty for reporting or testifying before courts," she said, arguing that a child's future is often destroyed as they no longer go to school like others, their innocence gets lost and they suffer emotional damage.
"Offenders are treated as criminals by unqualified magistrates and prosecution while victims are treated as liars by lawyers of defilement suspects," she said.
Wanjiru says a new system, specifically for children, should be developed. This system should not involve taking children to court.
Justice Matheka, the chairperson of the National Council on Administration of Justice (NCAJ) Special Task Force on Children Matters said only qualified personnel should handle children's cases.
She noted that a significant number of magistrates, judges, lawyers and prosecutors have not been trained on how to handle cases involving children.
"Why are children expelled from schools and denied a chance to study in other schools?" said the judge.
Justice Matheka, however, said the Judiciary has taken several steps to protect children. She wants the government to build modern rehabilitation centres, remand homes, and approved schools to ensure offending children get a chance to study.
Lawyer Kipkoech Ngetich said the Children Bill of 2021 will address issues, including ensuring children's cases are dealt with within 12 months.
"They are still developing and learning and they should not be exposed to what may physically or psychologically harm them," the lawyer said.
According to Mr Kipkoech, the new bill will correct the Act that allows children to be convicted and jailed in adult prisons. The bill will also focus on the rehabilitation of children in conflict with the law rather than punishing or jailing them.
The children's institutions, he said, have done little to ensure the minors' rights are protected, especially when mixed with adult offenders.