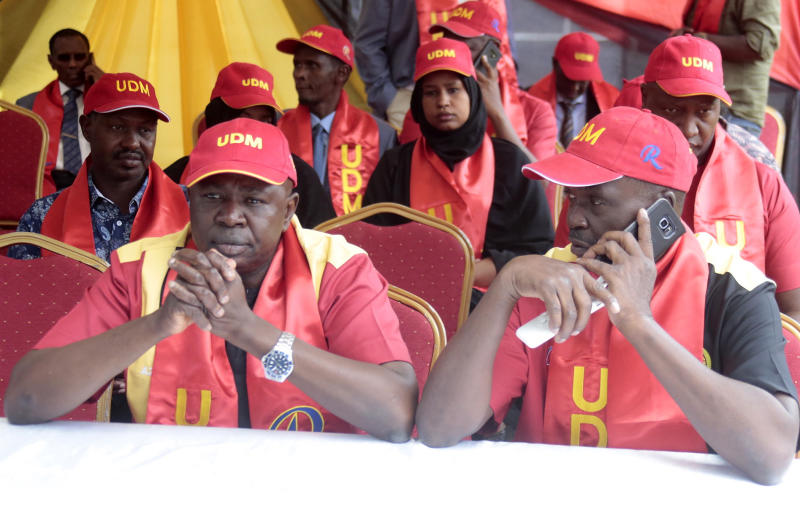 Controversy surrounds former police spokesman Charles Owino's move to withdraw as former Rarieda MP Nicholas Gumbo's running mate in the Siaya governor's race.
Details have emerged about how talks between senior government officials led to the return of the veteran police officer to the service.
His supporters said he succumbed to ODM's pressure to bow out of the race.
For a man who had set his eyes on politics but changed goal posts in more than one occasion in the build-up to the August 9 polls, the decision has left many puzzled.
He found himself back into the National Police Service after declaring he had opted for early retirement.
Police sources told The Standard Mr Owino is considered an asset in the service and that his application for early retirement was declined by the National Police Service Commission.
Mr Owino returned to the service after Inspector-General of Police Hillary Mutyambai recalled him to serve as the Kenya National Focal Point on Small Arms and Light Weapons director.
Some supporters who decamped with him to Mr Gumbo's fold when he dropped his ambitions for governor say he betrayed them, but others say his exit will have little effect.
A senior government official yesterday said: "He is a top officer who has served the country well in different capacities."
Attempts to reach Mr Owino remained futile as his phone went unanswered.
Early this year, he intensified his bid for Siaya governor and joined Raila Odinga's ODM where he was received by Alego Usonga party chairman Orwenjo Umidha.
After it became clear that ODM opted to issue Siaya Senator James Orengo with a direct ticket, Mr Owino jumped ship and joined Gumbo in United Democratic Movement (UDM).
Legal experts say it is possible for him to return to the service if NPSC declined his application to retire early.
Lawyer Kenneth Amondi said: "In the event that a public officer opted for an early retirement, he can still be engaged on a contractual basis."
The lawyer said Mr Owino's case is not unique, adding that several factors can play out in the case, including the aspect of the officer not getting a nod from his employer to take an early retirement.
"He can write a letter to seek early retirement but that letter must be approved. In the event that the letter is not approved, he remains an employee."
With his exit, the game is still on for Mr Gumbo's camp after settling on veteran journalist David Ohito to replace Mr Owino as the Deputy Governor nominee aspirant.