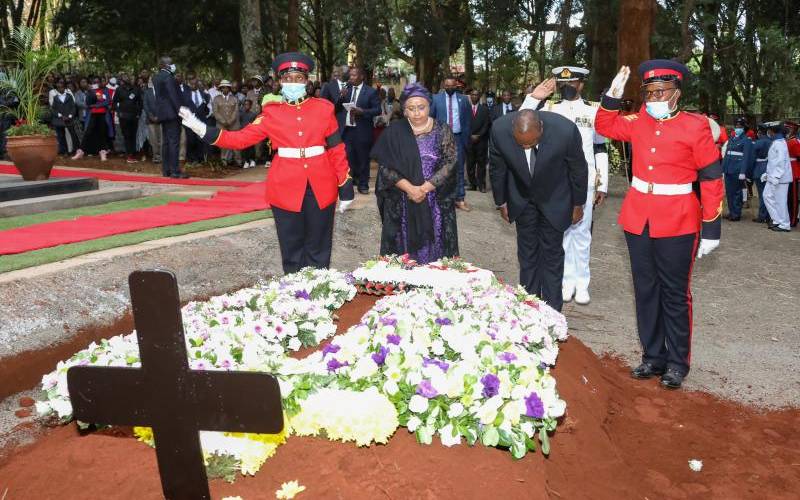 An ode to a loving father; a final prayer; a call to emulate the departed president. At the end of it all, the "man of the town", returning to the land of his birth, was placed in his resting place for eternity.
Beneath a shade of trees that crowd the family's graveyard, Emilio Mwai Kibaki was yesterday laid to rest beside his wife Lucy Muthoni. Kibaki was reunited with his love of 56 years, after death separated them in 2016.
His grieving family turned their backs on the towering snowcapped Mt Kenya and away from the undulating lush ranges of the Aberdares, their gaze fixed at a grave site ringed by military officers.
They solemnly watched a father, a grandfather, lowered into the ground at a site that only they and a few close friends could access. And as the soil thudded onto the casket bearing his remains, tears flowed freely.
President Kibaki's State burial in Othaya drew the curtains on a week of mourning. His demise on April 21 was as sorrowful as it was shocking to a nation he had inherited broken, but whose economy he transformed.
But while many mourned a president, the family grieved a man who was "so much more than that."
With fluency and a voice heavy with emotion, Ryan Mwai, Kibaki's grandson, had shed tears as he read out the most enduring bits of his grandfather's written eulogy.
"If there can be any consolation as we bury Mwai Kibaki, is that he has been reunited with the love of his life," Ryan said at the Othaya Approved School grounds, pausing, as he told of the pain his grandfather had endured when their grandmother died.
Before Ryan were the remains of his grandfather, earlier wheeled to the altar by military pallbearers, a tear-jerking sight for the man whose family calls "Big Mwai."
The ceremony was held within two grand, sun-blasted white domes, decorated with the colours of the national flag and designed for 15,000 people, but there were probably more.
At a nearby tent, there was a photo of Kibaki leaning to kiss his sweetheart Lucy; photos of Kibaki in the company of his children and grandchildren; Kibaki with his godson Uhuru, with former President Daniel Moi and with the late Pope John Paul; photos of Kibaki with many more people.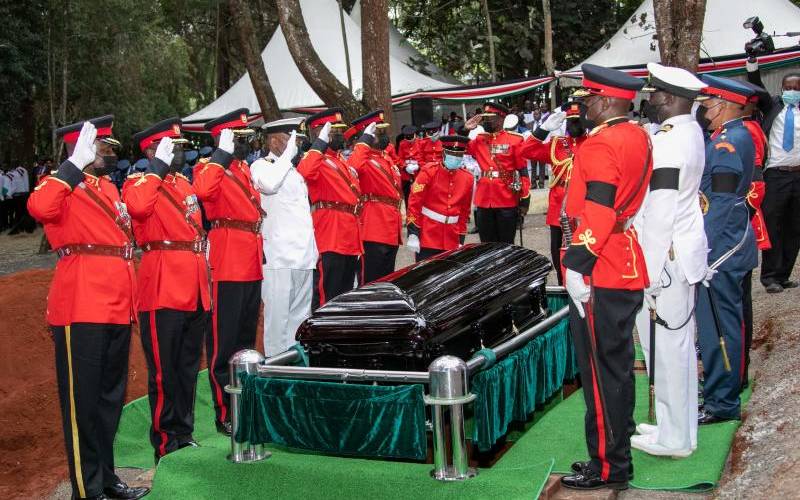 At the centre of the gallery inside the tent, was the same photo set against his casket; the image of a smiling Kibaki that dominated walls in public offices during his tenure as president.
Life of service
It was this life of service that had brought together family and friends and comrades, full of love and memories, to celebrate the life of a "gentleman" and reflect on the lessons they gleaned from personal encounters with him.
"Thank you Othaya and Nyeri for giving us this Mzee," President Uhuru Kenyatta said. "Let us emulate Mzee in our action and deed," the president also said in his eulogy.
The president was merely building on the message shared by most speakers. Nyeri Archbishop Anthony Muheria who presided over the mass gave that message prominence in his sermon.
"We must commit to a bigger calling than ourselves," Archbishop Muheria had said, describing Kibaki as one who lived with a focus on things beyond the worldly. He lived a simple life.
It was a message that Deputy President William Ruto emphasised as he drew parallels between Othaya and Bethlehem, both obscure towns that birthed remarkable sons.
"We must be inspired by President Kibaki. From here he became a great scholar, a leader and a great president," the DP said.
Thousands had descended on the venue where Kibaki was received in his homecoming as president two decades ago and where his wife was eulogised in 2016.
The biting Othaya cold was no deterrent. Many residents woke up before the sun was out and walked to the grounds. They marched up and down the rolling hills to see off their Member of Parliament of four decades and comfort a family broken by the death of a patriarch.
Many of them had eulogised Kibaki in a condolence book at the Othaya CDF office, penning messages like "the best president" and "rest in peace". The family would offer a more personal touch.
"He did everything a dad is supposed to do," Judy Wanjiku, Kibaki's firstborn, eulogised her father, her voice softened by grief. She eulogised "dad" who always made time for her. "He seemed to be more apprised about my diligence in making numerous friends, but not in scoring A's!"
Maintain high standards
Jimmy, the second-born, shared the light moments he had with his father. He talked about his school grades that did not amuse him.
"I remember Mzee looking at my school report form, he looked at me and said 'this must be a mistake. This cannot be my son,'" Jimmy remarked, sending mourners into thunderous laughter.
"He told me 'let us go to Naro Moru; I'll give you my farm and you can look after the cows.'" But the lesson he got from the encounter, Jimmy said, was to always maintain high standards in life. "You never know who is watching."
Solomon Karanja, a friend of the Kibakis, also made mourners laugh with revelations that they would frequent a nightclub, 'Kalulu's' while in Makerere.
Others who eulogised Kibaki had only good memories. They remembered him for free primary education, his commitment to developing Kenya's infrastructure, and rescuing an economy in ruins.
Francis Muthaura, who was Kibaki's Head of Public Service eulogised a comrade, terming him the "father of modern Kenya."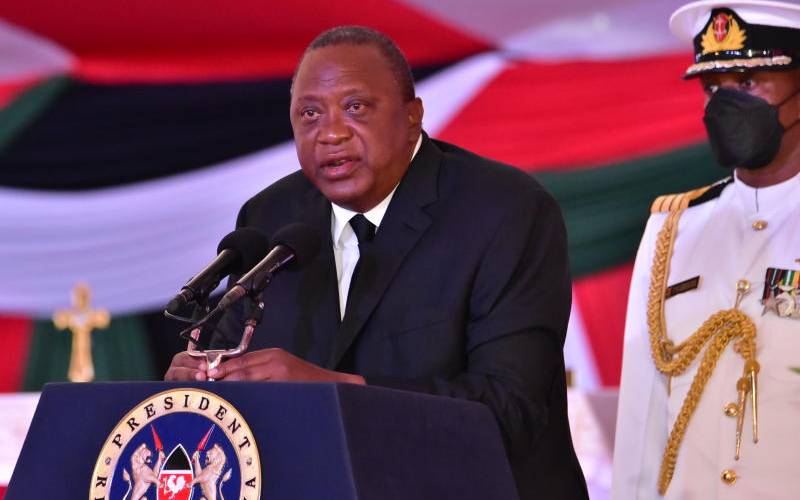 Kibaki was praised for his brand of politics and his genius in avoiding controversy. Sharp-witted though he was, he never fell into the trap of verbal exchanges. He believed in the power of sober debate and stood out amongst his peers for his oratory prowess.
"Fondly referred to in several quarters as the gentleman of Kenyan politics, Kibaki will be remembered as an insightful and eloquent debater with a unique sense of humour," Ryan said.
Kibaki's brains got him to Mang'u, Makerere University and the London School of Economics (LSE). His wit, coupled with chance, landed him in the company of Jaramogi Oginga Odinga, who recruited a young Kibaki to Kanu.
And that mix would place him at a historic moment of 2002, amidst an opposition that was desperate to unite. Of the many men and women who offered themselves to serve, Kibaki, the least polarising of them all, was trusted to lead the nation into a new era.
"The negotiations were taking too long and the crowds had packed Uhuru Park... I decided to take the debate to the people and asked them, 'si Kibaki anatosha?' They responded that anatosha," former Prime Minister Raila Odinga said. "Mwai Kibaki had the knowledge and experience that we needed in that transition."
Despite his glorious achievements, the post-election violence remains a permanent blot on his legacy.
"With his weaknesses, as he was human, our dear president knew how to rise," Archbishop Muheria had said.
Indeed, Kibaki found a way to end the bloodletting that followed the 2007 elections, shaking hands with Raila, an act many termed "selfless".
Highways without potholes
The overwhelming praise overshadowed Kibaki's weaknesses and with every word a comrade of his uttered, the mourners remembered why they could hardly hold their tears in.
Lying in the flag-draped casket before them was a man who touched their lives, who put their small town on the map and whose return was worth waiting for patiently.
Mourners had waited for hours; they were waiting before the cortege left the Lee Funeral Home at 7am for the 127km journey to Othaya, up and down roads and highways scarce with potholes, courtesy of Kibaki's work on infrastructure.
They waited as Kibaki made the final trip home, past billboards erected in his honour and past the Mang'u High School where he was "chaperoned into greatness", as Laikipia Governor Ndiritu Muriithi read in the eulogy for his uncle.
Aboard a military hearse, inside a coffin adorned with the flag of a country he led to greatness, Kibaki was borne to the hills of his childhood.
With the skies kind, many lined up along the route his cortege coursed, waving pieces of white cloth, saying their goodbyes.
The son of the soil, born into simplicity in 1931, was returning home a decorated icon, his body ushered to Othaya by police outriders and escorted by the military. Many caught a glimpse of Mzee as the stately convoy slowed down whenever it encountered crowds.
At his Othaya hometown, residents kept their peace, granting officers on horseback, brought in from Gilgil to ward off any rowdiness, an easy job. A platoon of horseback riders was on standby in Nairobi, but no reinforcement was needed.
Kibaki was to be sent off as gently as he had lived.
For Uhuru, it was an admiration for a godfather who, together with Jaramogi, gave him the name Uhuru. A godfather whose face lit up whenever he saw him. A godfather who paved the way for his eventual presidency by appointing him Deputy Prime Minister.
For Othaya residents, it was the respect for a servant who represented them for four decades, but who they often had to do without close by. That was partly because Kibaki preferred life in the capital, hence the moniker "mtu wa town".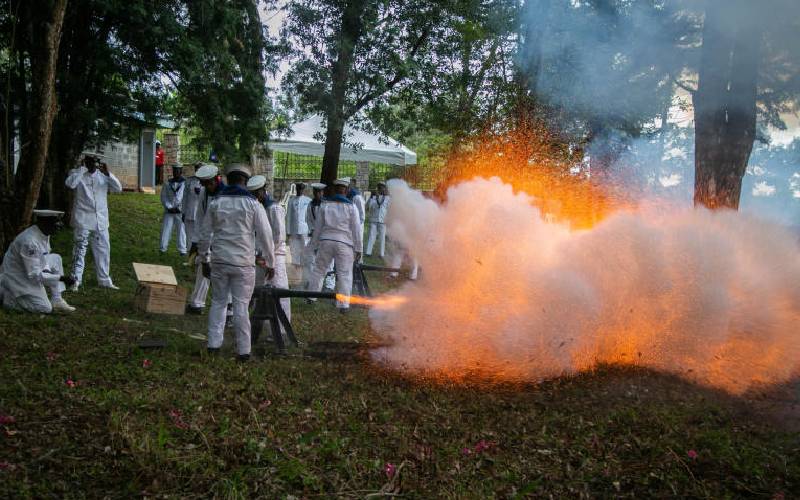 Before he sought to serve his native Othaya, Kibaki had represented Donholm in Nairobi. But his job in the Cabinet and later as president also demanded his presence, for the most part, in Nairobi.
Land of his ancestors
For the soldier who wiped the military coffin carrier, upon which Kibaki's casket would be wheeled to the altar, spotless, the look represented honouring a Commander-in-Chief.
It was grief for a crestfallen grandchild glancing at the portrait of a man he knew as guka, a face he shall never see again.
It was all the above and more, much more, for the child who was finally coming to terms with the death of a man who tucked them in at night, a father; it was an acceptance of "dad's" passing and a reassurance that he had raised them the best way he could.
For much of the day, the sun floated above the Othaya sky, even as clouds stalked. It was the obtaining scene when Kibaki's family walked out of the service, past the Kenyan and East African flags that flew at half-mast, and Uhuru's Presidential Standard at full mast, to bury their father who was being loaded onto a gun carriage.
Just as they had marched with Kibaki's body to the State funeral at the Nyayo Stadium in Nairobi on Friday, soldiers marched with it to his final resting place in Othaya.
When they reached the burial site, the clouds had already taken over. Away from the company of mourners, the late president's family retreated to the solemnity of a family graveyard.
At 5.13pm on the last day of April 2022, an icon was lowered to rest in the land of his ancestors. A 19-gun salute rang out, and the national anthem, a collective prayer of a nation, was played for him one final time.
The flag that had decorated Kibaki's casket was handed to his family, who in the end, honoured the late president's grave by laying on it large wreaths.