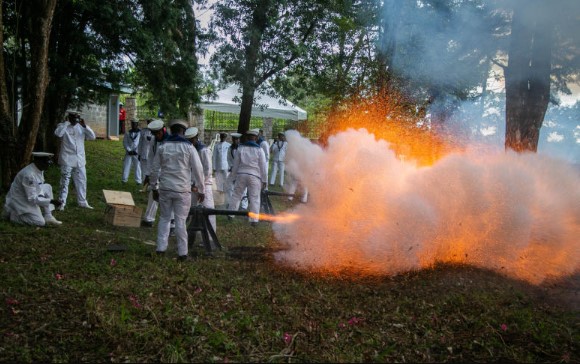 Former President Emilio Mwai Kibaki was accorded a 19-gun salute as his body was interred at his final resting place.
But why 19 and not the custom 21-gun salute?
Only sitting presidents are accorded the 21-gun salute. Kibaki, being a former Head of State received a 19-gun salute.
He becomes the second person to receive the 19-gun salute in Kenya after former President Daniel Moi who died in February 2020.
Mzee Kenyatta, who died in 1978 while still in office received the 21-gun salute.
The Standard in 2020 reported that even though real guns are involved, a military funeral and other honour guards do not fire live artillery shells but blanks.
A 19-gun salute is done in honour of dignitaries such as vice presidents, Senate and National Assembly speakers, Chief Justices, Governors, chiefs of staff and five-star generals in the US.
Kibaki received a State funeral with full military honours, meant to highlight the respect held for the fallen leader.
Four other people have received State funerals, but without military honours. They include former Vice President Wamalwa Kijana, Nobel Peace Laureate Wangari Maathai, former Nyeri Governor Wahome Gakuru, and former First Lady Lucy Kibaki.
The burial was witnessed by his family, friends, VIPs, and section of Kenyans. One of his grandsons was captured on video tossing a ring moments after his [Kibaki's] body was lowered to the ground.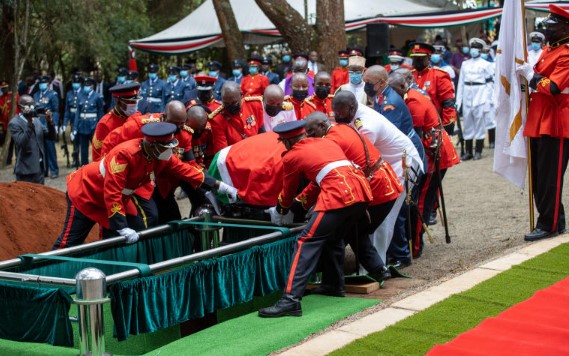 A Jaguar KDF hearse escorted by the military traversed Nairobi, Kiambu, Murang'a, Kirinyaga, and Nyeri Counties on Saturday morning to give Kenyans an opportunity to bid the former president farewell.
The body was transferred to the military gun carriage at 10.50 am and escorted inside the grounds accompanied by members of the Kenya Defence Forces (KDF) and the late president's family.
The requiem mass was led by Nyeri Archbishop Antony Muheria alongside 50 other inter-denominational religious leaders with the Othaya Catholic Church providing entertainment.
His body lay in State at Parliament, Nairobi for three days from Monday, April 25, to Wednesday, April 27 to allow for public viewing. The burial service took place at Othaya Approved School in Nyeri County
Kibaki died on Friday, April 22 aged 90 while undergoing treatment in hospital. His body was interred at his home in Othaya, Nyeri, next to his wife Lucy who died in April 2016.