Ali to Karangi: Generals in the Kibaki reign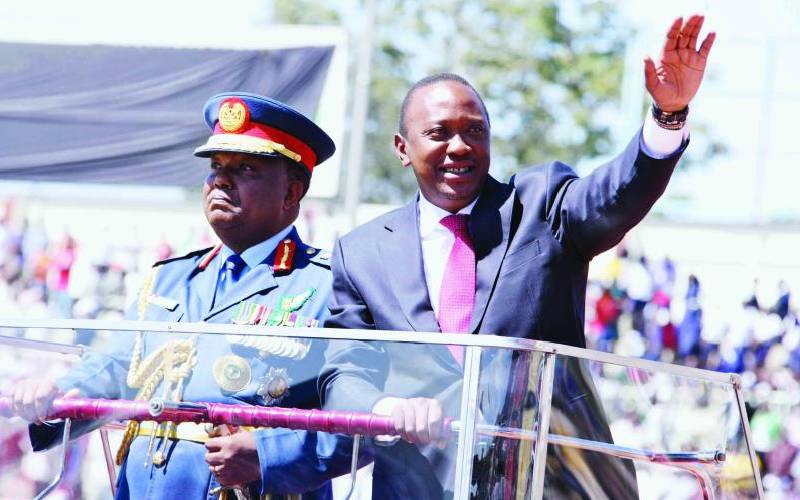 President Uhuru Kenyatta is often criticised for his militarisation of the State thanks to his myriad appointments of military generals to head key public institutions.
Even as the Head of State pours cold water on these claims, it is apparent that he took a cue from his predecessor and political godfather, the late President Mwai Kibaki.
And whereas Uhuru gets the flack for leaning toward the servicemen, it is Kibaki who is adulated for tapping generals to restore order in the country.
Kibaki's soft spot for the military would be seen when he became the president in December 2002 and in the subsequent 10 years he was in power.
At the top of Kibaki's appointees from the Kenya Defence Forces was Major General Mohammed Hussein Ali who helped Kibaki institute police reforms and also brought down crime levels.
Ali was plucked from the high profile position as Second Commander, Western Brigade, in Gilgil and seconded to Vigilance House in 2004 at the recommendation of the then Minister of State, Dr Chris Murungaru.
He was seen as the man to engineer police reforms. Communication from State House termed Ali's appointment as part of changes "aimed at injecting new blood to the leadership of the police giving a new approach in the management of security in the country."
Barely two weeks into Vigilance House, Ali, who was still at the rank of a Brigadier, disbanded the Kenya Police Reserve which had been held captive by well-heeled businessmen.
After a month in office, Ali made sure heads were rolling as he fired 57 senior police officers.
His pragmatic approach to issues endeared to him President Kibaki who, in turn made sure that Ali was promoted to the rank of Major-General, just a year after replacing career police officer Edwin Nyaseda at Vigilance House.
Unknown to Major General Ali, however, was that his acid test awaited him in the form of the then outlawed Mungiki sect which posed a security threat.
He was so merciless in dealing with the sect that he attracted criticism from human rights organisations locally and abroad.
The voice that almost led to the end of Major General Ali's industrious career was that of Prof Philip Alston, the UN Special Rapporteur on Extra-judicial Killings. Alston called for Ali's sacking.
But seeing that the General was a Kibaki man through and through, he survived the onslaught after Vigilance House and the government came to his defence and dismissed Prof Alston as not "appreciative of the Kenyan context."
Ali kept his furnace of ambition burning and instituted the necessary reforms to bring down crime levels.
Enter the 2007/2008 elections and Ali found himself in a fix; the country was burning because of the disputed elections and he had to act fast.
Inadequate number of police officers was a stumbling block: 1,300 people lost their lives and up to 600,000 were displaced. And when Ali and his men moved to suppress the violence, they were accused of using brute force and committing crimes against humanity.
An unwavering Ali however stood his ground maintaining that his actions had borne fruit and restored peace.
At the end of his tenure in September 8, 2009, Ali confessed to having been gratified by the way he handled his five years in office.
"If I had the chance to do it all over again, I would not do it any differently…. I managed to bring crime levels down and I take pride in what I did," he said.
The ghosts of his past would come back to haunt him in 2010 when the then International Criminal Court (ICC) prosecutor Luis Moreno Ocampo named him among six other Kenyans accused of perpetrating the post-election violence.
Judges at the ICC later vindicated Ali noting that he had no charges to answer. For Ali, it was "a glass full of water after a handful of salt" moment.
Two days after the pronouncement by the judges, he said: "As a civil servant, I have no regrets over the work I have done for Kenyans in any of the capacities I have worked.
"I am proud to have served Kenyans as the Commissioner of Police and before that … I have no regrets for the work I have done. Not at all."
Major General Joseph Kibwana
Kibwana was appointed Chief of General Staff on December 1, 2000 towards the tail end of President Daniel Moi's tenure and served until 2005.
Two years earlier, in May 1998, he became Lieutenant General and took over as the Commandant of National Defence College.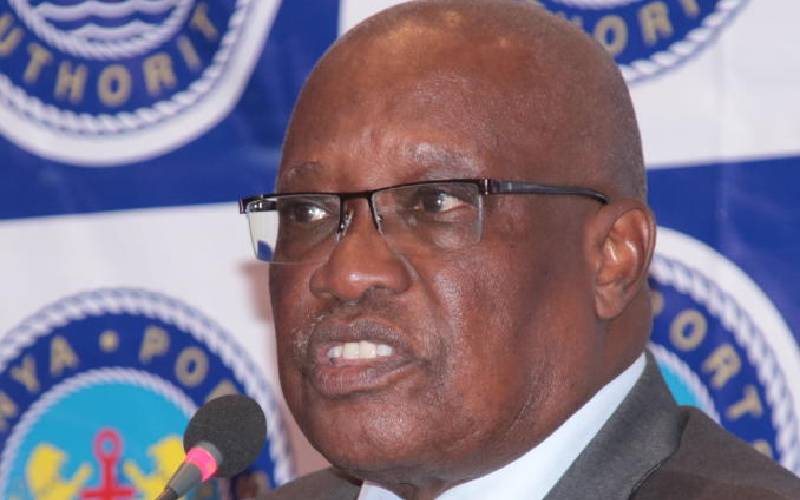 He had served in various senior positions in the Kenya Navy and was also Chief of Military Intelligence from 1982 to 1985. He had a reputation as an austere and no-nonsense General who executed what was required of him.
The former Chief of General Staff will be best remembered for successfully handling the transition from the longest serving President Moi to President Kibaki.
But General Kibwana will also be remembered for changing the system his predecessor had put in place which required that the CGS serve for a maximum of four years or retire at age 60 whichever came first.
General Jeremiah Mutinda Kianga
Kianga was appointed the Chief of General Staff on September 1, 2005. He took over from General Kibwana and served upto 2011.
He joined the Armed Forces in 1971 as a Cadet Officer and was commissioned in 1973. He served for more than 40 years in various capacities, and rose through the ranks to the top.
His biggest test in office was the 2007/2008 post election violence that saw the country go to the dogs and the military's intervention called out by local and international human rights bodies.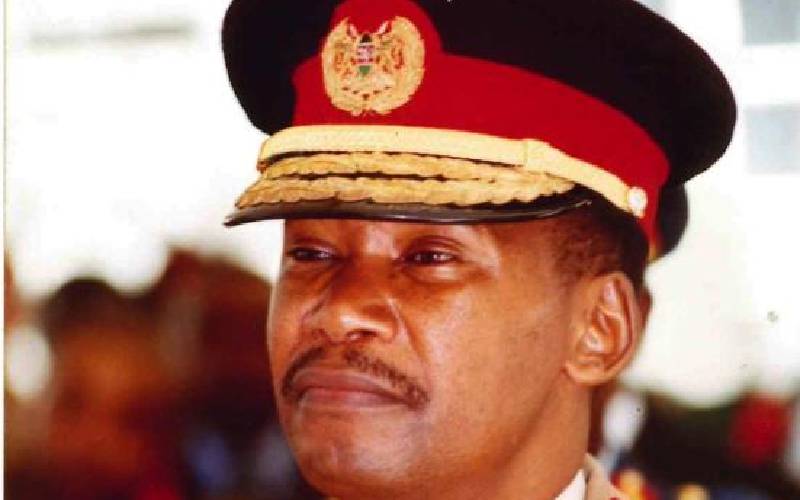 But when General Kianga appeared before the commission probing the PEV in early 2008, he defended the actions of the military in quelling the violence.
He said he had no regrets whatsoever to make over the manner in which his soldiers handled the skirmishes.
"From our point of view, we did what we had to do and it was done as it ought to have been done because the soldier gets deployed in internal security work and when he goes, he really has to work," he said.
"All the soldiers that we sent behaved without exceeding their mandate and without hurting Kenyans, and to that extent, we say we did a good job."
The military chief said the intervention of the soldiers was mainly limited to clearing debris on highways and offering humanitarian assistance, particularly in the Rift Valley.
Kianga left office just two years shy of the end of Kibaki's tenure in 2013.
General Julius Waweru Karangi
Karangi served from 2011 to 2015. He joined Kenya Air Force in 1973 and after Cadet training in UK, he was commissioned as an officer in 1974.
He made history as the first Major General to invade Somalia in 2011 in the wake of heightened Al-Shabab attacks. His resolve to invade Somalia was emboldened by the abduction of a British couple in Lamu in 2011.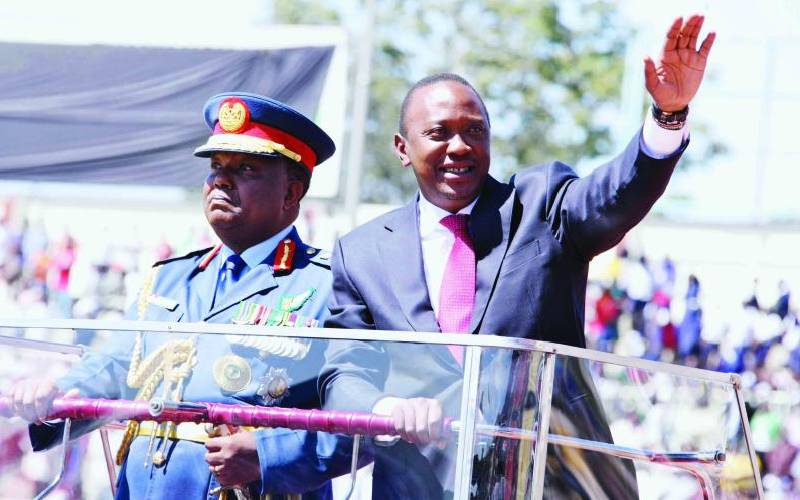 Kenya sent about 4,660 soldiers to Somalia in October 2011 after incessant attacks and kidnapping of civilians by Al-Shabaab militants.
The ultimate victory in Somalia came on September 28, 2012 with the capture of Kismayu, which had served as Al-Shabaab's bastion. In 2014, US President Barack Obama awarded him the Legion of Merit (Degree of Commander) for his successes in Somalia.
It was also during his tenure that the military increased its participation in internal security which was a preserve of the police and other agencies.
Karangi would transition from President Kibaki's government into Uhuru's where he retired in 2014.