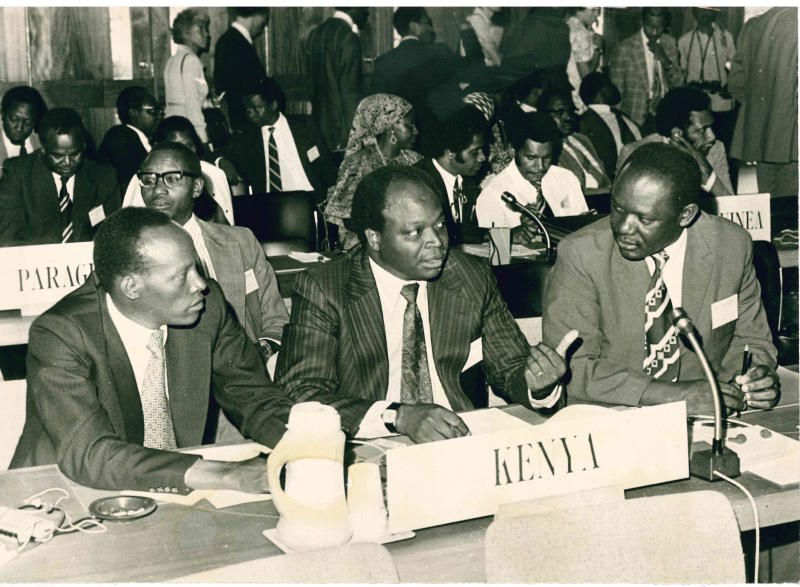 Depending on where one stands, history will judge the late President Mwai Kibaki either kindly or harshly for his life and service to Kenyans. I choose to remember him as the quintessential but contradictory public servant that he was.
I believe every citizen, politician and public servant ought to emulate Kibaki's positive legacy in his five decades of public service while taking caution of his failures and learning from the costly lessons.
When he died on April 22, social media lit up with file footage, paying tribute to his life and times as a national leader, politician and public servant. One, in particular, caught my attention. Kibaki was speaking in Vihiga District on the issue of family planning, at an event he presided over as Finance and Development Minister in 1978.
He spoke in detail on the importance of family planning in the drafting of other factors of production in the economy, and its embodiment as an aspect of human freedom for the Kenyan people and their future generations.
In those two minutes, I saw an intelligent, deliberate, eager and model public servant who had risen through the ranks from being a lecturer at Makerere University in Uganda, to become a strategist in Kenya's liberation movement, MP, assistant minister, Cabinet minister and eventually Vice President.
In his life of public service, Kibaki embodied patriotism and selflessness to Kenya, especially since he had midwifed and delivered the nation's economic blueprint.
This was made possible through his mastery of fiscal and monetary policies, best illustrated through his contribution of the inaugural National Development Plan immediately after Kenya gained her independence. He would go on to steer the country into economic prosperity as the Finance and Development Minister, a fete which won him worldwide acclaim.
Kibaki's mastery of Kenya's economic blueprint - hailed as 'Kibakinomics' - became evident during his first administration when as President, he resuscitated a battered economy and pioneered social and economic transformation, leading to unprecedented growth and stability.
Infrastructure growth was witnessed, and continuity was secured through ambitious programmes such as Vision 2030.
Most notably was construction and commissioning of the Thika Superhighway and focus on improving the capacity of the A8 Highway. This highway is part of the Northern Corridor, a key development corridor that serves Kenya and her landlocked neighbours.
It will also be remembered that Kenyans started utilising the internet more robustly after Kibaki's administration negotiated with the UAE for construction and extension of the Transformational East African Marine System, providing Kenyans with affordable bandwidth.
In the financial sector, Kibaki's administration was at the forefront in enabling the start of formal mobile-phone based money transfer services such as M-Pesa.
His administration gave the greenlight to telcos and financial industry players to offer financial services. All these played a revolutionary role in improving the economy and increasing financial inclusion.
Often misunderstood as a fence sitter, all of Kibaki's choices still had ripple effects in our political landscape; from his decision to attend Tom Mboya's funeral amidst heavy criticism, his choice to support Daniel arap Moi's ascension to power in 1978 and to remain in Moi's administration after a humiliating demotion, to his surprise defection to opposition politics on Christmas Day in 1991.
Significantly, he successfully pushed for constitutional reforms, heralding the promulgation of the 2010 Constitution. All these historically-defining decisions are testament to what a consequential politician Kibaki was.
However, his life in public service and politics was a checkered one. He was the MP who, at the behest of President Moi, introduced the Bill that enacted Section 2A of the Kenyan Constitution, effectively making Kenya a one-party state.
This opened Kenya to a period of state-sponsored political oppression meted on anyone with dissenting opinions to the administration of the day. His entry to multiparty politics also complicated the likelihood of success for opposition parties to win in the 1992 and 1997 elections.
Kibaki was a politician who always believed in the principle of personal responsibility in nation building, often depicted in his off-the-cuff remarks on societal issues like alcoholism, child illiteracy and truancy. However, this principle was found wanting when John Githongo, his then Permanent Secretary for Ethics and Governance, sent him a 22-page dossier outlining the Sh2 billion Anglo Leasing Scandal.
Although Githongo's dossier was contested, the scandal adversely mentioned senior government officials in Kibaki's administration. However, no proper investigative efforts were made to bring the suspects to book. If anything, the punishments were simply a slap on the wrist.
The ministers who were adversely mentioned were sacked, or resigned, but there were no convictions. This went against Kibaki's commitment to fight runaway corruption, a pledge that effectively won him his first term as President.
Additionally, his failure to honour the Narc pre-election coalition agreement as pledged also caused divisions in his administration, weakening the delicately balanced government.
As a result, Kenya almost disintegrated into a civil war following the controversial 2007 presidential election which was marred by irregularities.
The ethnically-charged violence witnessed thereafter was only ended after the international community brokered a peace agreement between Kibaki and his rival, Raila Odinga.
The peace agreement was ratified on February 28, 2008, paving the way for the formation of the Grand Coalition Government that lasted from 2008 to 2013 when Kibaki retired.