When Churchill and Roosevelt slaughtered Kenyan wildlife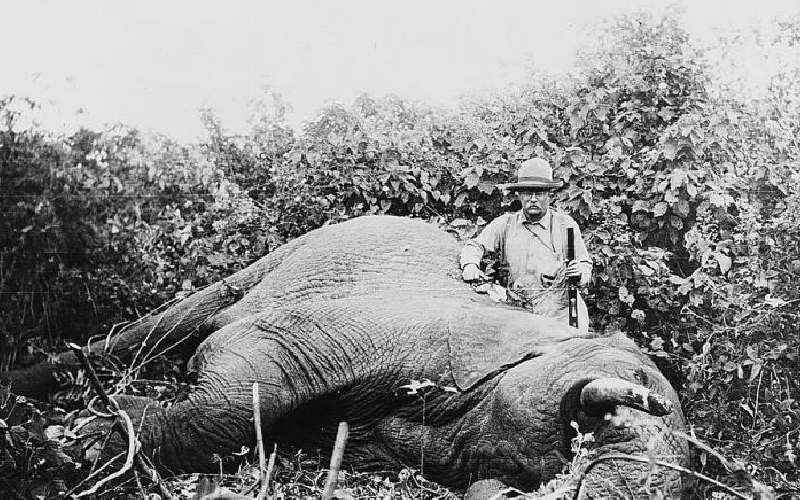 An African safari is a hot item on many a tourist's Bucket List. Watching wild animals roam free in the wild raises adrenaline levels in the visitors.
What they may not know is that while they shoot the animals with cameras, the men and women who popularised the safaris actually came to kill them. The term 'Big Five' was coined to represent wild animals that presented the biggest challenge to the early big game hunters - lion, rhino, elephant, leopard and the buffalo.
Foremost among the hunters were former US and UK statesmen Theodore Roosevelt and Winston Churchill. Mr Roosevelt came to Kenya in 1909 on an expedition to collect wildlife artifacts. Local settlers fell over themselves trying to entice Mr Roosevelt with safari itineraries within their ranches. One of these was Mr Wellesley Ashe who owned land rich in wildlife. In a letter to Mr Roosevelt dated April 11, 1908, Mr Ashe said: "I have heard that it is your intention to visit this country for big game hunting and I beg to state that I have a 5,000-acre farm in the very heart of the best game country." Mr Ashe added a sweetener: "Mr Churchill's party lately killed a lion in this locality."
We do not know if Mr Roosevelt got the services of Mr Ashe but with his 600 porters, he bagged over 500 animals, including 17 lions, 11 elephants and 20 rhinos that were skinned and sent to America. "There are no words that can tell the hidden spirit of the wilderness, that can reveal the mystery, its melancholy and its charm," Mr Theodore Roosevelt wrote in African Game Trails.
The thrill of shooting the leopard, one of the most elusive of the African cats set hordes of men (they were usually men) on edge. So elusive were they that they could only be taken down by a hunter hiding in a blind behind a bait, perhaps a zebra carcass. Many rifle holders were mauled. Some died. As Mr Bernard de Watteville, a wildlife specimen collector from Germany, aimed for his 19th lion, the brute turned on him, and although he managed to kill it, its claws were already embedded into his body. He died the same night. According to the book, Insight Guides – East African Wildlife, "setting off on foot across the African plains meant taking your life into your hands."
Game hunting in Kenya was banned in 1977. It gave rise to a new form of income-generating venture – tourism – currently a key cog in Kenya's economic wheel. The exploits of Mr Roosevelt and Mr Churchill also popularised the term "safari," from the Arabic term "safariya" or voyage. Safari is among the first Swahili words to find their way into the English dictionary.