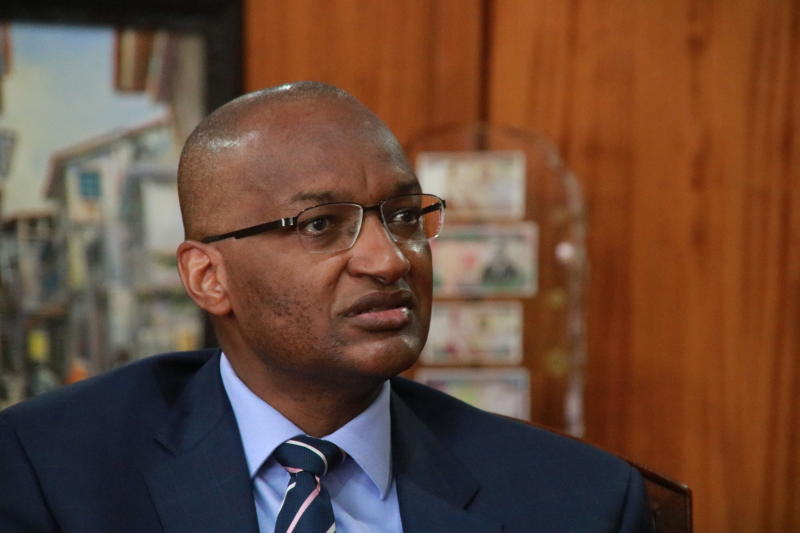 Safaricom could soon separate M-Pesa from its mobile and data businesses.
Central Bank of Kenya (CBK) Governor Dr Patrick Njoroge said discussions on the proposal are ongoing in what could significantly disrupt East Africa's most profitable company and the region's telecommunications industry.
The regulator is pushing to have telecommunication service providers hive off their mobile money businesses to improve regulation and customer protection in the sector.
"All these payment service providers have a telcoms element to them," Dr Njoroge said.
"Our view is we need to ring-fence the financial services they are providing and ensure they are not tampered with in terms of finances by the large telco side of business."
Dr Njoroge was giving his submissions to the Senate Committee on Information, Communication and Technology, which is probing alleged monopolistic practices by Safaricom, at Parliament buildings.
According to CBK, telcos will be expected to adopt a structure similar to that of commercial banks where the group forms an umbrella entity with other businesses such as voice, data and mobile money listed as subsidiaries.
"This way, you can better isolate the risks coming out of each subsidiary and also the risks of non-arms-length transactions between the affiliates," Dr Njoroge told the committee.
The governor said Airtel Kenya and Telkom Kenya have already made progress in separating their mobile money units from their core businesses, with the latter incorporating T-Kash as a separate entity earlier this month.
"We've been in discussions with Safaricom about this and they, too, understand the reasonableness," he said.
"In effect, they will create the equivalent of or another subsidiary, which will be the mobile money entity. What will emerge is a holding structure where Safaricom will have a group sort of arrangement, and all the other subsidiaries are connected to it, and the links between the mobile money and the group will be clear, transparent and simple."
Safaricom Chairman Michael Joseph confirmed that negotiations with the regulator are ongoing.
"It is part of a bigger process but no timetable yet. We still need regulatory approval," Mr Joseph told KTN Business.
The move is likely to affect the telco's crown jewel M-Pesa, at a time when revenues from the mobile money service are at an all-time high.
Data from the company's latest financial results indicate Safaricom earned Sh52 billion from M-Pesa in the first half of the 2021-22 financial year.
This was a 45 per cent increase from Sh35 billion earned over a similar period last month and represented the largest portion of the telco's service revenues.
Last week, the firm hit 30 million monthly active M-Pesa users, cementing its lead among payment service providers.
In contrast, Airtel Money and T-Kash reported 277,143 and 249,754 active mobile money users as of July last year.
Dr Njoroge said CBK is also working with telcos to implement merchant-to-merchant and agent interoperability between the existing mobile money platforms to promote competition and cut costs for consumers.
"I expect merchant-to-merchant interoperability to be completed in the next few weeks such that it does not matter for you as a customer making payments to a till linked to Safaricom or Airtel," he said.
Safaricom had not responded to our query by the time of going to press about whether it is ready to implement merchant-to-merchant and agent interoperability, and how it will impact customers.
However, a source at one of the telcos confirmed that service providers have been running tests on merchant interoperability and are ready to go live "in the next few weeks."
"We have been working towards merchant interoperability and it should be ready for market by early next month," said the source.