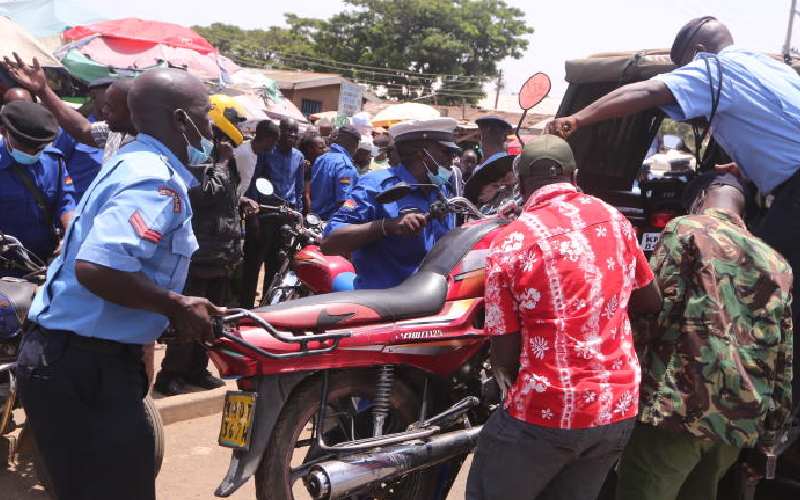 The countrywide crackdown on boda boda riders has been called off, less than a week after President Uhuru Kenyatta announced the start of the operation to nab rogue operators.
And as the State brought to a halt the nationwide crackdown, more details have now begun to emerge on the identity of the rider who was involved in the accident that set off a chain of events.
According to police documents, the boda boda rider was identified as Hezron Mwendia, 24, a rider working for a laundry company in Nairobi.
The records also show that the accident occurred along Limuru road -Barabara Tano where Mwendia, who was heading to the direction of Nairobi's Premier School from Parklands road, was knocked down by the motorist.
The rider sustained multiple fractures on both legs and was rushed to a hospital in Kiambu where he was treated.
Mwendia has since been discharged from hospital and has been attending follow-up sessions from home.
In an interview with The Sunday Standard yesterday, Mwendia said he was yet to record a statement with police as he was still undergoing treatment.
He said the severe pain that he experienced after the accident had worn off, but he had started experiencing pain around his chest, and was scheduled to go back to hospital for further tests.
At Parklands police station, traffic police came up with a preliminary investigation into the accident.
According to records, the accident happened on Friday March 4 at around 6pm. An OB entry on the sexual harassment of the female motorist was done at the same station on the same day.
A report on the finding by the police says after the accident, the motorist felt that her life was in danger and drove for close to 10 metres to seek help from police officers manning traffic near the scene of the accident.
Investigations by Parklands traffic department said the female motorist was heading towards Ngara from the Aga Khan direction.
In a statement to newsrooms yesterday, National Police Spokesman Bruno Shioso said the decision to halt the operation was aimed at allowing the team to screen the boda boda operators and allow them to continue with their work.
The ban on boda bodas from entering the Nairobi Central Business District has, however, not been lifted.
Meanwhile, the search for Zachariah Nyaora, the boda boda rider linked to the attack on the female motorist is coming to a close after the family of the fugitive reached out to the police and sought to present him to the authorities.
Yesterday, highly-placed sources told The Standard the DCI had reached a deal with Nyaora's family that could see him presented to the police as early as next week.
The police have concentrated their search for the suspect in Mukuru Kaiyaba, where his cell phone signal was last traced on Wednesday.