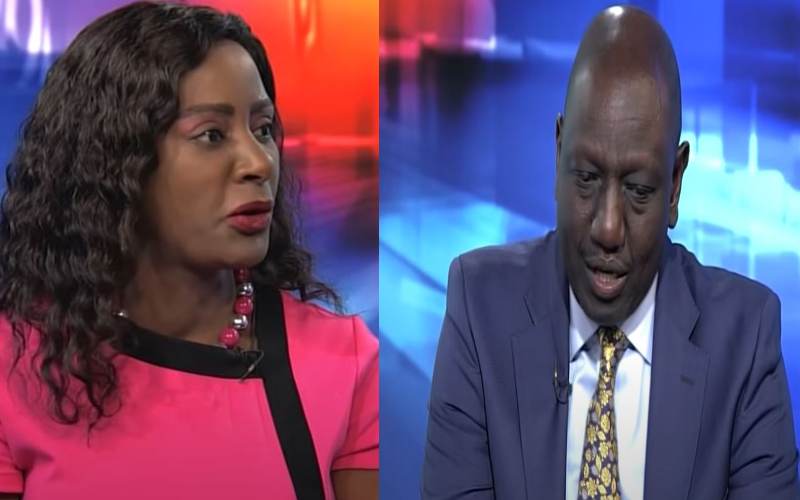 Deputy President William Ruto had a rough time explaining himself when he was asked to state how he would combat graft if he became the Head of State.
This was after the journalist interviewing him got emotional while posing the question to him.
The former KBC broadcast journalist became emotional while shooting a question to the DP about the country's High cost of living.
Ruto, who is eyeing the presidency on a United Democratic Alliance (UDA) party ticket, has been moving around the country campaigning for his quest for the last four years.
Voice of America's Esther Githui- Ewart, who was interviewing the DP demanded straight answers to her punchy questions on how he was planning to eradicate the leading challenge in Kenya, corruption.
The US-based Kenyan journalist highlighted Ruto's place in religion then shot her question seeking answers on how he would ensure that the cost of essential commodities can be afforded by all Kenyans.
"Deputy president you are on the front lines in the churches we know where you stand with your faith… what are you going to do about it because you're running for the top seat on what grounds now if people cannot put food on the table people are committing suicide there's even incest n the families we gotta tell it like it is because that's what's happening in Kenya," Githui said.
Then added, "How are you going to address that because all we see is that little bickering of politicians while people are suffering. Yes, there was the Covid-19 pandemic which is global. What is the problem with Kenya? What is the problem with this high-level corruption?" Esther posed a question.
Githui appeared to be well-versed with current affairs back home despite working in the United States and poked holes at how the common man stands to benefit if Ruto wins the upcoming General Election.
"What is the problem with not putting food on the table? Why can't we feed Kenyans? Why can't you feed Kenyans? You are the leaders. It is your responsibility. Answer me because I am very emotional on that topic," Esther posed.
The news anchor appeared to have been gripped by emotions when she was interviewing the Deputy President late last week.
"In response, the DP said, 'You must be reading a lot from social media,'
DP Ruto acknowledged that the situation was bad but he refuted claims that things had deteriorated to the level Esther (his interviewer) had described.
Instead, he told her she was reading too much from social media.
"To be able to diagnose the problem of Kenya in this interview we will not do justice to it. So I'm going to give you the broad picture. Things are difficult in Kenya but they are not as bad as you've described I think you've been reading the social media too much," Ruto said.
"Yes we have a situation that needs to be addressed but that situation is not out of control. I can tell you that we can deal with the problem of hunger in our country," the DP said.
Ruto left Nairobi last Sunday, for a trip to the US and UK, for reasons which are not yet clear.
Last week, the DP toured and met with Kenyans working and living in the US.
Today, Ruto and his team of 31 have arrived in London, for a week-long tour of the European continent before coming back to Nairobi.