Kipevu Oil Terminal to lower cost of oil, says Uhuru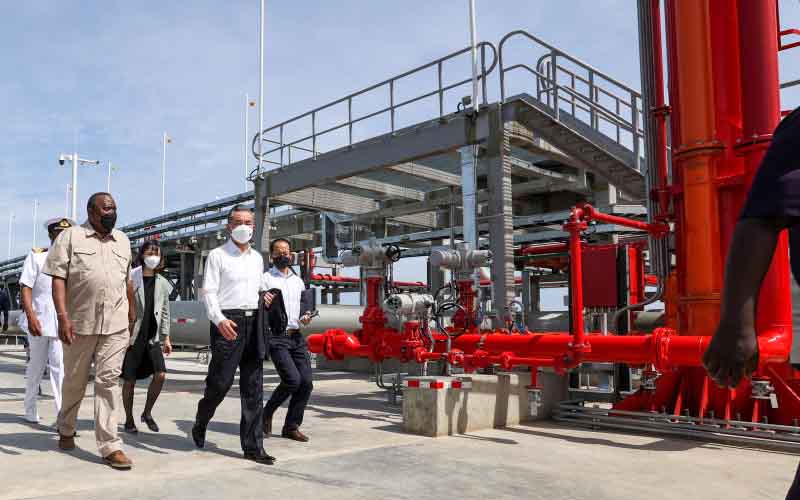 President Uhuru Kenyatta has said the country would save Sh2 billion levied by oil carriers for delays at the Port of Mombasa once the new terminal is ready in March.
He said the Sh40 billion new Kipevu Oil Terminal would increase efficiency in offloading of oil and ultimately bring down the cost of fuel and gas.
He said that among the major benefits accruing from the new facility will be a reduction in demurrage and costs of freight.
''Once fully commissioned in a few weeks, we shall save close to Sh2 billion that we pay because of demurrage,'' Uhuru said.
He said the old oil terminal has not managed to meet the demands of a growing population both in Kenya and the countries that rely on oil imports through Mombasa.
The president spoke yesterday when he inspected the terminal while accompanied by Wang Yi, China's State Councilor and Foreign Affairs Minister. ''China was there when we asked for partners to help us come up with this facility,'' Uhuru said.
Treasury Cabinet Secretary, Ambassador Ukur Yatani said that construction works at the facility was 96 per cent complete.
Yi said that the new facility was an important project that will benefit not only Kenya but its neighbours.
''Our rich historical ties date back to some 600 years when Chinese navigators set foot on the Kenyan Coast and engaged in trade with locals,'' Yi said.
The terminal is financed by Kenya Ports Authority and is being constructed by the China Communication Construction Company (CCCC).
The new oil handling terminal is an off-shore facility located opposite Kipevu Oil Terminal which was built 50 years ago.
It consists of one offshore island terminal with four berths whose total length is 770 metres and one work boat wharf at Westmont area for landing facilities.
Once complete the new oil terminal facility will have four berths capable of handling six different hydrocarbon import and export products.
It also has five sub-sea pipelines which were buried 26 metres under the seabed to allow dredging of the channel without interfering with them.