How commission of inquiry helped torpedo Njonjo's glittering career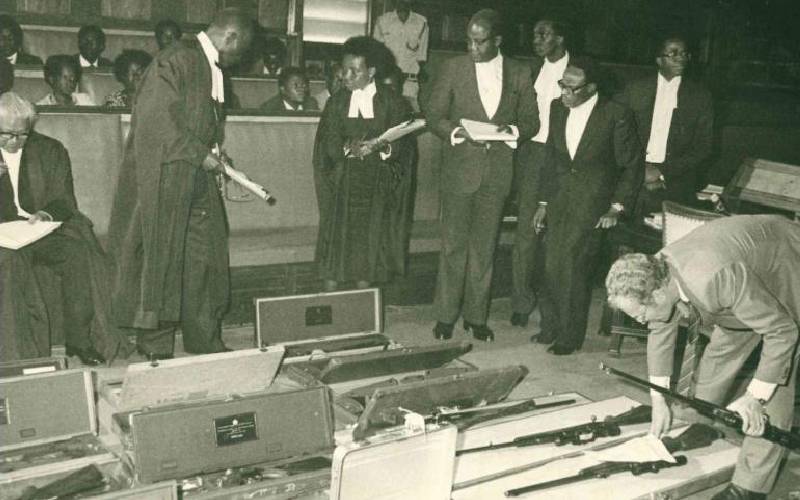 Andrew Morton, the biographer of President Daniel Moi, has an interesting anecdote on the troubled days when Charles Njonjo faced the Judicial Commission of Inquiry in the early 1980s.
Quoting Dr David Silverstein who was the personal physician of the two men, Morton narrates how the doctor would be troubled every time one of the two would arrive for a routine checkup, knowing very well that the fate of one lay on the hands of the other.
The inquiry, which ran for over one year between 1983 and 1984, found all but one allegation against Njonjo had been established but President Moi pardoned his former ally at the end.
With the likes of Godfrey "GG" Kariuki and Mwai Kibaki, those allies had greatly helped Moi's ascendancy to power after the death of first President Jomo Kenyatta in August 1978.
What would follow later was Moi the political master's crafty demolition of a political foe who had underestimated his prowess and branded him a "passing cloud".
Journalist Blaine Harden in Africa: Dispatches from a Fragile Continent (1990) provided the most lively description of what happened to Njonjo after he was branded a "traitor'' following the president's remarks in Kisii in June 1983 that some friend was planning his downfall.
"In his most artful betrayal, Moi inflated the balloon-like ego of his AG, a powerful Kikuyu named Charles Njonjo. A wealthy lawyer who wore a red rose in his London-tailored three-piece suits and wallowed in all things British, Njonjo prided himself in wielding as much power as the president," wrote Harden. "The Attorney General had the temerity to drop the words "my government" in casual conversation. Moi encouraged that pride and leaned on Njonjo's expertise - for a while."
Following a national chorus in which Njonjo had been identified as the traitor, Moi had suspended him as Constitutional Affairs Minister on June 29, 1983, paving the way for the commission of inquiry.
A reading of the report of the inquiry reveals interesting details about the fallout of the two former close allies who had formed an apparently unbreakable bond during the reign of first president Jomo Kenyatta.
In those times, Njonjo had been a larger-than-life Attorney General - Kenyatta's only - who was deeply trusted by the old man and had used his colonial-era connections, including to Bruce Mackenzie to create levers of control in literally every sphere of the state and the influential settler controlled private sector.
Mackenzie, who died in a plane crash in 1972, it would later transpire, had been a double secret agent for the British and the Israeli who had probably been planted in Kenyatta's Cabinet by the departing colonial regime.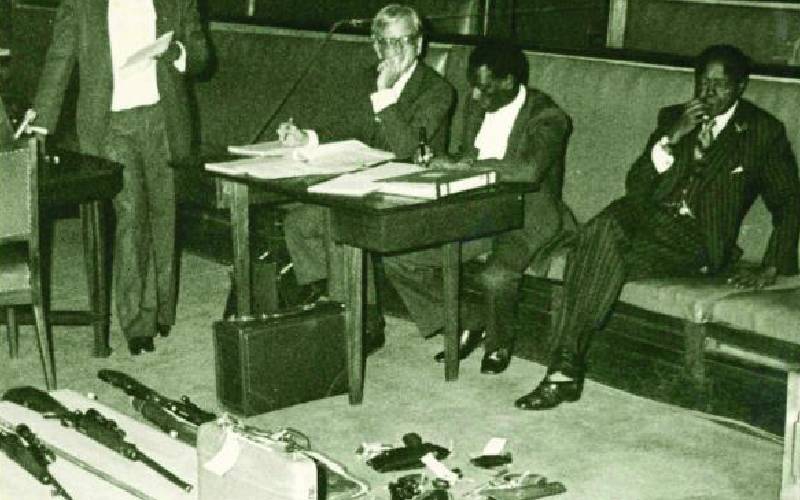 First forward to 1983-1984 when a disgraced Njonjo would be taken through the motion of a humiliating judicial commission of inquiry facing allegations of treasonable conduct.
He had only in 1980 resigned from his almost 20-year tenure as Attorney General to try his hand in politics getting into a pact with then Kikuyu MP Amos Ng'ang'a who resigned and Njonjo sailed into parliament through a by-election in June 1980 unopposed.
Old chambers
The 95-page report of the Njonjo Commission of Inquiry shows it was presented to President on November 9, 1984. It had begun sitting at Old Chambers of Parliament on October 28, 1983.
The one-year national humiliation of a man who had thought himself a deity included a daily page one mugshot in the daily newspapers pointing readers to a usually explosive story on the revelations.
That was only in the rare circumstance that what had come out failed to make it to the headline.
Njonjo Commission had three commissioners picked from the bench - Justice Cecil Miller as chairman, and Chunilal Bhagwandas (CB) Madan and Effie Owour as members.
The joint secretaries were Benjamin Kubo who would later become Solicitor General and Jared Benson Kangwana, who would later become a wired businessman in Moi's era.
The assisting counsels were Lee Muthoga, Timan Ndere Njugi, and John Water Onyango-Otieno who would also later rise to Court of Appeal judge.
The particular terms of reference tasked the commission to inquire into allegations that "Njonjo had conducted himself in a manner prejudicial to the security of the State, the position of Head of State, the image of the president and the constitutionally established government of Kenya".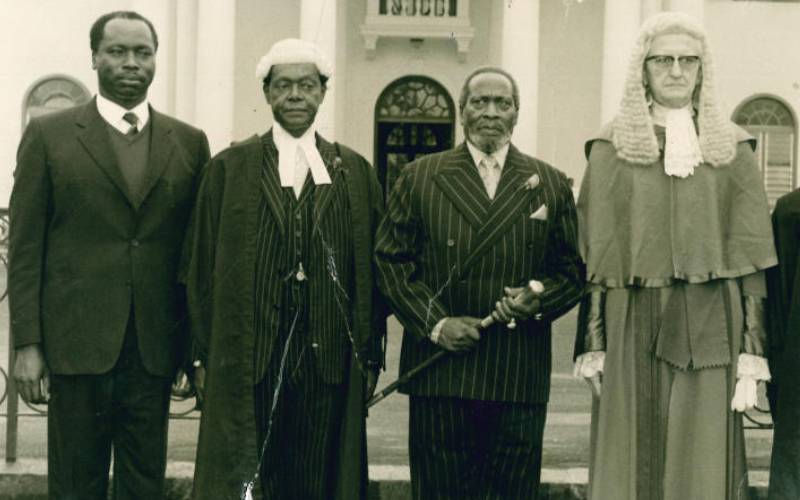 Among other things, the commission was to look into allegations that Njonjo was a party to conspiracy or conspiracies to overthrow the government in August 1982, which was when an attempted coup against President Moi's government took place but crushed by loyalist forces.
He was also to be probed on whether he had participated in the concealment or activities of one Andrew Mungai Muthema who was actually his cousin and who had been acquitted of treason earlier in 1981.
Njonjo had also been accused of convening a prayer meeting at the Rungiri PCEA church on June 12, 1983, whose main preacher was controversial cleric Timothy Njoya and which was alleged to have undermined the position and image of the president and Kenya's political leadership.
The prayer meeting had offered prayers to Njonjo who was then under a chorus of condemnation as a "traitor".
He was also to be probed on whether he had maintained relations with the government of apartheid South Africa and undermining the national policy of retaining good relations with its neighbours.
Later, other grounds such as abuse of office earlier as Attorney General, arrogating himself the powers of the president, participating in a coup attempt in Seychelles and making corrupt payments were made.
Njonjo made an appearance personally and was represented by lawyers William Deverell and a youthful Paul Muite.
A total of 62 witnesses, including Njonjo, appeared before the commission. Njonjo declined to be interviewed in chief by his advocates even as he testified under oath before the commission led by the assisting counsel and denying all the allegations.
He made a very short personal statement on Day 102 of the inquiry, saying he was sorry these proceedings had become necessary and then that it was evidence of Kenya's "mature democracy and the wise Christian leadership of President Moi".
"This has naturally been an unpleasant and sad and indeed humbling experience for me," he said in his brief statement, which the commission termed as an attempt to address the president directly and not answer the serious allegations levelled against him.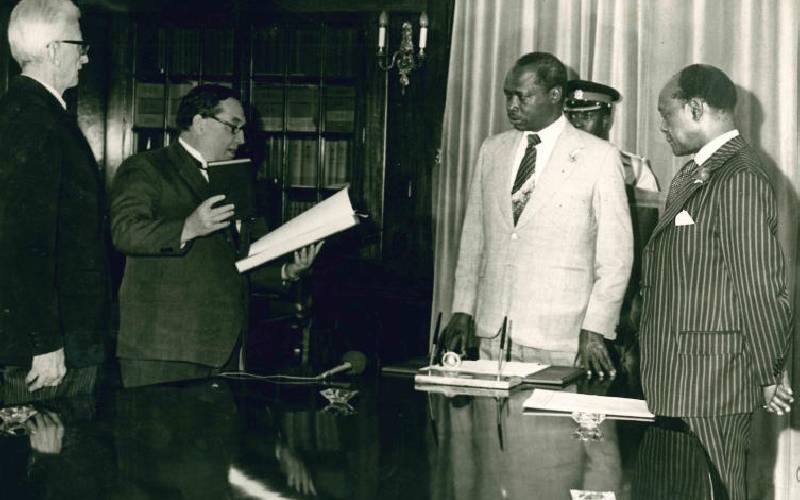 On the allegations, the commission found that evidence showed that he had threatened the security of the state through the accumulation of inordinate quantity of firearms and ammunition together with installation of ground to air and air to ground transmitting radio equipment at the private residence of the Korean Haryanto family on Lenana Road in Nairobi near State House Nairobi and the military headquarters.
Those named complicit in this scheme were the Haryanto family, a Captain Boskovic, Njonjo, his driver Chief Inspector Paul Kabucho Wakori, and the Chief Licensing Officer of the Central Firearms Bureau Chief Inspector of Police Douglas Alan Walker.
Star witness
On undermining the position of the Head of State and the government of Kenya, the star witness was one Emanuel Karisa Maitha who would become a minister under the Kibaki government.
He had told the commission how he had been helped by Njonjo's friend, the Mombasa North MP Said Hemed, to resign his clinical officer's job and become a councillor in Mombasa.
Others had been been the Bungoma South MP Lawrence Sifuna who claimed he was bombarded with requests and threats to join Njonjo's camp and Kerio South MP Francis Mutwol who testified how Njonjo had threatened to get rid of MPs such as Koigi wa Wamwere (Nakuru North), Martin Shikuku (Butere) and Samuel Ngeny of Nandi who were "not useful to him".
Mutwol had also told the inquiry how Njonjo attended a harambee in his constituency in 1981 on an army helicopter and contributed Sh90,000 of the Sh400,000 raised.
According to Mutwol, Njonjo asked him a few days later whether he had ever seen another minister using a military chopper to which he replied no.
"Tell my friends and MPs to see where the light was," is how Njonjo had summed up their conversation, according to Mutwol's testimony at the inquiry.
It was also Mutwol's testimony that at one point Njonjo told him he did not like the vice president Mwai Kibaki. "He was not a man to be relied on and was also a drunkard," the report quotes Njonjo having said as quoted by Mutwol.
Other MPs who had testified on this allegation were Wundanyi's Mashengu wa Mwachofi, Kitale East's Fred Gumo and Wasike Ndombi.
"To be evil is an art in itself. We are of the view that Njonjo decided to pursue his unconstitutional objective even though his action was a betrayal of constitutionally established government of the republic, the Head of State and the image of the president," the commission concluded.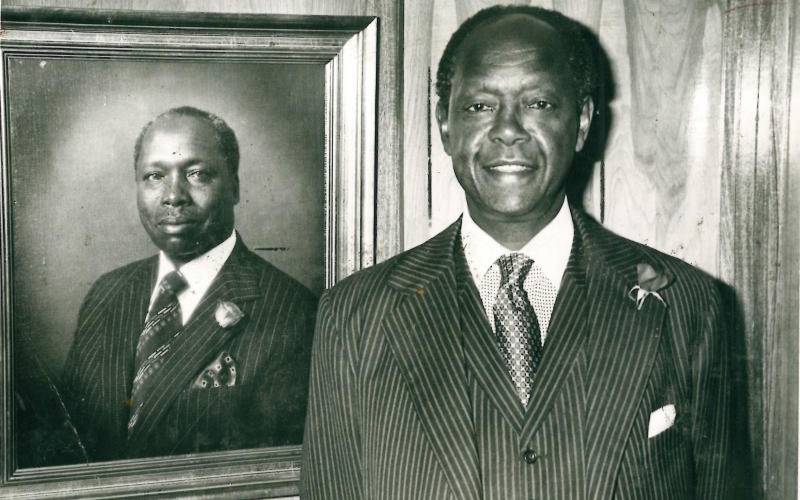 On the allegation that Njonjo had planned the August 1982 overthrow of government, Njonjo's lawyers asked that all the "shaky" evidence be ignored.
"Not a lot of evidence in the legal sense except the extraordinary performance by Muthoga in calling Raila Odinga to relate the bar gossip and tittle-tattle around the town," Deverell had said.
At the time Raila testified on July 26, 1984, he had been detained and he went ahead to implicate Njonjo in the coup attempt. The commission accepted Raila's evidence and linked it up with the Haryanto family evidence.
On the unlawful activities of his cousin Andrew Muthemba or concealment, the commission found that Njonjo culpable.
Muthemba and Dickson Kamau were the first Kenyans in the independent nation to be charged with treason in Criminal Case No 25 of 1981 but acquitted for lack of evidence.
On the holding of the PCEA prayers, the commission found that no evidence was adduced and made no finding.
On the allegation that Njonjo had acted against national interest of maintaining good neighbourliness and assisted the apartheid regime in South Africa as well as participated in an attempted overthrow at the Seychelles, the commission relied on evidence adduced by, among others, Foreign Affairs minister Robert Ouko.
The commission found that Njonjo had celebrated the break-up of the East African Community and after declaring his hostility to partner states at the Arusha headquarters and at parliament.
It also found that he had contradicted Kenya's policy on apartheid South Africa, including by having constant stops at the country and entertaining officials of the state in Kenya.
The same finding was made on the Seychelles attempted overthrow. Those implicated in this plot included a former Special Branch of Kenya official, an Irishman called William Henry Boyd Parkinson.
The commission found that Njonjo had made a payment of Sh160,000 to buy Amos Ngángá into resigning his Kikuyu seat to create a vacancy for him. He was also implicated in granting favours by irregular release of MPs Jesse Mwangi Gachago (Makuyu) and Godfrey Muhuri Muchiri (Embakasi) from custody after they were convicted of coffee theft and sentenced to five years each in 1978. They were among a group of prisoners the former AG had been accused of releasing irregularly.
There was also interesting revelation on how powerful Njonjo had been. Senior Superintendent of Police Essau Kioni seconded to Kenya Airways as head of security had testified that Njonjo had in August 1978 travelled from London to Nairobi with 270 kilos of excess baggage.
According to Kioni's testimony at the commission, an invoice of Sh36,272 sent to Njonjo went unpaid and instead he, Kenya Airways MD Lord Cole, Transport and Communications Permanent Secretary Simon Mbugua were summoned to the angry AG's office.
"Some people are trying to use a caterpillar to crush a fly like me," Kioni is quoted by the report as having said to Njonjo in Kikuyu at the end of that meeting.
The saga ended with the sacking of Kioni from Kenya Airways and when he went back to Special Branch, he was retired in public interest at 40 years of age.
The commission concluded that Njonjo misused both his offices as AG and as minister and acted to the detriment of the government of Kenya in a tender for the printing of passports.
When he was pardoned by Moi, Njonjo faded into the background.