Pending investigations to look out for this year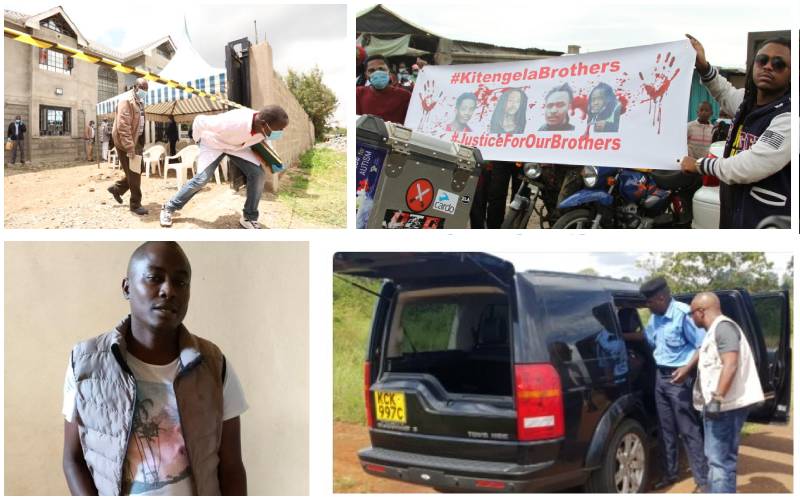 2021 was an eventful year. In the security sector, a lot was happening, including outrageous cases that shocked Kenyans. Many cases landed in court after investigations. However, some are still fresh or hard to crack. Below are some of the pending investigations to look out for in 2022.
Dennis itumbi
On Christmas Eve, United Democratic Alliance (UDA) blogger Dennis Itumbi was abducted and beaten up before being abandoned on the roadside. He was later rushed to a health facility in Kasarani before being transferred to Nairobi West Hospital for specialised treatment as detectives attempted to solve the puzzle over his alleged abduction. A taxi driver, who rescued Itumbi has since recorded his statement, even as police say they are still investigating.
Missing Machakos businessman
On December 23, businessman Mohammed Hassan was picked up from his shop in Machakos town by people who posed as police officers. Following his suspected abduction by the four men, some leaders have asked the State to produce the businessman. Preliminary investigations indicate that CCTV cameras in the adjacent building were disabled between 2pm and 5pm on the same day. Police said the matter is still under investigation.
Mbijiwe disappearance
Prominent security consultant Mwenda Mbijiwe has been missing for several months now. Frequent guest of various television shows on security issues, Mbijiwe went missing on his way to Meru to check on an ailing relative. The owner of the vehicle he had been using said he tried reaching the security expert for three days in vain. He did not answer calls until his phone went off. The matter was reported to Central Police Station in July and is still under probe.
Stutchbury murder
Joannah Stutchbury, the 64-year-old conservationist in Kiambu County, was shot six times in July. Police reported that the slain environmentalist was overpowered by unknown assailants at her home in Kiambu. In 2018, Stutchbury stopped a group that wanted to re-channel a wetland by creating an access road to the forest. Detectives are yet to arrest the killers.
BBC project manager
BBC journalist Kate Mitchel died at a hotel in Westlands where she had been staying on the eighth floor in late November. An alarm was heard from her room but when the security entered the room, Mitchel's body was lying in the bathroom with stab wounds, among other bruises. It is said the journalist had a few drinks with Tamati Mauti at the bar before she stepped out. Mauti was also found dead on the first floor of the same hotel. Detectives are still investigating the deaths.
KBC journalist
Kenya Broadcasting Corporation (KBC) journalist Betty Barasa was killed at her home in Ngong. The journalist had just arrived home in the evening when a waiting gang accosted and forced her to lead them into the main house. It is reported the one of the attackers was heard demanding money from Barasa. Minutes later, gunshots were heard from the bedroom and Barasa was later found dead. The case is yet to be unravelled.
Omwengas
Wycliffe Omwenga was found dead at his house in Riruta under unclear circumstances on July 21. Wyclife had moved to the area to keep off from unknown people who were tracking him. He was a brother to Kevin Omwenga who was shot dead in 2020 in Kilimani. Kevin was allegedly shot once in the chest after an argument ensued between him and the key suspect in his murder at Galana Suites along Galana Road. Wycliffe was reportedly present when the 28-year-old succumbed to gunshot injuries.
Missing lawyer
Lawyer Benson Njau was allegedly hijacked early last year in a case that is yet to take off. However, in June, a man moved to court claiming ownership of a vehicle used by the lawyer on the material day. Jackson Mbuva Kimuyu told a Kibera court that on January 7, Njau, who was his friend, had requested to use the vehicle to run some errands. Kimuyu says he later learnt through the media that the Njau was missing. He filed a missing vehicle report at Akila Police Station.
Kitengela four
The killing of two brothers and their two friends in August shocked the country. The four, two brothers Fred Mureithi, and Victor Mwangi, and their friends Mike George and Nicholas Musa, had converged to celebrate Mwangi's birthday. On the fateful day between noon and 9pm, the four were reportedly on an after-party motorbike racing between Kitengela and Isinya in Kajiado when one motorcycle broke down. It is while trying to repair the motorbike that they were attacked by local herdsmen who accused them of plotting to steal their livestock. All the four were killed on the spot.
Daftton Mwitiki
Until today, city sharpshooter Dafton Mwitiki, who went missing in March 2020, has not been found. His car, a Land Rover Discovery, was found abandoned a day after his disappearance near a coffee farm in Juja.