Gold diggers' dalliance with death dates back to 1930s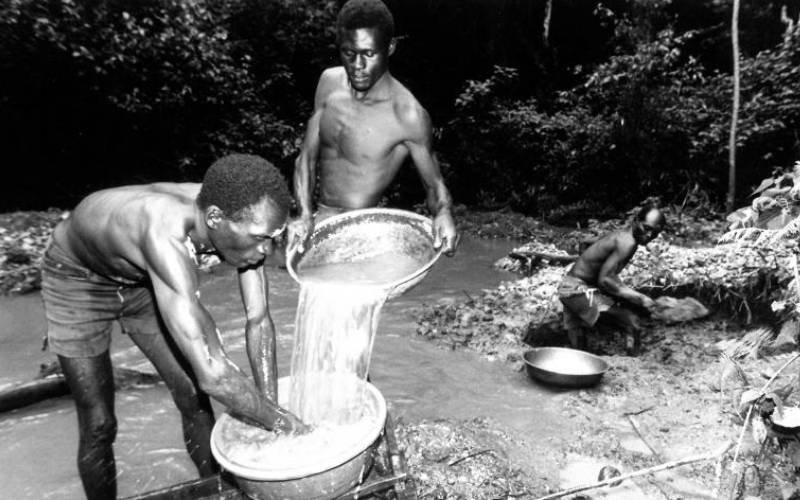 The fatal attraction. Like a moth flying to irresistible warmth and its destruction, that is what gold-digging has been to impoverished peasants and large scale miners.
The frustration experienced by thousands of miners is best captured by the turmoil the family of Tom Okwach is currently going through. The small scale miner was entombed in Abimbo mines in Siaya and his family has been trying to retrieve his remains since December 2.
Kenya's past is littered with anecdotes and records of the thrills and tears of gold prospectors who invested their sweat, hope and resources but reaped millions or sorrow.
The country just like local and international investors and speculators, has over the decades lost millions to scammers after being promised super profit as return on investment.
Nearly 83 years ago, some investors in Britain were shocked after learning that large scale mining of the precious mineral in East Africa was impossible.
Reports by "The Evening Standard" cautioned that investments in gold in a developing area like Kenya carried with it a great risk. Although the colonial government in Nairobi was unhappy with the report, it conceded that investors in gold had lost considerably in previous two years.
Estimates at the time showed that shareholders in gold ventures had lost a cumulative £3 million. The huge losses were attributed to the difficulty the territory which had forced some large scale miners to sell off their companies and relocate.
Records from the Kenya Mines Department in 1937 showed the country had exported 69,447 ounces of gold valued at £338,000 while Kakamega which was still a big producer of gold, yielded 5,629 ounces of lode and 294 ounces of alluvial.
But even as the large scale companies were making losses, records from Kenya Gold Mining Syndicate showed that small scale mining had been profitable as it had mined gold worth £35,200 for the first ten months of 1936.
The syndicate's projection was that gold mining in East Africa could be profitable as long as it was worked in small scale.
Almost a century later, the road to prosperity by gold diggers and dealers is still paved by misery and illusions as the miners languish in poverty, huffing and puffing deep in the bowels of the earth scrapping for specks of gold which are later snapped up by middlemen at throw away prices.
Majority of these mines are death traps where miners daily flirt with danger, working long hours in the dark with insufficient oxygen, supplied by crudely crafted supply systems in tunnels whose roofs have a tendency to collapse without notice.