More police officers involved in lawyer Willy Kimani's death, court hears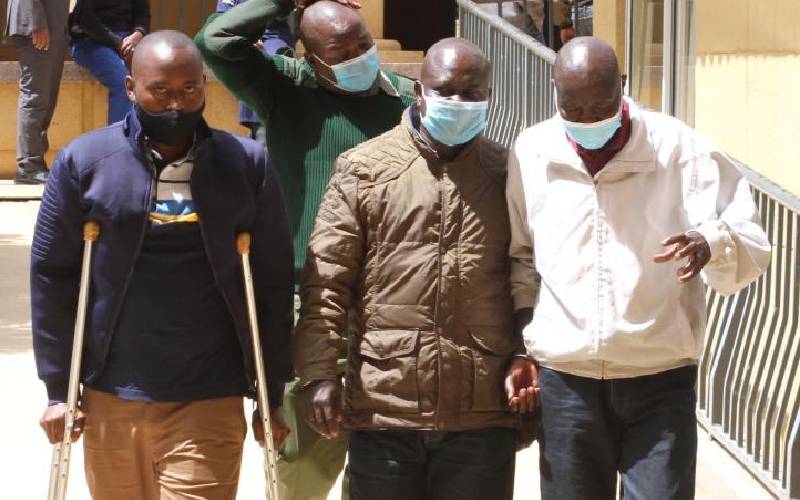 More police officers were involved in the alleged murder of city lawyer Willy Kimani, his client Josephat Mwenda and driver Joseph Muiruri.
Police informer Peter Ngugi did not fret when he told the court that some of the officers fronted as State witnesses were involved in murder of 'car thieves.'
He is accused of murder alongside, police officers Fredrick Leliman, Leonard Mwangi, Stephen Cheburet and Sylvia Wanjiru.
Ngugi told court that he was recruited as an informer in 2009 by the Flying Squad, the killer unit which was disbanded in 2019.
He narrated to Justice Jessie Lesiit how he met an officer named constable Wilson Kamau through former Mlolongo Officer Commanding Station (OCS) Stephen Lelei.
Ngugi also claimed investigators sweetened his resolve to testify against the accused after promising to have him pocket Sh30,000 monthly, a free house and a business for his wife.
Yesterday, in the courtroom, he was wearing a belt with an eagle engraved on the buckle. He revealed the secrets he had held for five years, recounting them with the clarity and precision akin to that of the eagle on his buckle.
While at Naivasha Prison, Ngugi says, he kept to himself the dossier that he revealed in court yesterday, saying the fact that he was 'used' agonised him.
"It was my secret deep in my heart. I am now not afraid, not like before when I talked about it… A lot of things my lawyer did not know," he said.
Ngugi testified that when news that lawyer Kimani, his client and a driver were killed emerged, he was not worried.
He said the night they were killed, he had been made to believe they were car thieves.
As the court closed the hearing, Ngugi painted a picture of a police force gone rogue and bad blood between general police officers and their AP counterparts who he referred to as "polisi wa chifu" (chief's police).
He testified that Leliman, Mwangi, Cheburet and Wanjiru were APs while other officers who were in the murder plot but were never charged were from the general police service.
According to him, when the four were arrested in relation to the murder, he was least worried as he believed that the people who were killed and dumped in Ol-Donyo Sabuk River were thieves.
He claimed he saw two bodies loaded into the car at the murder scene on Mombasa Road.
Ngugi placed Kamau at the centre of the murder. According to him, he received instructions from Kamau and had the officer's two mobile numbers.
He testified that when he heard that other officers had been arrested, he knew that it was nothing to do with the mission he had been involved. Kamau's mobile number data was read to him and showed they were together at Ol-Donyo Sabuk where the bodies of the deceased were dumped.
"If Kamau was arrested, I would have known it was about the killing of the 'car thieves' but he was not," he claimed.
He also mentioned Police Constable Charles Waweru, another he identified as Mwaniki and a third one nicknamed as Wa Ingo as officers who were not in court but linked to the murder.
He asserted that he knew about two people being killed but not three.
The informer said if the police had traced the data of Kamau, Waweru and Wa Ingo, they would have found they were together in all the scenes, including at Leliman's wife's bar.
He continued: "I was with Kamau and this is what has put me behind bars. I have been having sleepless nights thinking about Kamau and what we did that night."
According to him, there is an unnamed fourth officer who he handed the car that was dumped at Limuru.
Ngugi's profile and revelations in court also opened the lid on operations of police informers. A Standard Four dropout, Ngugi had been a thriving second-hand cloth dealer operating in Kawangware.
He had started another wing of the same business in Syokimau after he met Lelei. The new wing entailed hawking jeans to revellers in the area.
His task was to spy on 'thieves' at the same area, but it ended up with more tasks such as driving the vehicle towards Kamirithu and dumping the bodies.
After this was done, he claimed, they were to drink alcohol at a bar owned by Leliman's wife. He claimed it was the police's tradition to take alcohol 'after work'. On the night of the murders, and after the bodies were dumped, he said they returned to the bar to close the day in the usual style.
According to Ngugi, another officer named as Kamenju led the dumping party to Ol-Donyo Sabuk. The killer team went back to Mlolongo where they arrived at 4am. Ngugi drunk himself to sleep until 4pm of October 24, 2016.
According to him, when he was taken to the Directorate of Criminal Investigations, the investigators wrote for him a statement which he signed as a 'plan' to testify against Leliman, Mwangi, Cheburet and Wanjiru.
The suspect narrated that investigators promised him Sh30,000 monthly pay, house rent and his wife's business would be shifted from Kawangware to a new place he was to identify the testified against 'polisi wa chifu.'
He said all those who were not charged are from the general police. He said while in remand after the court found he had a case to answer, he still believed in the promises of the investigators.
"I was at work. I was to have a house rent and get Sh30,000 a month and they would shift my wife's business from Kawangware to where the police would move me," he said.
Meanwhile, he asserted that the Sh15,000 he allegedly received from Lelei on October 8, 2021 was to buy his silence. He narrated that he Spent Sh1,000 on lunch. The informer claimed he was promised that if the court jails him, then his appeal would be fast-tracked.
"I was simply to deny that I do not know Leliman and if jailed, he will help fast-track my appeal to be released. The money was to be used to buy tissue and soap while in prison. I swear I did not participate in planning the murders," he added.
Ngugi says he is in agony that the police officers and investigators were 'using him.'
"I have now testified and given what I had kept in secret and I am not fearing anymore," Ngugi concluded.