Our money is clean: Daughters defend Okoth Obado in corruption case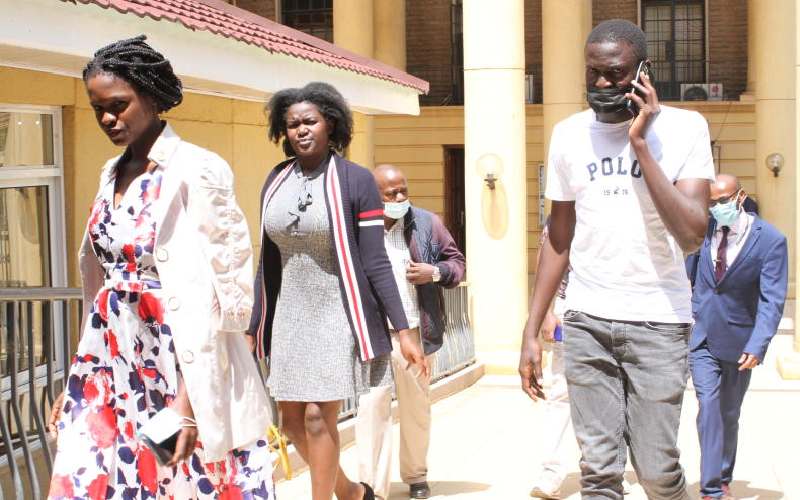 Migori Governor Okoth Obado's daughters have come to his defence over allegations that he conspired with his proxies to siphon millions of shillings from the county government.
Evelyn and Scarlet Susan Okoth yesterday claimed they are being persecuted because of their father's political affiliation.
They denied receiving a kickback indirectly from companies alleged to have been irregularly awarded contracts by the county government.
"We have never received any illegal benefit from anyone or the alleged proxies of our father. It is evident that the cases brought against us and our siblings are clear victimisation for being children of Okoth Obado and we are facing the repercussions for his political affiliation," the said.
At the same time, Obado told the court he does not want to be party to the suit in which the Ethics and Anti-Corruption Commission (EACC) is seeking to compel him, his four children, businessman Jared Oluoch Kwaga and 13 companies to forfeit assets worth Sh73.4 million.
His decision not to file any response to the suit means he is leaving the battle to his children and the businessman who, according to EACC, was the architect of the alleged plunder of public funds from the county government.
Among the assets the commission wants seized are a home in Lavington, two high-end vehicles allegedly purchased using funds stolen from Migori County, and money wired to the children's accounts.
EACC claims their investigations established that the governor and the alleged proxies amassed assets valued at Sh73,474,376 procured with proceeds of fictitious contracts with the county government.
The commission claims Sh38,949,376 was wired to Obado's children for their university tuition fees and upkeep, and a portion used to purchase two Land Cruiser V8 vehicles. The remaining amount, Sh34,525,000, was reportedly used to buy Loresho Ridge House in Lavington. But Evelyn, in her replying affidavit, swears that she does not own the home in Lavington.
"I rented the house from Jared Kwaga in 2017 and used to pay him monthly rent of Sh120,000. But when I moved from the house in 2018, I sub-let it to another tenant who would pay me Sh150,000 after which I would pay Kwaga his dues and retain the balance," says Evelyn.
On claims that money stolen from the county government was wired to their accounts and fees while studying abroad, Scarlet swore that it was his elder brother, Dan Okoth, who sent them the money out of their business partnership with Kwaga.
According to Scarlet, Kwaga and his brother were engaged in informal gold trade between 2014 and 2017.
The sisters say they do not hold shares in the companies alleged to have colluded with their father.
The hearing continues on February 21, 2022.