Delicious debate: Between female and male fish, which is sweeter?
It is not in doubt that fish is a mouth-watering delicacy for most communities in Kenya.
What is in doubt, however, and which is now the subject of a fierce debate among fishermen and fishmongers, is what is sweeter between female and male fish. And as a customer, how do you even tell them apart?
For 35-year-old Fransisca Awuor, who has been a fishmonger in Dunga Beach, Kisumu, for over 18 years, the female fish is much sweeter.
She says the female fish has eggs and is very soft. In fact, most of her clients ask for "the fish with eggs" every time they want to buy.
"The structure of the fish determines whether it is male or female. The male fish has a big head and is longer compared to their female counterparts. The female ones have a better shape and are heavier," says Awuor.
It is obvious why my clients ask for fish that has eggs inside it. Having sold fish for many years, I know the female one tastes better than the male ones."
Charles Otieno, a fisherman at Dunga Beach for the past 20 years says, what the fish eats determines its taste.
"It depends on where the fish stays in the lake. Most of the fish in the middle of the lake have lots of food and variety. They are quite different from the ones that live near the shores, which eat mostly remains of human foods thrown at the shores and are washed into the lake," says Otieno.
He says fish in rivers and streams also have lots of food when the water level is higher. They, therefore, taste better during the times their habitats have lots of water.
"When the water level goes down, the amount of food also reduces. So, when you catch them during such seasons, you will realise that they are not so delicious," he explains.
According to Otieno, in the past, fishermen were not so concerned about the sex of the fish until recently when cage fish farming was introduced. In this new technology, fish are fed according to their sex to allow growth before they are mixed up.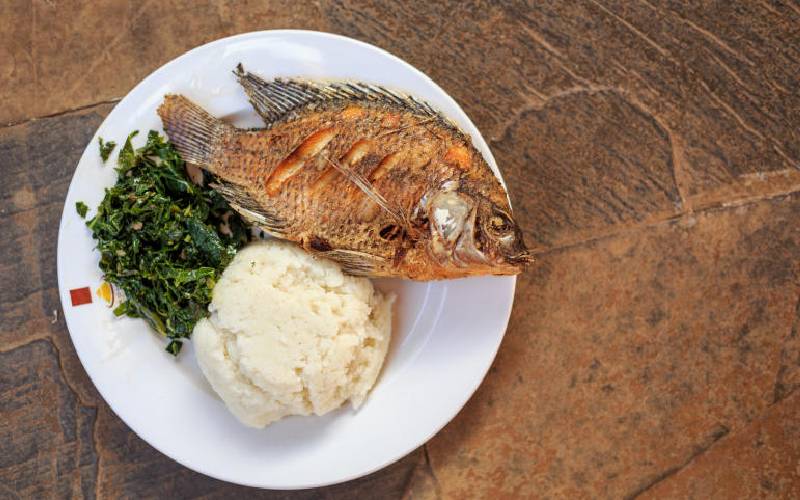 He says they look at the navel to distinguish between the male and female fish.
Maurice Ochieng, 64, a fisherman, also believes female fish is sweeter because it has eggs and fats.
Ochieng says the female fish are softer and only people who have lived near the lake or fishermen with experience can differentiate the taste.
However, Christopher Aura, the director of freshwater systems research at Kenya Marine and Fisheries Research Institute (KMFRI), says this debate on female and male fish is all a myth.
He says the taste of fish depends on various factors, including what they feed on, but sex is not one of them.
Aura says the biological aspects and the environment are the main factors that determine taste.
"The taste is brought about by the environment and the genetic nature (type of fish). The taste also depends on the preference of the consumer and it will vary from one person to another," he says.
It is important to note that the environment determines what the fish feeds on."
Tilapia feeds on small plants in the water while the Nile perch mostly feeds on other small fish, basically flesh.
Aura says the male fish grows faster than their female counterparts, which dedicate much of their food assimilation to production of eggs.
According to experts, Kenyans consume about 4.5kg of fish per person per year.
"I urge Kenyans to eat more tilapia frequently because it is white meat that is healthy with no side effects. It is associated with good fats like 'omega 3', which is useful in brain development," says Aura.
He says tilapia is the preferred type of fish by most consumers because of its taste and growth because it can survive in a poor environment and because it can be found in several environments in tropical countries.
"You will be able to find tilapia in dams, small water bodies and even lakes. These are the many reasons the majority of people prefer tilapia but other types of fish are also good for consumption. For example, 'omena' are a good source of iron for growing babies," says Aura.