Reality check: Why big money election pledges are untenable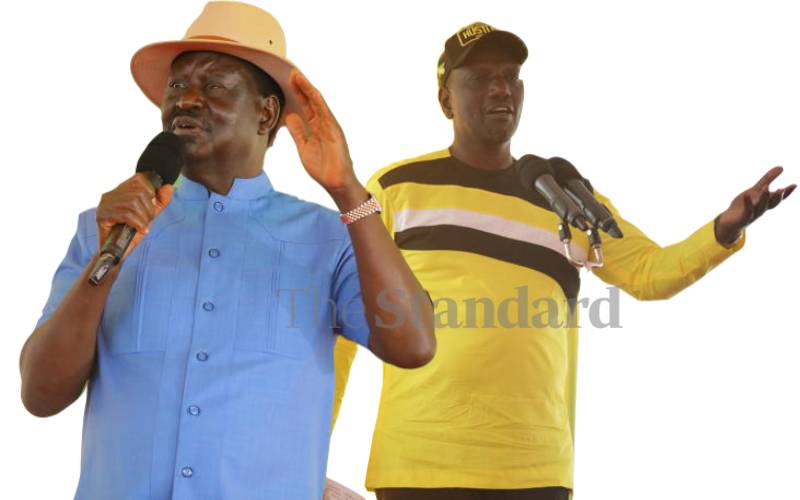 Despite the national government running on empty, those with the ambition of succeeding President Uhuru Kenyatta next year have made big money promises which critics are now questioning.
Politicians who have set their eyes on the presidency have traversed the country in recent months with pledges on what they would do to turn around the country's economy, education and healthcare services, and empower the citizenry.
Most of the aspirants have stood by their promises, but have often been at pains to explain how they will implement their ambitious ideas.
"To me, these election promises are just election promises. Politicians all over the world do this," said Nikhil Hira, a tax expert and director at Bowmans Kenya, a law firm.
In what is viewed at wooing voters, analysts reckon that politicians would like Kenyans to believe that there can be more gain without pain.
The goodies promised to the electorate should they elect the aspirants have been many. From cash transfers to the unemployed, free healthcare, reduced taxes and interest-free capital. But the electorate has not been told who will pay for them. "No one is talking about how do we finance this," said Hira.
With President Kenyatta vacating State House in less than 10 months after pushing the country's stock of debt to Sh7.71 trillion–and whose interest payments have been gobbling up a big chunk of the taxes–economists do not think the fifth head of state will have the luxury of splurging on big projects like the Jubilee government.
Yet, the campaign trail is increasingly being reduced into a spending battle.
ODM party leader Raila Odinga has promised to implement a social protection programme starting next year should he win the presidency. "Every family with no source of income will get Sh6,000 every month," said Raila in October.
Fiscal constraints
Assuming the labour market in the first quarter of 2023 is the same as that of 2021 where, according to official data, there were 1,264,333 individuals (not families) aged 15 years and above who were not working but were actively looking for a job, then Raila would have to pay them around Sh22.8 billion in this period.
The question of where the money will come from, given the current fiscal constraints, is one that Raila and all the other aspirants have so far not answered.
But Raila's allies say all will be made clear in due time. "These are issues that are clarified in the manifesto itself, which will be launched at an appropriate time sometime next year," said Kisumu Governor Anyang' Nyong'o.
In the meantime, added Prof Nyong'o, "We have put the proposal in the public domain for debate."
"It reminds me of when we put in the public domain the NARC proposal that we would implement free primary school education earlier in our campaign. It was not until we published our manifesto that people realised we were serious," he says.
Raila has also said that by reining in corruption and wastage, his government can get a lot of money–about Sh700 billion every year–that can be used to finance the social programme.
This is what Wahoro Ndoho, the chief executive of Euclid Capital and former director of public debt management, describes as 'expanding the governance dividend'.
"Basically, what he (Raila) is saying is, 'If we can cut corruption and waste, the savings from that alone can, for example, finance a good part of the universal minimum income," said Wahoro, explaining that Raila might have under-sold his governance issue.
Ambitious promise
Deputy President William Ruto, on the other hand, has offered another ambitious promise of injecting Sh200 billion into the economy and creating four million jobs for the youth.
Ruto also promised to give Sh100 million per constituency to "hustlers" every year for development projects. With the country having 290 constituencies, this translates into an annual spending bill of Sh29 billion.
"We will allocate that amount to the mama mboga, wheelbarrow pushers and cart pullers," he said.
This is part of his bottom-up agenda in which the DP intends to help build local industries, resulting in the creation of five million new jobs over the next five years. But he too has not said much on how he will raise the billions.
David Ndii, an economist who is part of Ruto's think-tank, does not think there is need for additional money. All that they will do, he said, is to re-allocate the development budget from infrastructure (public capital) to productive capital.
"No new money is required," said Ndii in a text message.
Wiper Party's Kalonzo Musyoka and ANC's Musalia Mudavadi have promised to slash the tax burden by half.
Kalonzo went ahead and promised to pay Kenya's entire debt in two years if the One Kenya Alliance forms the next government.
"In one or two years, we will have repaid all our debt using our resources. Our hills are full of copper," said Kalonzo.
Mudavadi said he will direct cash transfers and universal healthcare to vulnerable Kenyans should Kenyans vote for him next year.
"That is where majority of women and average Kenyans are employed in large numbers and so we have to change that by allocating more for people to have money in their pockets," he said, noting that he will put more emphasis on the private sector.
Under his 'Pesa Uchumi Bora Kwa Wote na Pesa Mfukoni' initiative, Mudavadi said his immediate plan is to prevent an economic meltdown by scaling down on commercial loans and projects, rescheduling debt, and not increasing taxes.
"In 100 days in office, to spur economic recovery, indirect taxes such as VAT (value-added tax) on inputs in the agricultural sector will be removed," said Mudavadi, citing the 16 per cent of VAT on animal feeds that has disrupted production and made animal products expensive.
Radical reforms
On healthcare, Ruto said that within the first 100 days, they will have a public health insurance scheme that "ensures that any person walking into a hospital can walk out with their medical bills having been paid by our National Health Insurance Fund (NHIF)."
James Wambugu, who in 2019 was appointed to head a 14-member team to spearhead radical reforms at NHIF, does not think that universal healthcare can be rolled out, even in two years.
But he agrees that in the first 100 days, a new government can pass the necessary legislation and put in place the right structures. But the process of looking for funds can take longer.
According to the task force's findings, the country needs at least Sh300 billion to roll out universal health care. This means the government sets aside Sh6,000 per household per annum. Some analysts see in these campaign promises an effort to introduce a welfare state–a system whereby the government undertakes to protect the health and well-being of its citizens, especially those in financial or social need, by means of grants, pensions, and other benefits.
But Kenya does not have the money to run a welfare state, says Wahoro.
"No one has. Even in the West, someone else has been paying that bill. There are externalities that will be paid by a third party," said the economist.
- Additional reporting by Biketi Kikechi