Speak truth to power, CJ Koome tells the media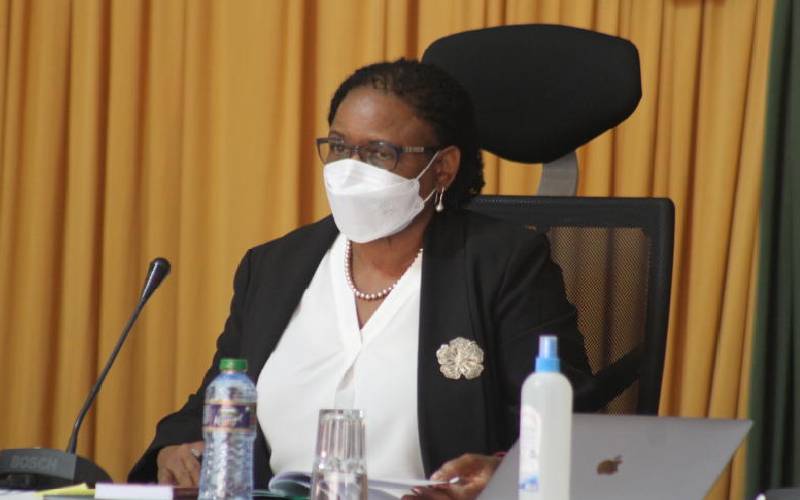 Chief Justice Martha Koome has urged the media to avoid being used by political actors, and instead promote the common good and public interest during the electioneering period.
Speaking on Friday, December 3 during the fourth annual Kenya Editors Guild (KEG) convention in Naivasha, the chief justice challenged journalists to speak truth to power.
"The media must speak with its own voice and not merely echo the voice of the political actors. This will necessitate embracing a 'more activist role' that involves asserting the media's own voice in utterances and policy proposals by political actors," she said.
Koome said the media and the Judiciary's acts of commission and omission were blamed for the escalation of violence after the 2007 General Election.
To avert post-poll chaos, the chief justice said the Judiciary has put in place a committee on elections, which has developed a comprehensive work plan to train judges, judicial officers and staff on efficient mechanisms to handle election disputes.
"We learnt painful lessons from the 2007/2008 experience, and have since endeavoured to build public confidence and trust in the Judiciary's ability to fairly and justly determine electoral disputes," she said.
The CJ further said that the Judiciary was engaging other stakeholders on the need for adequate funding and provision of other facilitative infrastructure to ensure optimal conditions for the timely and just determination of electoral disputes.
The Kenya Editors Guild president, Churchill Otieno, said media managers will engage the Legislature to ensure MPs are involved in the plan by Parliament to change the laws affecting the operation of the media.
"KEG is trying to engage MPs to ensure the interest of the public and the media to enjoy a free press is maintained," he said.
The theme of this year's Editors' Guild convention was "Electoral Accountability Agents and the Public Interest".