Not an inch more: President Uhuru commits to protecting borders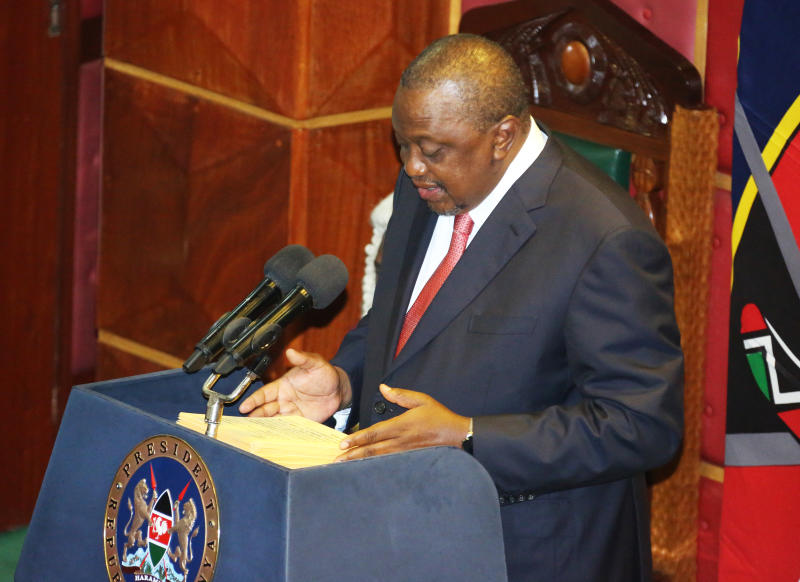 President Uhuru Kenyatta has outlined his achievements in the security sector as he approached his last eight months in office.
While taking stock of his two terms, the President said his administration had improved the social welfare of security officers by, among other things, building hospitals for the military and police officers, increasing the number of officers recruited into the National Police Service and putting into action a plan to build 3,500 houses for the military.
And in an apparent reference to the maritime border dispute between Kenya and Somalia, Uhuru said security personnel will not allow anyone to encroach into the Kenyan territory, reiterating: "not an inch more, not an inch less."
This is the second time this year President Kenyatta is making this declaration after his Mashujaa Day speech in Kirinyaga County last month, where he underscored the country's commitment to protecting its territorial integrity.
On October 12, the International Court of Justice made a ruling on the disputed area in the Indian Ocean that appeared to favour Somalia. The court awarded the Horn of Africa country control of most of a potentially oil- and gas-rich chunk of the ocean. Kenya rejected the ruling.
Yesterday, Uhuru said the country was close to achieving the United Nations' recommended ratio of police officers to civilians, adding that 47,000 more police officers had been employed since he came into office in March 2013.
Further, the President said, his government had turned security forces into a manufacturing powerhouse, with the commissioning of a light weapons industry in Ruiru.
He also praised the move to get the Kenya Defence Forces involved in the running of key parastatals, which he attributed to their "unity of command, military efficiency and reasonable pricing".
"After KDF took over the Kenya Meat Commission, they turned it around in just a few months. Whereas it previously took farmers four years to be paid, it now takes just 72 hours," he said, adding that the outlet now collects Sh1 million a day, up from Sh8,000.
Uhuru Kenyatta: Judge me by this
President Uhuru Kenyatta yesterday delivered The State of the Nation address, giving an account of his scores for the country in the last eight years.