Court stops Senate from summoning Governors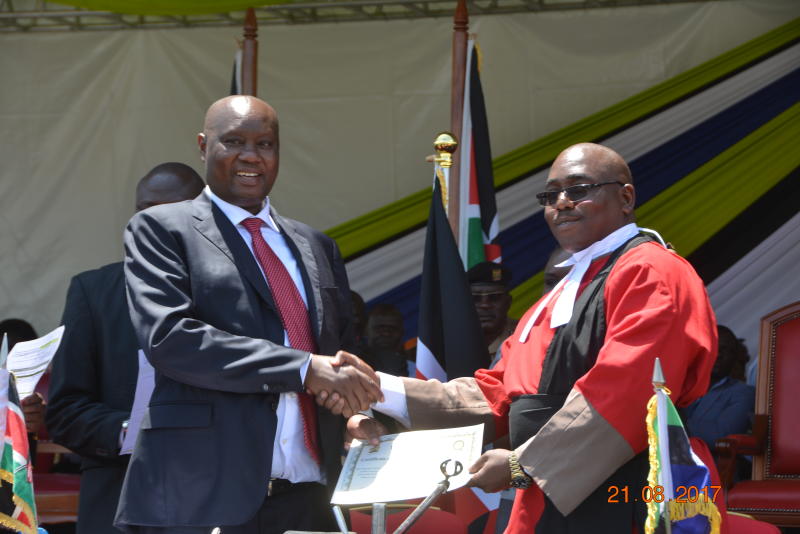 Governors have won the first battle with senators over management of millions of shillings for roads maintenance within the counties
Justice Anthony Mrima stopped the Senate from summoning any of the 47 Governors or their county government officials to appear before the Senate Committee on Roads and Transport to question them on financial expenditure of the World Bank funded roads' project.
"The Senate through its committee on roads and transportation are also restrained from considering the Auditor General's report on roads maintenance levy fund for the financial years from 2018 to 2020 pending hearing and determination of the suit," ruled Mrima.
Further, the judge stopped the Senate from issuing fines or warrants of arrest against any governor or county executive officials who fail to appear before them in relation to the audit queries touching on the roads maintenance levy.
The dispute started last month when the Senate's Committee on Roads and Transport issued summons to governors and their county executives to explain audit issues raised by the Auditor General regarding expenditure on roads maintenance for financial years 2018/2019 and 2019/2020.
But the Council of Governors argued that the urban roads maintenance projects were funded by the World Bank and that the Senate has no power to oversight grants from international donors.
Through lawyer Peter Wanyama, the CoG told the judge that Senators only have an oversight role for national revenue.
According to the lawyer, there was a similar dispute between governors and senators pending at the Supreme Court and that the decision to summon the county chiefs should be suspended until the apex court pronounces itself on it.
He accused the Senate of going against an agreement that they previously reached with governors to only question them on expenditure of allocated national revenues in which the county chief have been willingly appearing before the Senate to explain.
But the Senate defended itself arguing that they have a role to protect funds allocated to counties whether from national or donors and ensure that there is no misappropriation.
Justice Mrima however ruled that it was clear the funds in question were from the World Bank which falls outside national revenue and should not be the subject of audit by the Senate Committee on Roads and Transport.
"It is clear that the Senate Committee on Roads and Transportation and by extension the Senate does not have any powers and mandate of oversight over any other funds to the counties except such funds which forms part of allocated national revenue," ruled Mrima.
He added that both the High Court and the Court of Appeal had previously found that the Senate does not have any oversight role over grants, loans and revenue locally generated by counties.