Philip Anyolo named new head of Nairobi archdiocese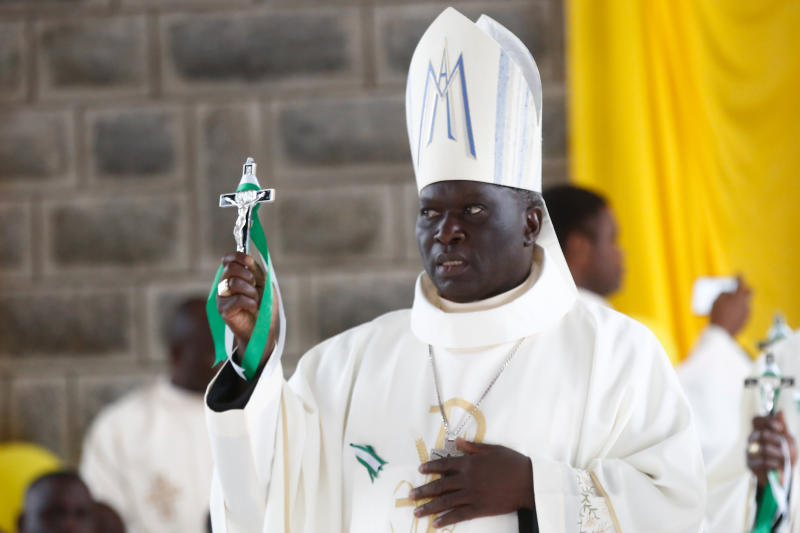 Pope Francis has named Most Reverend Philip Arnold Subira Anyolo as the new Archbishop of Nairobi.
Yesterday's announcement was made on behalf of the Vatican by Apostolic Nuncio to Kenya and South Sudan, Archbishop Bert Van Megen.
Archbishop Anyolo succeeds retired Archbishop Emeritus John Cardinal Njue.
Since Cardinal Njue stepped down on January 4, 2021 upon attaining official retirement age for bishops, Auxiliary Bishop David Kamau has been the Apostolic Administrator of the Archdiocese of Nairobi.
"I have the honour and pleasure to inform you that Pope Francis has appointed the Most Reverend Philip Anyolo, presently Archbishop of Kisumu as Archbishop of Nairobi," said Megen in a brief statement.
The appointment was officially published in L'Osservatore Romano at 1 pm Kenyan time before the same was communicated to Kenya Conference of Catholic Bishops (KCCB) where Anyolo served as chairman between October 2013 and May 2021.
Archbishop Anyolo was born on May 18, 1956 in Tongaren of Bungoma County. In his childhood, peers remember him as just an ordinary village boy whose interest in priesthood was influenced by three priests – two Irish and a Kenyan who were serving in Bungoma.
The priests were Noel McHenry, Tom Smith and Philip Sulumeti who has since retired as Bishop, Diocese of Kakamega.
He was ordained a priest for the Catholic Diocese of Eldoret in 1983. Pope John Paul II appointed him Bishop of Kericho on December 6, 1995 and was consecrated as Bishop of Kericho on February 3, 1996.
The Holy Father John Paul II appointed him Apostolic Administrator, Diocese of Homa Bay on February 20, 2002 following the resignation of Right Reverend Linus Okok Okwach.
He was appointed Bishop Diocese of Homa Bay March 22, 2003. Archbishop Anyolo was appointed Archbishop of Kisumu Diocese on November 15, 2018 and installed on January 16, 2019.
During his installation ceremony, Archbishop Anyolo said: "I come among you as a humble shepherd ready to lose my life for the sake of God's own flock and prepared to tell you everything that I have learnt from God. My urgent call to all of you is to forgive one another for our hearts."