Police officers in Wanjala prison break released on Sh300,000 bond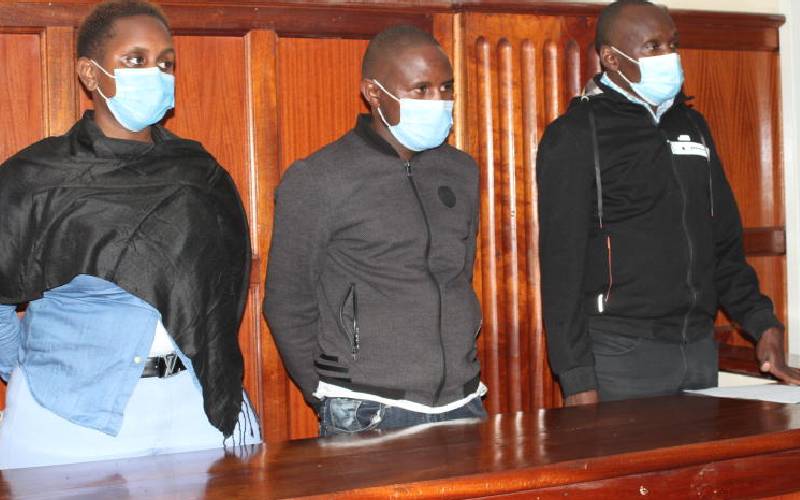 Three police officers who were on duty when self-confessed child serial killer Masten Wanjala escaped from custody have been freed on a Sh300,000 police bond or cash bail of Sh150,000 each.
The trio, Philip Mbithi, Kamakia Mutuma Bonface and Precious Mwende Mwinzi were on Friday charged with aiding Wanjala to escape.
While appearing before Principal Magistrate Bernard Ochoi they however denied the two charges of aiding Wanjala to escape and negligence while on official duty.
The officers were accused that on the night of October 12 and 13, this year, at Jogoo Road Police Station within Nairobi County, they jointly aided Wanjala to escape from lawful custody.
Wanjala 20, was arrested in mid-July in connection with the murders of at least ten children and was to be arraigned on October 13, the morning he was discovered missing from the police cells.
It is suspected Wanjala walked out of custody at 9 pm on Tuesday alongside persons arrested for violating Covid-19 rules.
Two days later, Police in Bungoma confirmed that Wanjala had been lynched by a mob at Mukhweya village.
Wanjala had tried to sneak himself at his parent's home but was spotted by neighbors who raised alarm before strangling him.
Following his escape, the officers were arrested at detained at Capitol Hill Police station.
Last week, Senior Resident Magistrate Jane Kamau ordered the trio be detained at Capitol Hill Police Station for seven days or pay police cash bail of Sh100,000 pending their trial.
They appeared in court for plea-taking before Principal Magistrate Ochoi.
The case will be mentioned on November 4.
Wanjala in his confession had told police that he had killed at least ten children between 2019 and 2020.
He had so far taken officers to at least 10 alleged murder scenes in Nairobi (five), Kajiado (two), Machakos (two) and Bungoma (one).
Wanjala allegedly admitted to killing the children after disguising himself as a football coach.