Agnes Tirop's mother speaks about losing a champion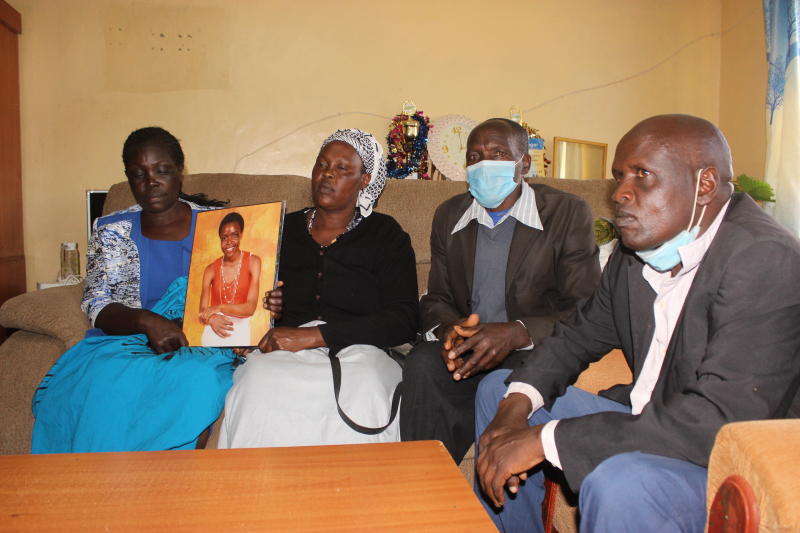 Dina Tirop sat pensively, surrounded by villagers who had come to comfort her at her home in Nandi County.
Grief swept over her as she tried to make sense of the murder of her daughter, Agnes Tirop.
The agony of losing a child who had made a name for herself in athletics was written on her face as she fought back tears.
For Dina, the brutal killing of her daughter in Iten, more than 60 kilometres away in Elgeyo Marakwet County, was slowly beginning to sink in.
Residents from Chepkoiyo village in Chesumei, friends and members of St Francis Cheptarit Catholic Church–where Tirop worshipped when she was not in Iten–were still in disbelief that the 25-year-old athlete was no more.
Edwin Rono, Tirop's coach in primary school, and Kapsabet-based athletics trainer John Chumo were among the mourners.
Tirop's father, Vincent Tirop, was not at home when The Standard team visited yesterday. Relatives said he was still in a meeting with police officers who are investigating the circumstances under which the athlete met her death.
Tirop, who represented Kenya at the Tokyo Olympic Games, was found dead in her house in Iten where she has lived and trained for many years. Police said she had a stab wound on the neck.
The athlete had visited her parents three days before the shocking news of her death broke.
"We were here at home on Sunday, and she left to start her training in Iten. She had brought school fees for her five siblings because schools were reopening," Dina said. Tirop was her fifth child out of ten.
Dina said she did not speak with her daughter after they parted ways.
"Agnes did everything for us. She lifted us from nothing and has been the family's pillar. She had big plans for herself and the family. I am yet to believe that she is gone forever. She was my darling daughter. She loved all of us."
She added, "I will only rest when my daughter's killer is arrested. I wish to know why he killed a daughter who has represented Kenya and helped many people."
On Wednesday, when Tirop's body was discovered in her bedroom in Iten, Dina said she was home supervising the construction of a dairy unit when her husband called to inform her that all was not well with their daughter.
The mother, who is not on social media and was not watching TV when the shocking news broke, said her husband initially informed her that Tirop had gone missing.
"A few minutes after my husband called, I saw several neighbours streaming into our home. They were sad, and that is when I sensed that something terribly wrong might have happened to my daughter. No one was talking until later, when one of our relatives explained that my daughter had been found dead," Dina said.
Police officers in Iten said they were still searching for a man said to be the athlete's husband, in connection with her death.
But Dina said she only knew the man was her daughter's coach.
"I have not given out my daughter for marriage. Whoever is said to be her husband is not known to us and our family as such. No one had come to seek my daughter's hand in marriage."
Tirop's aunt, Emily Cherop, said the day the athlete was killed was the family's darkest moment.
Ms Cherop said she heard about Tirop's death at 1pm on Wednesday, hours after the body was discovered.
"The killer should have spared our daughter. He should have taken everything from her but spared her life because she was our pillar. She was an inspiration to all our children, and that is why we have four athletes from the neighbourhood," she said.
Cherop said Tirop bought land and built a house for her parents. "Agnes built a name for the Tirops. We are asking the security apparatus to produce the suspect in her killing."
Cleophas Tirop, an uncle, said the athlete started running in Standard Five and by the time she was in Class Eight, she was already participating in international junior athletics competitions.
He urged the police to investigate her death. "At 25 years of age, Agnes was already uplifting all of us. Her main focus was to help her parents. We want the suspect arrested," he said.
Agnes came in fourth in the women's 5,000m at the Tokyo Olympic Games in July. In September, she set a 10km world record of 30:01 at the women-only Road to Records Race in Germany.