Ezra Chiloba pledges friendly rules for up-to-date tech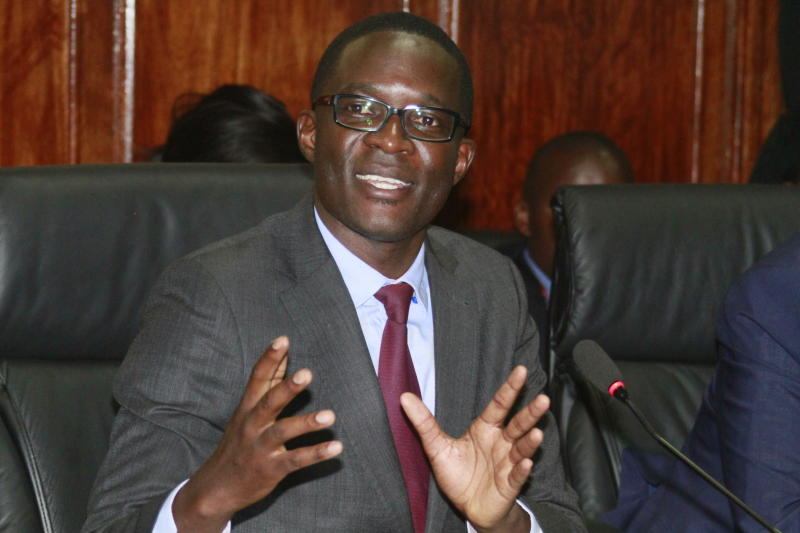 Ezra Chiloba's appointment to the Communications Authority of Kenya (CAK) hands him a job equally as tasking as his previous role at the Independent Electoral and Boundaries Commission (IEBC).
As the CAK director-general, Chiloba takes over at the agency which, unlike other auxiliary bodies, has express powers to take action whenever necessary.
He replaces Francis Wangusi, who left in 2019. Director Legal Services and Board Secretary Mercy Wanjau has been the acting CEO.
Chiloba was among 20 people shortlisted for the job and 53 who had applied. Seven were interviewed, including Wanjau.
The new CAK boss yesterday said that he aspires to "build a regulatory that is responsive to the challenges and opportunities that the 21st century brings forth, given the ever-changing ICT space. The idea is that Kenya is at the forefront of the fourth industrial revolution."
The former IEBC chief executive officer takes office less than a year to the General Election in which the authority plays a critical role.
Besides ensuring proper communication infrastructure, the agency is involved in ensuring peaceful campaigns.
In the 2017 election period, for instance, CAK and the National Cohesion and Integration Commission (NCIC) formulated guidelines to "prevent the transmission of undesirable political content via SMS and Social Media platform."
Powerful regulator
The guidelines regulated the dissemination of political content across platforms, including WhatsApp, to prevent incitement and the spread of fake news.
A joint communication of the guidelines indicated that they would amend them on a need basis.
While the NCIC has come under fire for allegedly sleeping on the job, CAK has earned a reputation for performing its work ruthlessly, sometimes attracting allegations of being overbearing.
In January 2018, some media platforms were shut for airing ODM leader Raila Odinga's mock swearing-in at Uhuru Park live. CAK is responsible for - among other functions - licensing and regulating all systems and services in the communication industry, with media organisations falling within its docket.
These include telecommunication services, which comprises network providers from whom IEBC procures services to transmit election results from polling stations.
And the authority's powers do not end at that. The agency also plays the big brother role on social media, though indirectly.
Social media service providers operate in compliance to the country's laws and regulations, with CAK watching.
"Social media service providers shall be required to pull down accounts used in disseminating undesirable political contents on their platform that have (been) brought to their attention within 24 hours," CAK and NCIC directed in 2017.
This means that the body can cause a politician's account to be pulled down for reasons that may include posting inflammatory content. In an age that has seen more political battles move online, such a move would hurt a politician.
Chiloba is a holder of a Law degree from the University of Nairobi and a Master of Arts degree from the Central European University in Hungary. He also acquired a Master of Science degree in programmes management from the University of Oxford. The lawyer also holds a certificate in blockchain strategy programme from Saïd Business School at the University of Oxford.
He has is also trained in corporate governance, projects management, and monitoring and evaluation.