Too little, too late: State response to gender-based violence is wanting, says NGO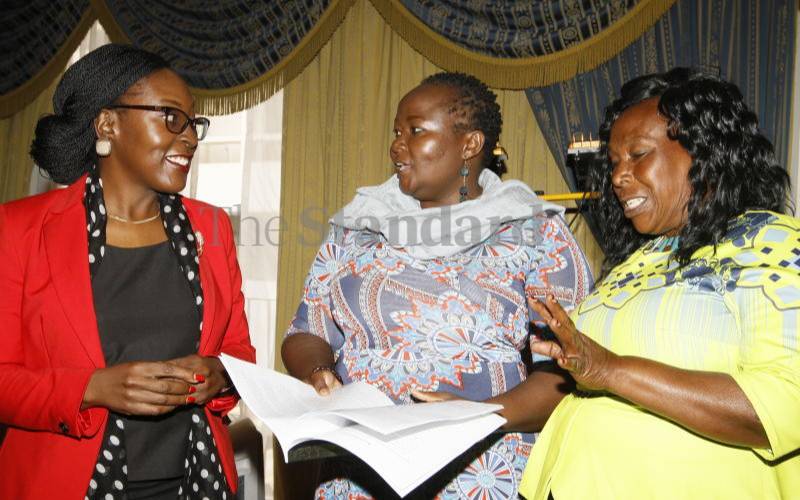 The Government has been blamed for doing too little and being too late in responding to gender-based violence (GBV) cases during this Covid-19 pandemic.
This is according to Human Rights Watch (HRW), which released a report called, 'I Had Nowhere to Go': Violence against Women and Girls during the Covid-19 Pandemic in Kenya, which was carried out between June 2020 year and June this year.
According to the 61-page report released in Nairobi, it shows how the government failed to ensure services to prevent GBV and provide assistance to survivors under its Covid-19 response measures facilitated an increase in sexual and other violence against women and girls.
''Survivors faced increased harm due to Kenyan authorities' failure to ensure they have access to comprehensive, quality and timely medical treatment, mental healthcare and protection services, financial assistance and to properly investigate and prosecute cases,'' said Agnes Odhiambo, senior women's rights researcher, and head of Human Rights Watch, Nairobi office.
She added: ''The pandemic is not the first time Kenya has witnessed increases in violence against women and girls during crises. The government should have anticipated such an increase, but tragically as in the past, it turned a blind eye and failed to protect women and girls against violence.''
The report is based on 26 interviews with 13 survivors of GBV, 6 representatives of NGOs, including service providers and community activists, 4 parents and a relative of girl survivors, a Kenyan expert on GBV and 2 government officials from POLICARE- a police program to respond to such violence and the State Department for Gender Affairs.
It also reviewed reports from the government, NGOs, United Nations and media.
Kenya, like many other countries around the world, experienced an increase in reported cases of physical and sexual violence, including domestic violence, against women and girls during travel restrictions to curb the spread of the virus.
According to the report, survivors and others interviewed described sexual abuse, beatings, being thrown out of the home, forced child marriage, and female genital mutilation(FGM).
''Women and girls living in poverty or precarious economic condition often created or worsened by the pandemic were particularly vulnerable to sexual harassment and abuse. Many abusers were close family members, including husbands,'' said the report.
The report also says most of the victims did not report to the authorities because they did not believe they would receive assistance or would be asked for bribes for help and lacked the ability to pay.
Those who managed to report received inadequate responses from law enforcers and access to health and legal services.
''Government financial emergency programs to cushion the vulnerable during the Covid-19 period like cash transfer programme lacked strong focus on GBV and had little impact on survivors. Due to corruption and lack of transparency as HRW found out, those in need did not receive vital cash relief as promised by the government,'' added Ms Odhiambo.
Access to available few rescue shelters or safe houses, report says was made more difficult by the violent enforcement of curfew and lockdowns and the few faced social distance challenges thus accommodating few victims.
Police corruption, lack of capacity to conduct investigations, and interference in and mishandling of cases, reduced survivors' ability to seek justice.
Ms Odhiambo asked President Uhuru Kenyatta to ensure more shelters are established since most of the existing are owned by NGOs, some of who closed down due to the Covid-19 impact.
''I also urge development partners and corporates to support in establishing more shelters and policares because they need huge financial investment,'' said Ms Odhiambo.
She also challenged the government to urgently live up to its pledges to protect women and girls from violence, including with free medical and mental health services, alternative housing and justice and that it should build a solid rights-based framework to anticipate how future emergencies will affect women and girls.
Speaking at the event, Beverline Ongaro, Project Officer Human Rights at the office of UN Resident and Humanitarian Coordinator, United Nations, said one in three women or girls are victims of GBV.
She said GBV interferes with girls and women in enjoying their rights like education among girls.
''Kenya has enacted several laws to respond to GBV including Protection against Domestic Violence Act, 2015 but implementation still remains a challenge. There is a need to implement Truth, Justice and Reconciliation Commission (TJRC) recommendations on GBV. I also challenge counties and national governments to allocate more funding to GBV related cases]1] even as general elections near in 2022,'' she said.
Eric Ambuche, the founder of Slum Outreach programme NGO which is based in Mukuru Kwa Njenga slum in Nairobi County, said slum women and girls were most affected victims due to loss of jobs and poverty.
''To adapt to the new conditions was not possible and therefore women and girls were exposed to all kinds of GBV as they looked for daily basic needs because men took advantage of them. Unfortunately, millions that were set aside to benefit vulnerable slum residents were not available and action should be taken to those who embezzled them,'' said Ambuche.