Open our skies for more flights, Joho tells State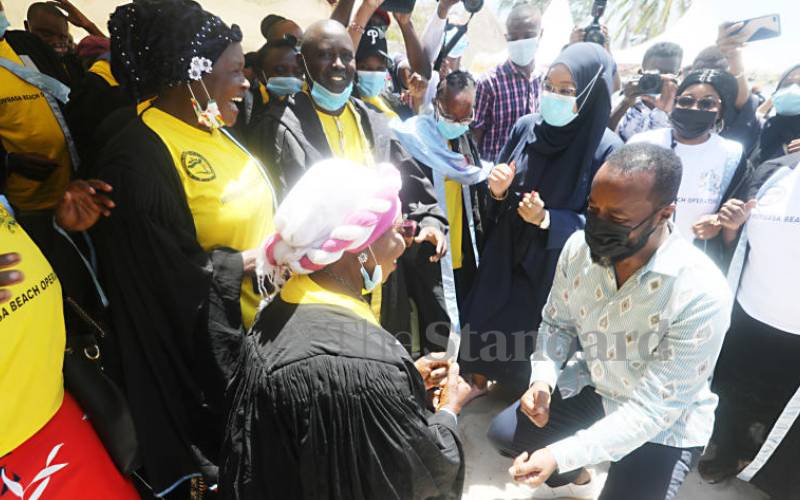 Mombasa Governor Hassan Joho wants the government to adopt an open-air policy to allow international airlines to fly directly to Mombasa in an effort to boost tourism.
Joho said the current air policy limits the number of direct commercial flights landing at the Moi International Airport thereby locking out business opportunities to the tourism industry.
He criticised the government for always rescuing and protecting Kenya Airways (KQ) at the expense of other regional and international flights.
Speaking during the World Tourism Day celebrations in Mombasa where 300 beach operators graduated yesterday, Joho said Mombasa was losing out on the international tourist arrivals because of the air policy. Joho took issue with KQ that has always been registering losses and calling for bailout each financial year.
"We are being beaten by many airlines that were previously behind KQ. Now Uganda Airlines has begun flights into Mombasa. You are saying the other flights should not come into Mombasa because KQ will die. If they want to commit suicide, how will they be helped?" posed Joho.
He said it was sad that the government wanted KQ protected from competition yet the airline was not making efforts to have a competitive edge with other airlines in the region.
He said Rwandan airlines used to fly to Mombasa at full capacity.
"Every year they put money to rescue KQ. Fixing the problem should not be all about giving them money. If I was president, that would change," said Joho.
He urged hoteliers to work together with the beach operators to ensure that tourists enjoy the experience in Mombasa. "Hotels and beach operators cannot be in competition but can only complement each other. So show them how they can help out," said Joho.
He said hotels should start focusing on high-end international tourists who spend while in the country.
Joho said that it does not mean that if one beach operator is bad all of them are bad and the best solution is training them. Mvita MP Abdulswamad Nassir asked the government to consider reopening the economy fully.
Nassir asked Joho to also open up all public beaches and Mama Ngina Waterfront for traders to resume business.
"It is important to open the economy of Mombasa and the entire country to allow people to do business. Let us also vaccinate the people," said Nassir.
He asked the Kenya Coast and Tourist Association (KCTA) to engage with hotel owners to allow trained beach operators to access tourists.