Reflections on the first Anglican female bishop Rev Rose Okeno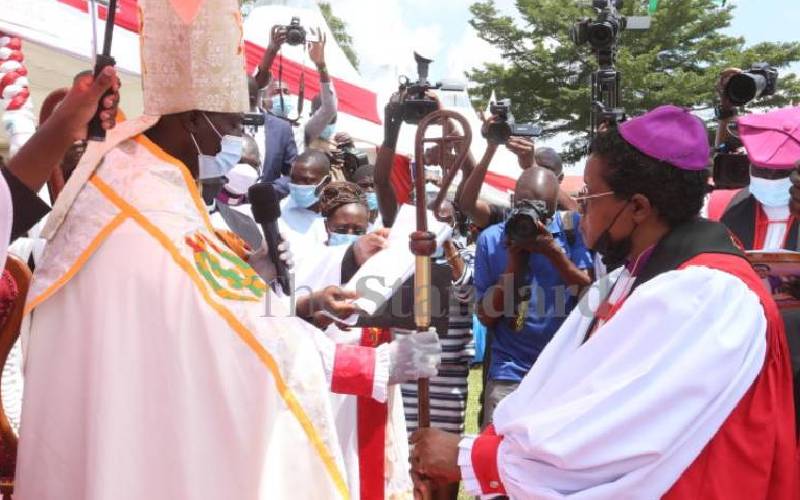 No contemporary work names the fullness of women and their right to dignity than Rev Dr Timothy Njoya's Divinity of the Clitoris. Shallow respondent will judge the book by the cover literally and dismiss it as explicit. But those whose curiosity moves them to turn the pages seeking understanding realise that the book is a voice crying, rejecting the minimisation of women.
The recent decree of the Anglican Church of Kenya (ACK) as a "no-go zone" for politicians made greater news and overshadowed the historical significance of the event in which the announcement was made. The enthronement of the first female as bishop in the ACK was and is worth recognition and headline attention. While the ACK church has a rich record as bold voice that corrects those in power, no woman had been ordained as bishop until 2021. This makes the consecration of Reverend Rose Okeno as Bishop of Butere Diocese both a celebration and a question. The celebration is that gender inclusion is progressing and resulting in the embrace of women in places of church authority they have not been in before. On the other hand it is a question because of the concern as to why it took so long.
Women have a naturally endowed power that over time and across cultures has generated a deep artificial fear of their capacity. Women suppression engineering has produced numerous designs that assist in shredding the wholeness of women. This suppression has succeeded in obscuring the fullness of women and to present them as fractions. This silencing of women and presenting their slices as their whole is a sinful practice.
President Barack Obama during his visit to Kenya said "They are issues of right or wrong in any culture. But they are also issues of success and failure. Any nation that fails to educate its girls or employ its women and allow them to maximise their potential is doomed to fall behind the global economy…imagine if you have a team and don't let half of the team play. That's stupid. That makes no sense." Obama's harshness rhymes with Njoya's intense title of his theological work on the equality or men and women.
There is still heavy resistance around the world when it comes to acknowledging the fullness of women. Sadly, this resistance often comes from women who have believed in the superiority of men. They have believed the Gospel of women as quarters, halves, three-quarters – everything else but whole. Some back up this minimisation with biblical citations. But scrutinisation of this religion-based suppression reveals that the said passages are used more to assert the power of men than to expound God's plan for women.
A continuous understanding of scripture in shifting contexts increasingly reveals the validity of inclusion of women. Admittedly, many institutions have been built around the philosophy of exclusion of women. Given that such systems end up benefiting particular people, their reluctance to embrace the equality of women is understood. But it is just a matter of time before their resistance is overpowered by natural forces. But we need not wait for natural forces to undo inhibitive beliefs. There is already an expansive spiritual and legal space that allows those who believe in Jesus' anchor promise of abundant life for all to uproot and plant in favour of the equality of men and women.
While the women who shatter the masculine ceiling are publicly celebrated, they are privately under pressure to perform in order to prove they rightfully belong. They are also under pressure in managing co-existence with men who still think that women do not belong past certain doors. Such poisoned perspectives see women as trespassers and therefore are quick to asses any errors under the gender microscope.
As Bishop Rose Okeno takes her pioneer place, it is critical that this not seem a favour extended to women. Instead, it must be understood as a divine placement. Her position is not a token to pacify the inclusion advocates. The suitability that has seen her achieve this position should not now be capped and her ambition stalled. Such thinking assumes it has only taken the favour of man to attain her position. The favor of God precedes the favour of men.
The men involved in the discernment process should see themselves not as gracious gatekeepers who sympathetically let Rev Okeno in but as honored divine agents for such a time as this. While some still question the biblical legitimacy of women preaching and leading whole communities, an engagement with the fact that Jesus first entrusted his resurrection message to women, who he instructed to go and tell "the disciples and Peter" would be a good place to gain a progressive perspective.
This "First" by the ACK should not just be a relic in the denomination's history but should be the opening of a new story where women discern the call of God and exercise it without inhibitions by way of religious barriers imposed to limit their influence. The call and ambition of women in the church should not be shamed or silenced as sinful.
The private sector has made its strides in recognising the capacity of women. The political sphere has all offices open to women. The government continues with intentionality to appoint and elevate women to lead significant portfolios. The church in Kenya therefore, should be humble enough to learn from other sectors of public life so as to further discern the value and capacity of women as agents of development and favourable movement of God's people.