Special report: Kenya reaps big from 59 years of greed and famine of healthy politics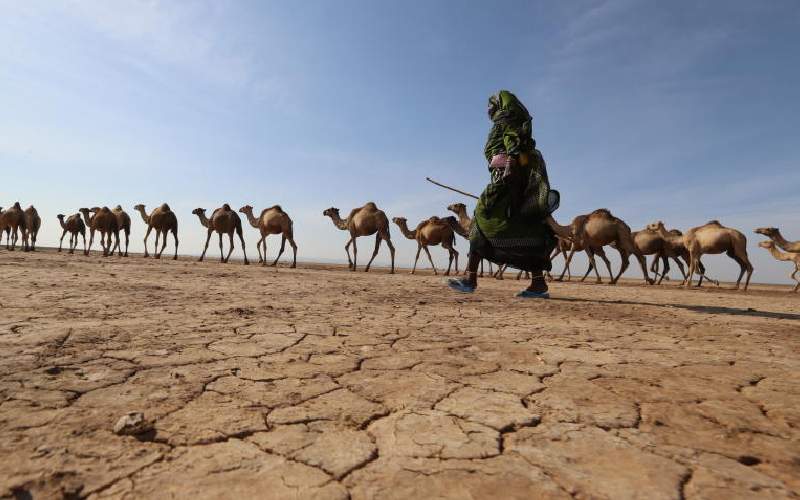 Last week, two unique and related events happened within two days. On Wednesday September 8, President Uhuru Kenyatta declared the ongoing drought affecting at least 10 counties a national disaster. With about 2.1 million people facing famine, Sh2 billion emergency relief fund will be distributed in form of cash transfers to the affected households.
The following day, on Thursday, the National Treasury Cabinet secretary released the Economic Survey 2021 after a four-month delay. Policy experts and consumers of this vital data had been questioning what necessitated the delay. There was talk of turf wars over key indicators among statisticians, the Treasury and the Central Bank of Kenya.
I refer to the two events as unique because of their departure from tradition and policy. In the past, news declaring famine a national disaster was treated as a big event, but this time it was low key. On the other hand, the economic survey highlights are traditionally presented by the director of the Kenya National Bureau of Statistics. This time, the CS did the job.
Were these departures from tradition and policy a coincidence or calculated moves?
For an ordinary eye, the events would pass like any other day in the bureaucratic establishment that characterise public service. But to a policy analyst, the events were well choreographed and interwoven into President Kenyatta's legacy story. On a public relations scoreline, they passed with flying colours. However, from a detailed analytical evaluation, they seem to have scored a deterministic own goal. Let me explain.
Ever since their assumption of office on April 9, 2013, the Jubilee administration has struggled to provide demonstrable evidence on their socio-economic achievements, especially at the household level where it matters most. They fabled through on their first term with nothing much to show. Evidence was said to exist virtually on some portal somewhere.
On their second term, focus shifted to building a legacy around a 'Big Four' agenda. They identified priorities as food and nutritional security, 500,000 affordable house units, Universal Health Coverage (UHC), and improving the contribution of manufacturing to the Gross Domestic Product (GPD) from 9.3 per cent to 15 per cent. The two events of last week provided crucial indicators and evidence into these four legacy priorities.
First things first. It should never escape our mind that the Big Four are just but a rewind of the clock of time back into 1965. In Sessional Paper Number 10 of 1965, the founding fathers had prioritised poverty, diseases and illiteracy as the primary evils to combat. Food insecurity and access to housing is nothing else but poverty, while UHC is simply diseases and low manufacturing capacity a manifestation of illiteracy.
With just less than 11 months to wind-up the Jubilee administration, it is safe to conclude the fate of the Big Four based on available evidence. Declaring famine a national disaster on the dying days of the administration was the final nail on the coffin of agenda number one of food security.
That notwithstanding, drought and famine have become a national shame in the country's economic history. The chronology of famine episodes seems to be a two-year cyclical pattern over the past 45 years.
In 1975, 1977, 1980 and 1983/84, widespread famines affected an estimated 16,000, 20,000, 40,000 and 200,000 people respectively. In the fiscal years 1991/92, 1995/96 and 1999/2000, the then President Moi declared national emergencies and appealed for international aid. These droughts put about 1.4 million, 1.5 million and 4.4 million people, respectively, under severe starvation and malnutrition.
In 2003/04, about three million people faced severe starvation and the then Kibaki administration had to appeal for emergency relief. Ironically, the same Cabinet team that approved this relief convened months later in July 2004 to approve another emergency relief, this time to buy and destroy maize infested by acute aflatoxicosis after a buffer harvest in the long rain season of that year.
A study in 2005 estimated 317 cases and 125 deaths were recorded, a fatality rate of 39 per cent.
In 2008, 1.4 million people were affected while in 2009/2010 an estimated 10 million people faced starvation including parts of Central Kenya that traditionally never used to be affected.
On Wednesday, July 27, 2011, a corporate initiative dubbed 'Kenyans for Kenya' was crafted to bail out about three million people from starvation in nothern Kenya. About Sh1 billion ($10 million) as per the then exchange rates was mobilised in under four weeks. This would cause the government a major embarrassment after its own official spokesman Dr Alfred Mutua had denied the existence of such famine.
These episodes would be repeated again in January 2014 and July 2016 with 1.6 million and 1.25 million people affected respectively. Faced with a tough re-election in 2017, over 2.7 million people facing starvation and cost of maize flour threatening to capsize the Jubilee boat, the administration would pull a 'Mexican miracle' with duty free maize landing in Mombasa barely a day after the warrant was signed by then Treasury CS. The price of maize flour was capped at Sh90 per 2kg packet.
On the other three pillars of the Big Four, the Economic Survey 2021 shows a systematic decline on the contribution of manufacturing to the GDP from 9.3, 8.7, 8.4, 7.9 and 7.6 per cents from 2016 through 2020 respectively. This trend reflects a systemic problem as opposed to external impacts of Covid-19 pandemic.
The housing target is completely beyond reach as per the housing units declared available under the bomayangu.go.ke.
The ongoing health pandemic and the regular scandals around the National Hospital Insurance Fund have proved beyond any reasonable doubt of the long winding road ahead to achieve universal healthcare.
Nothing best chronicles the socio-economic and political woes that have trapped the nation than the now failed Galana Kulalu irrigation scheme. Reasons given for its failure include poor contracting and implementation.
As a concluding thought, one cannot avoid wondering who wants us to remain poor and why. Who are the profiteers behind these cyclical famines? Can a nation claim to be a middle income country if it cannot feed its people?