Former Sports CS Hassan Wario released after paying Sh3.6m fine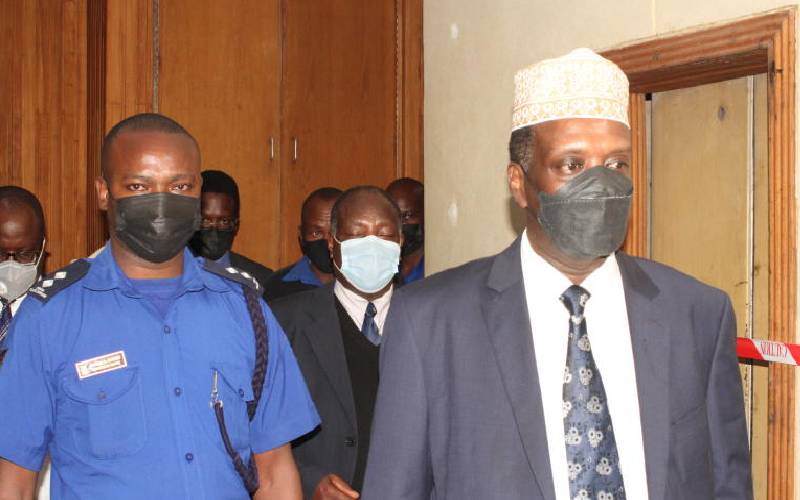 Former Sports CS Hassan Wario has been released after paying Sh3.6 million fine in a funds embezzlement case.
The Sh42 million scandal of the 2016 Olympic Games in Brazil came back to haunt Wario who was found guilty of abuse of office.
Wario and the Head of Mission to the Rio Olympics Games Stephen Soi appeared before Nairobi anti-corruption court chief magistrate Elizabeth Juma, who convicted them for using their positions to mismanage funds set aside for the games.
"They took advantage of their offices to include strange people in the Kenyan delegation to Brazil and paid them allowances which caused the loss of taxpayers' money. I find them guilty as charged and convict them accordingly," ruled Juma.
Wario becomes the first CS under President Uhuru Kenyatta to be found guilty of committing a corruption offence while in office. His mistake was to include three people in the travelling party to Rio De Janeiro when they were not part of Team Kenya and had all their travelling expenses and allowances paid by public funds.
The magistrate found him guilty of all the three counts of abuse of office in which the charges stated that he used his office as the Sports CS to improperly confer a benefit to Adan Omar, Richard Abura and Monica Sairo by including them into the Rio 2016 Olympic Games Kenyan delegation.
According to the magistrate, the late inclusion of the three individuals to the travelling party to Brazil by the former CS showed that he did not use his authority properly which resulted in loss of public funds.
"He took advantage of his office to have people included in Team Kenya and paid them allowances from public funds. Nothing prevented him from introducing the people earlier to the steering committee if he wanted them to be part of the team instead of taking the arbitrary action," she ruled.
Ms Juma, however, acquitted the CS in the first count of engaging in the Olympics Project without prior planning, ruling that there was evidence the planning started way back in 2012 after the London Olympics. Soi who was the Chef de Mission for Team Kenya to Rio 2016 Olympics bore the greatest responsibility as the magistrate found him guilty of four counts of abuse of office and mismanaging funds leading to the loss of Sh42 million.
Ms Juma ruled that Soi willfully failed to comply with applicable procedures and guidelines relating to management of public funds by unlawfully authorising the purchase of unutilised air tickets amounting to Sh19.5 million.
"He is also guilty of failing to ensure proper management of public funds when he unlawfully approved payment in excess of Sh15.3 million as allowances to members of the team Kenya to the Olympic Games between July 19 and August 25 2016 at the National Olympic Committee offices," she ruled.
In another count, the magistrate ruled that the prosecution had proved beyond reasonable doubt that Soi improperly conferred a benefit of Sh5.3 million to Vincent Kinyili, Kipchoge Keino, Francis Kinyili and Ian Kipkosgei to travel to Brazil which resulted to the loss of public funds.