CS Matiang'i lists DP William Ruto property under guard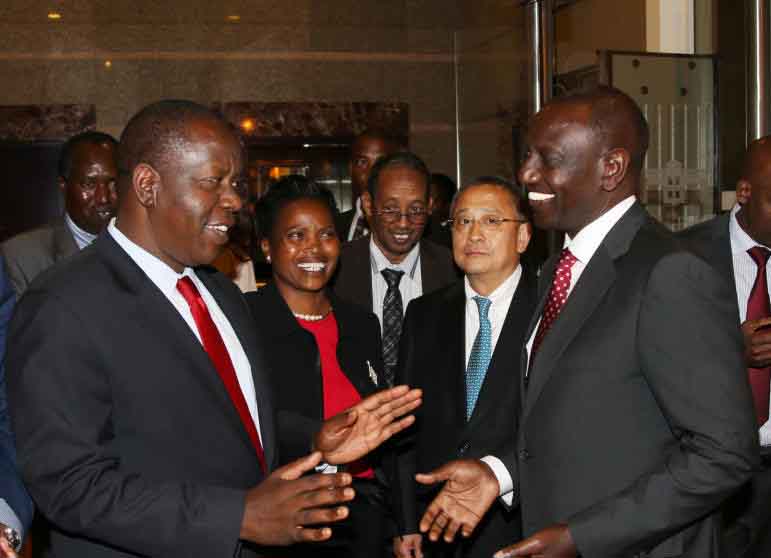 The Ministry of Interior yesterday listed Deputy President William Ruto's properties under State security even as the DP's office refuted ownership of some of them.
Interior Cabinet Secretary Fred Matiang'í, in a submission to Parliament following summons, listed some properties in the DP's estate which include hotels, ranches and a poultry farm. The DP also has two homes in Uasin Gishu County.
According to the document tabled before the Parliamentary National Security and Administration Committee, the DP also owns five helicopters and two hangars under Kwae Island Development Ltd.
A hangar is a building in which airplanes are repaired or serviced. The five aircraft and hangars are at Wilson Airport in Nairobi. Estimated cost of a helicopter is Sh300 million.
The DP owns Weston Hotel in Nairobi and Dolphine Hotel in Mombasa, according to the list presented by Matiang'i. Dolphine, according to the government document, sits on a three-hectare piece of land. Weston has been in the eye of a long-running controversy over claims that it is on public land — 0.773-hectare parcel opposite Wilson Airport.
Kenya Civil Aviation Authority (KCAA) took Weston to court arguing that the land was illegally acquired. The matter is still in court.
Further, Ruto has a gas company in Kitengela and Koitalel Poultry Farm in Eldoret. Other properties are ADC Laikipia Mutara Ranch on an estimated 6,074 hectares and the 2,537-hectare Mata Farm in Taita Taveta. He also has residences in Elgon View Estate and Kosachei in Eldoret town.
Dr Matiang'i made the submission detailing the DP's properties as he sought to defend his docket over claims of undermining Ruto's security. The private properties are guarded by at least 51 security officers.
The revelation triggered mixed reactions among committee members, with some claiming the DP was abusing his powers by having police officers guard his private businesses.
"Contrary to the allegations made and in view of the tabled evidence, the Deputy President is the most guarded in the history of the country in comparison to previous equivalent office holders," said Matiang'i.
Teso North MP Oku Kaunya and Suna East MP Junet Mohamed said there was need to seal loopholes being exploited by those in power to have police officers guard their private investments.
The lawmakers said those in business should deploy private security to guard their investments instead of depriving of Kenyans security.
But in a rejoinder, the Deputy President's office said the National Security Council established a security model for the presidency and constitutional offices and it was the only agency that can make changes.
Ruto's secretary of communication David Mugonyi, in a statement to newsrooms, said the DP does not deploy security to himself or to anyone else.
Mugonyi was responding to Dr Matiang'i's remarks that the DP's security detail has 257 police officers who guard him, his homes and properties.
He said Ruto has been in office since 2013 and it is deceitful of Matiang'i to suddenly realise his residence was not a protected area hence not entitled to GSU protection.
"This realisation nine years after the fact, in the context of many other orchestrated political machination against the Deputy President clearly indicate that Dr Matiang'i was acting in explicit pursuit of a malevolent political agenda," said Mugonyi.
He said Ruto was elected to discharge and fulfill a critical constitutional mandate and his security should not be undermined.
"There are precedents where his security has been breached. Each of these breaches has not only threatened our constitutional order; it has caused anxiety, tension and despondency among the citizens of Kenya."
He accused the CS of propagating falsehoods in Parliament over the property associated with the DP getting State security. "Dr Matiang'i desecrated the hallowed precincts of Parliament, exploiting it as a forum to propagate malicious falsehoods and assaulted the dignity of that institution by recklessly publishing inaccurate data purporting to be the property interests and security deployments of the Deputy President. In fact, most of the property listed do not belong to the DP," said Mugonyi.
He claimed the CS was not interested in understanding concerns about the security of the DP.
"He has abused public resources and the power of his office to score cheap points in a futile attempt to humiliate, disparage, denigrate and ridicule the person and the Office of the Deputy President for political propaganda," said Mugonyi.
By singling out the DP and casting adverse attention, to the particulars of his security arrangements, Mugonyi said Matiang'i discriminated against the office and the person of the DP, potentially exposing him to security threats.
He said Ruto was on record as early as 2018 declaring readiness to undergo a lifestyle audit as per the president's directive and associating him with some property was therefore unnecessary and malicious.