Kenyans sleep on the road as Government sleeps on the job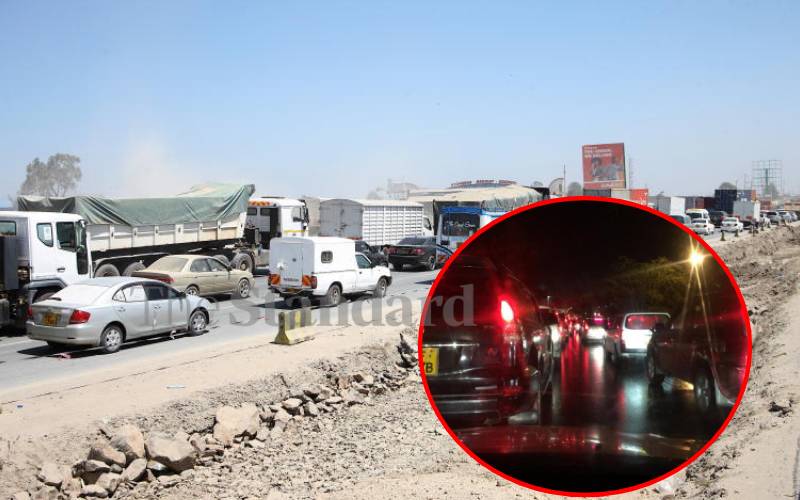 For John Nyongesa, Thursday evening will never be erased from his mind.
He was among many other Nairobi motorists who were caught on Mombasa Road traffic gridlock that lasted the longest hours ever.
"On Thursday, I left the office at Upper Hill at 7pm, knowing the traffic by then will have reduced because I was going to Syokimau. I drove through Mombasa Road but it was jam-packed and decided to go through Industrial Area roads and went to Donholm to use Outering Road but it was also with heavy traffic," he says.
At about 10pm is when he reached North Airport Road after a U-turn on Eastern Bypass but it was still bad. At about 11:20pm, he reached City Cabanas area.
He had to drive through the Airport Road rough space and got stuck there at Hilton Garden Hotel.
"I had the previous day fueled my car full tank but I was forced to refuel again at the petrol station near the hotel at about 11:36pm.
"My car, when I fuel full tank with Sh3,000, it takes me five days to work but yesterday (Thursday), it was finished within hours,'' he reveals.
It was not until 1am when he managed to reach Gateway Mall, then got some route that goes behind airport fence all the way to Katani Road, then joined Mombasa Road and to drive a bit to Syokimau–Katani Road.
He reached home at exactly 2.57am.
"It was terrible. I was worried and I kept calling my wife but she thought it was a joke since I told her I left work at 7pm. But luckily I was taking videos and pictures and she was convinced,'' Nyongesa says.
"There is a problem at Mlolongo where I heard the contractor dug all the road and left a single lane. So you can imagine from all the lanes that initially existed then reduced to a single lane.''
Standard Group's Linda Bach was also among those affected by the traffic mess
''I finished work at about 9pm. I didn't leave the office immediately as l waited for traffic on Mombasa to ease. It did not. At 10pm, I took a leap of faith and got into the traffic, hoping to get home at least by midnight. How wrong I was,'' says Ms Bach. ''By 11pm, I was yet to reach lmara Daima. The traffic moved at a snail's pace. It was midnight when I got to Cabanas. By this time I was tired, angry, and hungry,'' she explains.
She was not the only angry person around. The driver of a lorry in the next lane hurled abuses out of frustration at a motorist, who tried to join his lane.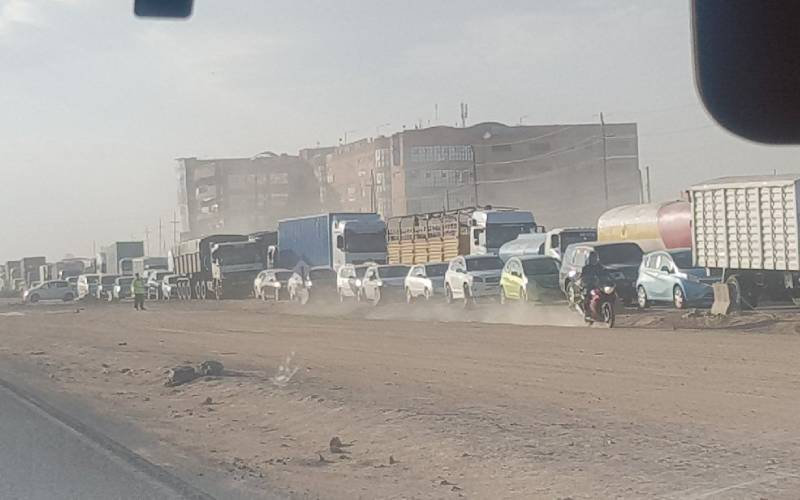 She took another hour between Cabanas and Kenya Civil Aviation.
''By this time, there were like six lanes. It was a total mess due to overlapping. There were too many trucks/trailers. Several vehicles broke down, ran out of fuel while some drivers decided to park by the roadside. I finally got home behind Gateway Mall at 2am, four hours after I left the office for a journey that should have taken 15 minutes,'' says Ms Bach.
Kush Angwenyi, who lives in South B and runs a bar in Syokimau, spent about nine hours in traffic yet he was carrying stock for his business.
''I ended up ordering for food from the club which was delivered by my rider and I had my dinner in the car. In fact, cars were switched off for over three hours, no movements at all, it was a parking lot,'' recalls Angwenyi.
''I even started drinking the stock I had in the car, though luckily I made a few coins by selling beers to the guys stuck in traffic,'' says Angwenyi, smiling, saying it was more of a park and chill kind of a situation.
He finally managed to get to Syokimau at around 4:26am.
According to Nairobi Area Traffic Commander Joshua Omukata, the traffic jam was caused by an accident that happened at the stretch between City Cabanas and Mlolongo.
"Due to traffic jam, it was not able for the breakdown vehicle to access the accident scene and clear it,'' he says.
Engineer David Muchilwa, Acting Director-General of Kenya National Highways Authority(KeNHA) who apologised to Kenyans for the mess, says a multi-agency team comprising of traffic police, Machakos County Commissioner John Ondego, Presidential Delivery Unit, KeNHA, and Machakos County Government has been formed to avoid such a mess in future.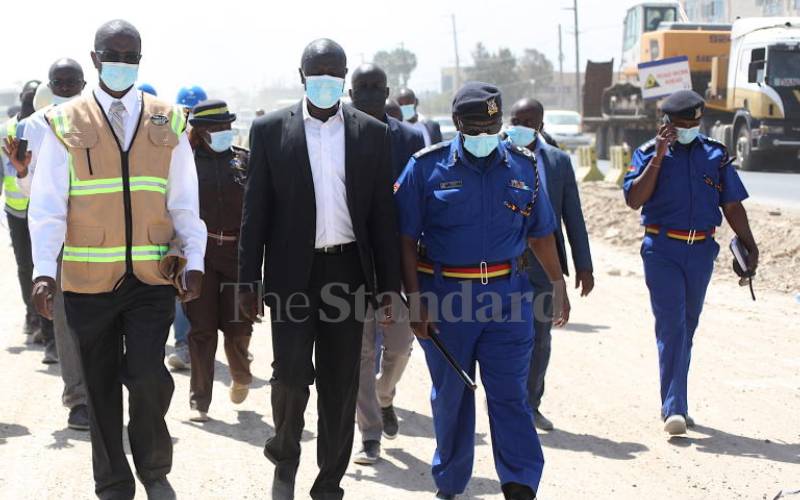 ''We started off with a consultative meeting and greed on certain measures including having at all times a minimum of two lanes. Where we have to use unpaved, gravel surface, we will ensure it is watered once every after an hour. We have also agreed to close unauthorised movements like U-turns and we shall use physical barriers so that traffic is channelised at one time. We will use hoarding (using iron sheet barriers) to ensure traffic is controlled,'' says Eng Muchilwa.
He adds Machakos County has increased deployment of traffic police officers to help the situation since Thursday.
He also blamed the mess on Thursday to indiscipline among drivers, who overlapped.
John Mwawasi, deputy director of Public-Private Partnership (PPP) at KeNHA also apologised to Kenyans and motorists.
He said the incident the is second after another one happened about two weeks ago, adding both were caused by a car accident.