Justice Patrick Kiage, learned friend and man of many talents, steals the show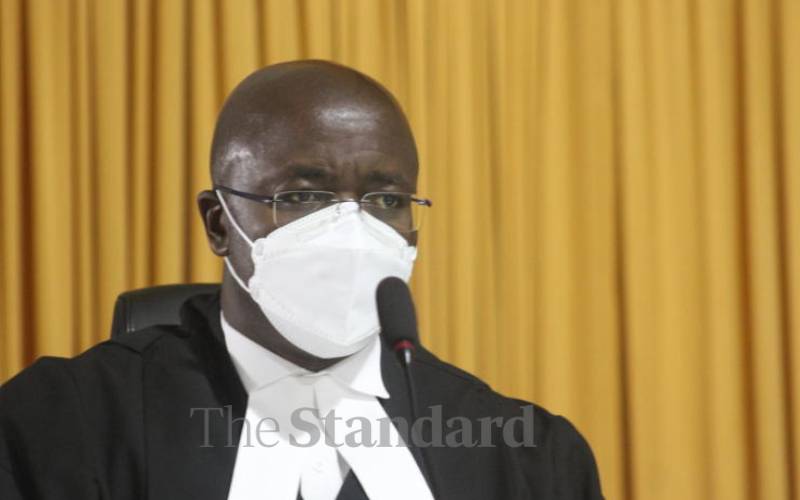 It was a tiring, boring experience as the seven Court of Appeal judges read their individual verdicts.
The senior counsels present slept off as they rambled on. One could have been excused for thinking they had taken something stronger than Piriton.
The day started slow, no one, seemingly, eager to pick up where Senior Counsel James Orengo had left off with his grammar lesson during the hearing of the Building Bridges Initiative (BBI) appeal.
Three judges had spoken all the English, and instead of arousing everyone's attention, they competed over who could make the lawyers snore the loudest.
Even the cat of appeal - others call it the supreme cat - which had shown up to satisfy its curiosity was unimpressed and was spotted yawning in disappointment as the judges rambled.
That was until Justice Patrick Omwenga Kiage, the philosopher, linguist, jargonist, nationalist (owing to his Kenyan-flag wristband labelled Rick), jurist, historian, lecturer, preacher, rapper, poet and husband, stepped in. He did not have to announce that he is a product of The Alliance High School. His judgement did.
Justice Kiage started calmly at 2.40pm, giving his verdict with remarks that he would delve deep into the "basic structure doctrine". Everyone at the Court of Appeal must have dismissed him, given that they had just had lunch and thought sleep would be heavier in the afternoon.
He slowly eased into the cliché "res judicata" jargon, giving no indication that he was different.
No one was ready for what was coming. Not even the sign language interpreters who had had an easy run all morning. The more Kiage spoke, the more they sweated.
At first, it was because of his language that no one seemed to understand. Much less the sign language experts who had to interpret statements such as "presidential fiats".
Then because of the speed at which he spoke. Justice Kiage's tongue defied convention. Instead of growing drier with every passing word, it seemingly never ran out of lubrication.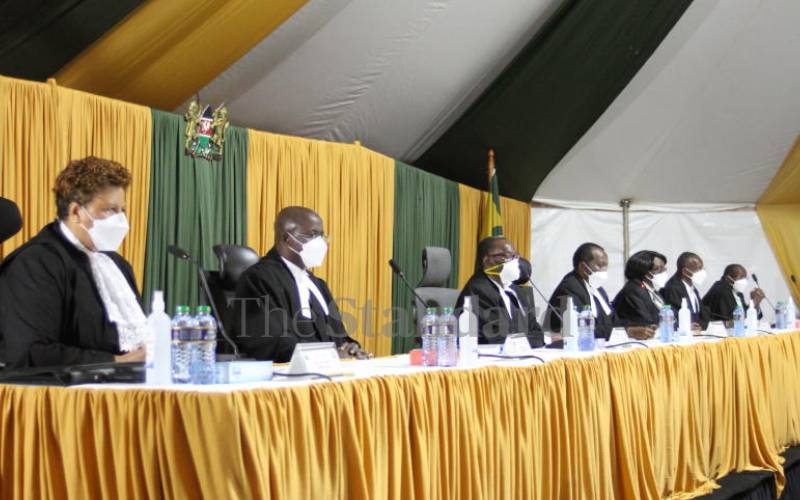 At one point, the sign language interpreters flailed their arms erratically, struggling to catch up with Kiage's rapping that would see him rival rapper Khaligraph Jones. One of them from a local station gave up, his muscles growing sore, and a more muscular one took over.
Perhaps noticing he was quite a mouthful, Kiage opted to do the sign language himself, striking the air harder than his Alliance discipline master years ago. His voice, too, grew bigger, and he almost sounded like a televangelist.
He confused them more by falling to his native Kisii, before he morphed into a historic poetic philosopher.
"I would not do a detailed history of the 2010 constitution. Suffice it to say that its promulgation, which was seen as the birth of the second republic was the culmination of many years of struggle and pain, sweat and tears in which liberty, limb and life were harmed and lost so that Kenyans could have a better life of liberty and dignity," he said at some point, assuming lawyer PLO Lumumba's imitation of Martin Luther King Jr's intonation.
But that was not the most complicated thing Justice Kiage said.
"It matters not whether you curve Caesar as a dish fit for the gods or hue him as a carcass fit for hounds. The cuts are mortal either way," he said, perhaps a checkmate to Orengo.
But no one seemed to mind. Twitter enjoyed the show by the alumnus of the New York University. Some netizens claimed the Taliban, too, was following keenly.
"Justice Kiage, stop! Please, stop! The victim is dead!" Law Society of Kenya President Nelson Havi raved.
"This is the point at which the assembled mourners are invited to pick a handful of soil for the "dust to dust" ritual. R.I.P," posted economist David Ndii.
In the end, he earned fame amongst Kenyans on Twitter, but even more, he gave Alliance old boys a reason to brag.
Download the BBI Judgement by all seven Judges - Civil Appeal No. E291 of 2021