Rider who was to join four others lynched by Kitengela mob speaks out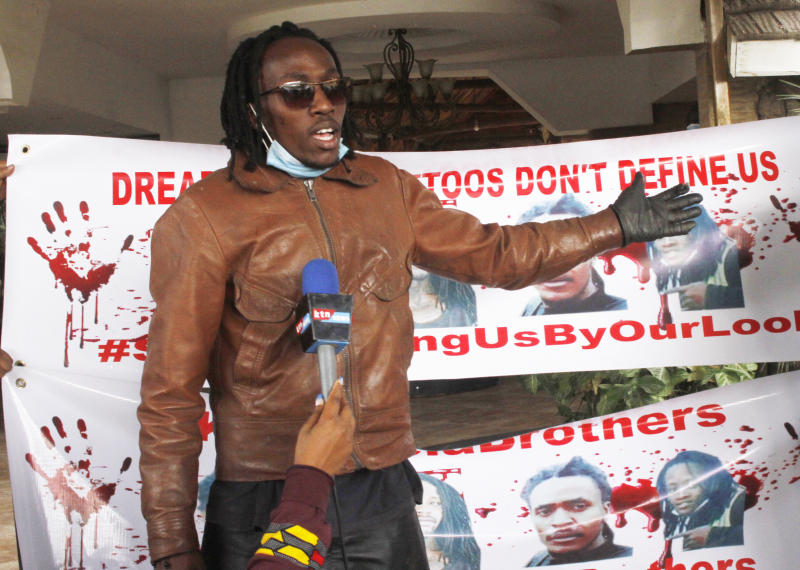 A biker who was to join four men who were lynched by a mob in Kitengela, Kajiado County, last week, has called for justice for the two.
Julius Mwoki, 25 says he delayed in joining the riders after realising he had left his backpack at home and decided to go back for it.
Speaking to The Standard yesterday, Mwoki, a friend to the two brothers, said he could also have been killed by the irate villagers had he not gone back for his bag.
"I just can't believe it. If it was not that I went back for my backpack at home, I could also have been killed together with my friends," said a grieving Mwoki.
He said he later tried to call his friends but all their phones were off.
"After I got my bag, I tried calling their mobile phones but they went unanswered. I was shocked to later learn that they had all been killed," he said.
Those killed were two brothers, Victor Mwangi (25) and Fredrick Mureithi (30) and their friends Michael Onduso (29) and Nicholus Musa (28).
They were lynched by a mob over suspicions that they were livestock thieves at Emkamuriaki village, Isinya sub county, Kajiado County.
Mwoki spoke as members of the Kenya Bikers Association called for justice following the killing of their members.
Led by their Chairman Sammy Kiumbe, they sought to know who killed the four.
Speaking during a peaceful protest outside Kitengela Police Station on Sunday, friends, and relatives described them as good natured.
And in a show of solidarity, bikers converged at Sabaki, all wearing leather jackets, boots, and helmets, to protest the killings.
They first converged outside a filling station before starting on a slow and quiet procession that saw them ride eight kilometres from Mlolongo to Kitengela Police Station.
At the police station, they demanded the station boss Jenifer Mutuku to address them on the progress of the investigations but she was not in.
Lawrence Mbagara, the Chairperson of Private Bikers Association in charge of Mombasa Road route urged the government to bring the culprits to book.
Isinya sub-county Police Commander Charles Chepkong'a told The Standard that investigations are still going on.