MP faults Uhuru aides for Ruto's woes at Wilson Airport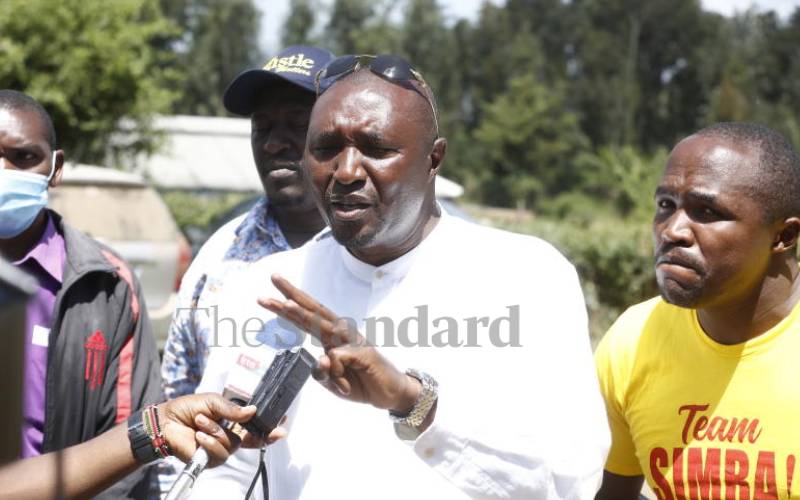 Bahati Member of Parliament Kimani Ngunjiri has faulted 'persons close to the president' for embarrassing Deputy President William Ruto who was barred from flying to Uganda.
The DP was on Monday afternoon stranded for at least five hours at Wilson Airport after State officials reportedly declined to clear him for a 'private visit' to Entebbe.
Speaking to The Standard, Ngunjiri described the move as embarrassing to the Office of the Deputy President and the country before the international community's eyes.
"Keeping Deputy President at the airport was wrong and demeaning to his position. This is an infringement of his constitutional rights as a Kenyan. It is not fair and is likely to cast the current regime in bad light before our neighbours and allies," said Ngunjiri.
The lawmaker, who is a diehard supporter of Ruto, called on President Uhuru Kenyatta to call his officers to order, noting that they were going overboard in their mandate.
"These people appear to be on a mission to disturb Ruto's peace as a State official and as a human being. The president's aides are biting him from every direction and it is time for him to call them to order," said Ngunjiri.
He regretted that political differences between the DP and his foes had turned personal, adding that this risks plunging the country into a state of lawlessness.
"It is unfortunate the persons behind this are slowly brewing tension in the country. We don't want to get to a point where street protests will rock our towns because of the actions of a few individuals," he said.
The MP called on the international community to be on high alert and document every move that may precipitate chaos in the country as the electioneering period draws closer.
Ngunjiri called on Ruto's supporters to remain calm.